With liverpool, smart, iwatch_ueat and tamago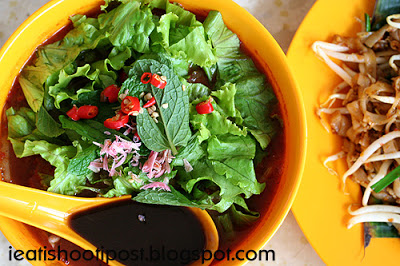 The last time I was in Penang was almost 30 years ago and the last time I ate Penang food was around that time too. Oh yes, everyone says that Penang food is so great, but the problem is you can't get great Penang readily in Singapore (so they say). So as a result Penang food has never been on my radar screen. Luckily for me, Liverpool and his wife are big fans, so they provided some expertise to the review of the food here.
Penang Assam Laksa is very different from Singapore Laksa. It is sourish and a lot of the taste is derived from the Kembong Fish (Small fish akin to the Selar). Liverpool remarked that he usually finds Penang Laksa too sourish but this one is well balanced. Certainly, the spicy, fishy, sourish soup is an acquired taste. If you are a Penang Laksa Afficianado, please give this a try and let us know what you think! 4/5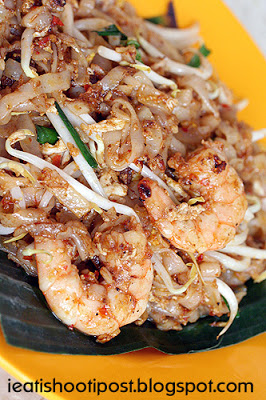 Penang Char Kway Teow, like the Singapore version is a very simple dish where Kway Teow is flash fried with lard and some soy sauce/fish sauce. A lot depends on the skill of the hawker who needs to control the wok fire to get the perfect texture for the Kway Teow. I felt this stall managed to do it quite well. The Kway Teow came out soft and slippery which enough burnt bits, fish sauce and pork lard to flavour it. 4/5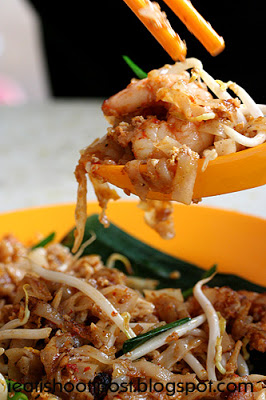 Conclusion
Quite authentic according to our Penang Food expert. Good enough for him to bring his wife back to taste it.