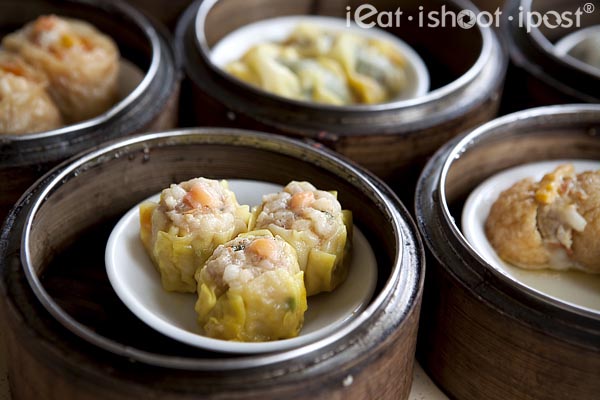 There are several hawker genres that should do well in Singapore and Dim Sum is one of them. The reason is very simple. Every customer will spend more than $3-4 per pax. If you survey the current hawker scene, you will see Bak Kut Teh stalls springing up all over the place. That is because people expect to pay $5-6 at least when they eat Bak Kut Teh. So that is going to ensure the survival of Bak Kut Teh as a Hawker dish. Things like Char Kway Teow which can only sell for $3 a plate is less attractive for any aspiring hawker to take on so unless something happens and a Char Kway Teow emerges that people are willing to pay $6 for, then it really is "The End of Char Kway Teow" as we know it.

But today we talk about an emerging Hawker dish. I guess Dim Sum is not really what people will consider a traditional Hawker food, but with increasing affluence, stalls which were initially selling only Paus would invariably be attracted to increasing their revenue by offering other Dim Sum dishes. With Dim Sum at the restaurants now averaging around $4-$5++ a basket, I see a big opportunity for more hawkers to offer a cheaper alternative in a coffeeshop setting.
The other good thing about Dim Sum is that the food can be standardized and prepared in a central kitchen beforehand and steamed fresh at the premises when you order. So that allows for opportunities to expand. At $2 a basket, the average spend for a customer would be at least $8-$10 which essentially triples what you would earn if you sell Char Kway Teow!
With more hawker Dim Sum emerging and restaurant Dim Sum getting ridiculously expensive, I am hoping to see more stalls such as Lai Kee emerging so that we can all spend a lazy morning drinking eating Dim Sum and drinking Teh C without having to pay for peanuts and ++. So, if you know of any good hawker Dim Sum stalls, please do write in and let me know so that I can build a list good Dim Sum stalls to visit.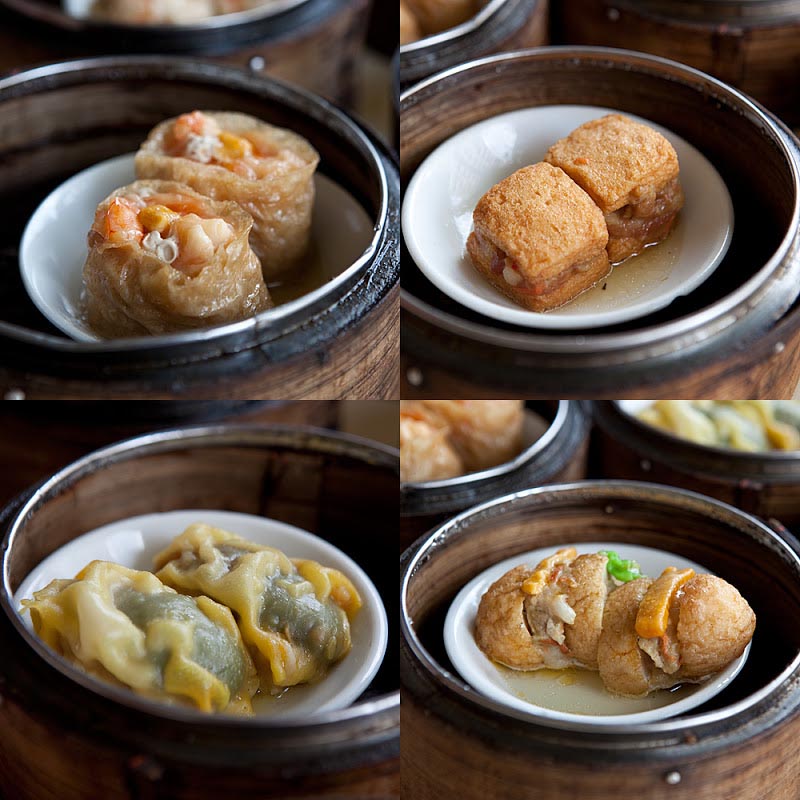 The man who started Lai Kee, Ah Lai started off helping to make Dim Sum with relatives in Malaysia before coming out to Singapore to start his own stall. His first stall was at Clementi and has now expanded to four branches. He tells me that Dim Sum might be more lucrative but it is a lot of hard work. Now that he has four stalls, he has hired a few Dim Sum chefs to help hand make the Dim Sum every day at the stalls while he prepares the meat, prawn and fish pastes centrally.
What I like about Lai Kee is their variety of unusual Dim Sum. The standard fare of Siew Mai and Har Kau are of course available and judging from the Siew Mai, the basic meat filling is very good and well marinated. Ah Lai pays special attention to this and uses only fresh Indonesian pork instead of frozen meat to ensure quality. But he has spent a lot of time thinking up new dishes as well and the wonderful thing about eating there is that you get to try something new instead of the same-o same-o.
I was drawn immediately to the Century Egg dumplings because they reminded me of the marvelous breakfast I had at Sim Sim Pier in Sandakan. Then there are other permutations and combinations of tasty morsels made from tofu, bean curd skin, meat, prawn and fish filling. I can't say that it tastes as exquisite as the Dim Sum you get at the restaurants, but the affordability, variety and pretty decent food quality certainly makes it a compelling candidate for a quick Dim Sum fix. 4/5
Conclusion
With prices of Dim Sum in restaurants going through the roof, coffeeshop Dim Sum places like Lai Kee are offering us an attractive, affordable alternative. I do hope to blog more such stalls, so do write in if you know of any stalls that are serving up good, affordable Dim Sum!