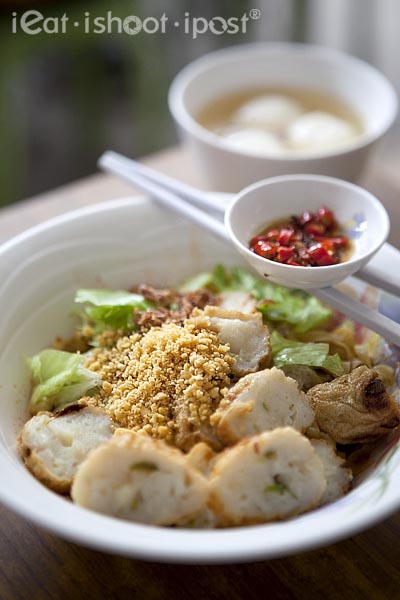 There has been much talk lately about how we are going to be able to find enough hawkers to run the stalls in the new hawker centres that the NEA are planning to build. There is a lot of concern, in particular, about how the younger generation of Singaporeans are not keen on being Hawker professionals. This is such a shame. Just last month, I met up with a group of Americans who came to Singapore on a study trip to learn about our Hawker Centres. Their plan is to build such centres in the US where young aspiring chefs can rent a stall and start building a career for themselves.

Indeed the hawker centre is a great launch pad for enterprising hawkerpreneurs. The recent news that Kay Lee is selling their recipe and business for $3.5m, might just be what it takes to spur some of the children of famous hawkers to take on the challenge of expanding the family brand to a multi-million dollar enterprises. That would be a great development for our hawker culture, with the very important proviso that the food is still as good if not better than what it was before.
So where is this story heading?
Well, enter our protagonist, Tom, a 20 something polytechnic engineering graduate who gave up his cushy engineering job to dive into the hot and sweaty hawker business. Why? He likes Mee Pok. In fact, he is passionate about Mee Pok! That very love for our Singapore style flat noodles might be just what is needed to preserve our Mee Pok culture for another generation!
I must say that it was pretty weird to see this soft spoken young man making Mee Pok in a rather old and run down coffeeshop where you are more likely to find old men wearing singlets and pajama pants. (That's just my imagination. You can't find such old men around either!) And if it weren't for the number of people bearing down and slurping on their bowls of Mee Pok, you might just walk past the coffeeshop without giving the stall a second look. But look closer and you'd find a bowl of Mee Pok trying to stand out from the crowd!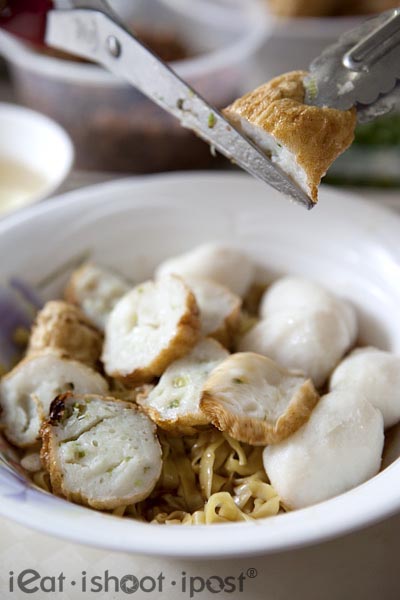 One of the ways that he is trying to make his Mee Pok special is that he fries his fish cakes fresh and cuts them into slices just before he serves the Mee Pok. The fish cakes are also handmade, not by himself, but by Citizoom noodles who runs a few stalls around the island. Eaten piping hot, the fish cakes are still oozing with juices and the texture is light and bouncy!
One of the keys to great Mee Pok is the quality of the Mee Pok itself. He sources his top quality Mee Pok from Lau Boon Heng which is one of the more reputable noodle makers in Singapore. I spoke with the owners of Lau Boon Heng and, although I am under strict orders not to disclose names, I can say that they supply Mee Pok to some of the best known Mee Pok stalls in Singapore. In fact, they also supply Hokkien Mee to one of the most famous Prawn Noodles stalls as well!
The key to cooking a great Mee Pok with that Al Dente, springy texture is that the water needs to be on a furious rolling boil. So one of the keys to spotting a good Mee Pok is to look at that water in which the noodles are being cooked!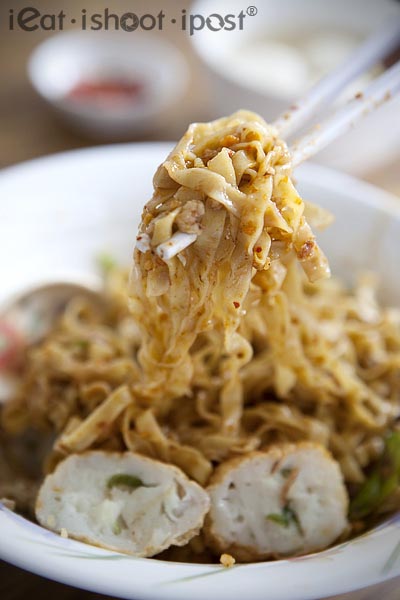 The other thing that Tom tries to innovate is the addition of crumbled fish crackers which he sprinkles on top of the noodles just before serving. I have my reservations about this. I think the idea of adding that crunchy texture is good, but I didn't think that the fish crackers blended well enough with the noodles. A few slivers of crispy fried Ti Poh (Dried Sole Fish) would have been a more traditional and time tested way to go. 4/5
Conclusion
It is good to see young Hawkerpreneurs taking on traditional Hawker food and trying to add their own personality to it. Tom's bowl of Mee Pok Tar has got a lot of potential to be one of the best in Singapore if he keeps working hard on it. As of now, it is still a bowl I would recommend if you are in the area hankering for some steaming hot Mee Pok!
Update 7 Feb 2013
The stall has moved to Blk 20 Ghim Moh Road #01-42