The restaurant is closed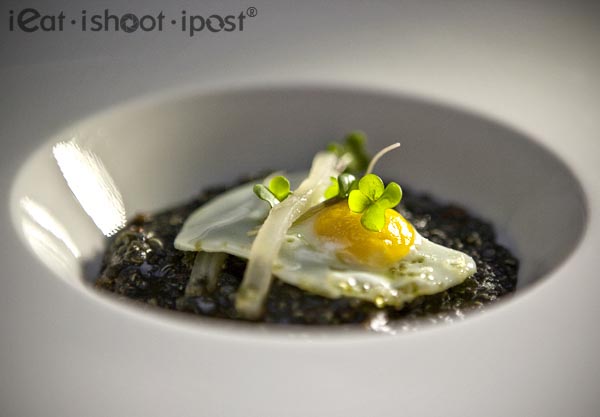 I am just kidding about the Sauteed Snake in Apple Sauce. But that was the first dish that came to mind when I heard of the Garden of Eden. You know the story right? There was Adam, there was Eve, there was a snake and there was an apple. OK, strictly speaking it wasn't an apple, it was the "fruit of the knowledge of good and evil", but most artists draw something in the shape of an apple since it is the archetype of a fruit. After all, "A" is for "Apple" was probably one of the first things we all learnt as kids!

The Garden of Eden is the brainchild of my good friend Chef Tim Ross Watson. If you are been reading the blog for a while, you would no doubt have seen the series of cooking videos that I did with Tim. Tim loves to cook and learnt his craft through the school of hard knocks by working his way up as a kitchen hand in some of the most famous restaurants in the UK. In the cooking videos, Tim demonstrated some very simple cooking techniques from how to boil and egg to cooking a steak. However, in his restaurant, his cooking is far from simple. He belongs to a breed of chefs who believes in understating the menu in order to surprise their guests with a dish that is quite out of the ordinary.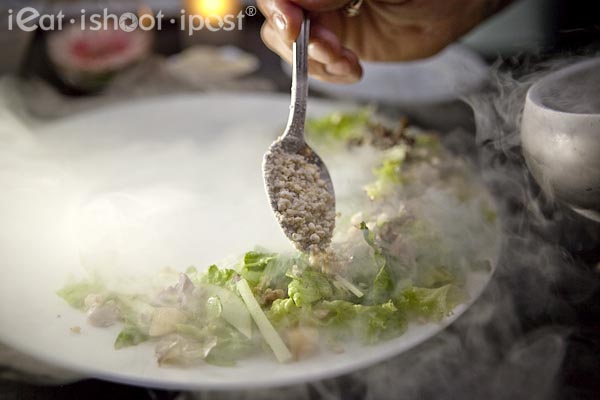 Just take his Waldorf Salad for example. I was expecting a bowl of greens with apple and mayonnaise, rather than a dish which was submerged in a fog of sub-zero nitrogen. That liquid nitrogen was used to quick freeze crumbled Stilton cheese which was added to your salad at at your table. Tim explained that the frozen Stilton makes it easier for it to be sprinkled evenly over the salad. Did it taste better than a traditional Waldorf? Can't say that it does, but it was certainly a more exciting opening to the evening meal! 4/5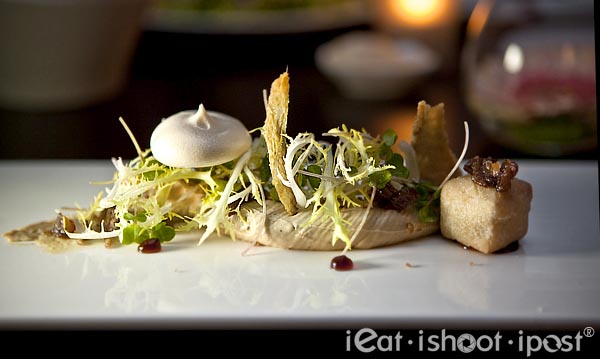 Rockett Girl's appetizer of Foie Gras was no less complicated. Foie Gras was presented in two different textures and contrasted with sherry gel and dates. It's the classic pairing of Foie Gras with something fruity and sweet, but done in a way which you would never imagine doing at home because it is just too much work! I guess that is why we go out to eat! 4.25/5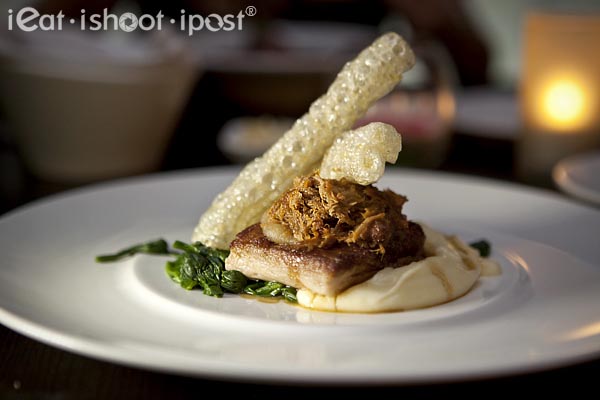 My favourite dish of the night was the Pork Belly which has been slow cooked in cider for 48 hours and then topped with a slow cooked bbq pulled pork. If you love pork, this is something to savour. Pork, apple sauce and mash is again a classic combination, but this dish is very well executed such that the flavours and textures are very well balanced. I often like to judge the quality of a restaurant by how they treat staples like mashed potatoes. A great mash potato should be velvety smooth and the only way to do this is to use lots of butter and to put the potatoes through a fine mesh. It's not something you would dare to do at home because the amount of butter used is scary. But if somebody else does it and you can't see all the butter then it's much easier (and tastier) to swallow. It's a simple fact of life that ignorance is bliss!
4.5/5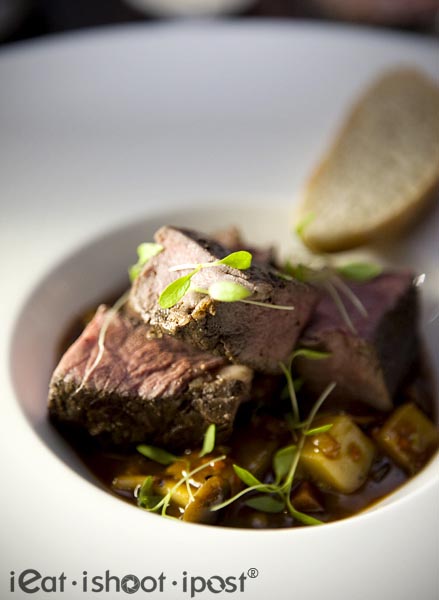 When I first looked at the menu, the last thing that I would have ordered was the Beef Ghoulash. Why would I want to pay $32 for a beef stew? Well, it turns out that his the Beef Ghoulash was made from beef shin that has been braised for 4 days together with the mirepoix and the resulting stew is liquified and strained just to make thegravy! The resulting Beef Ghoulash is intense but only forms the sauce upon which seared chunks of sous vide Wagyu rump is placed. Loved the intensity of the Beef Ghoulash sauce, but as I have said in my earlier posts, I don't like Sous Vide beef steaks! They lack that charred smokey aroma which is what I find most desirable about steaks. 4.25/5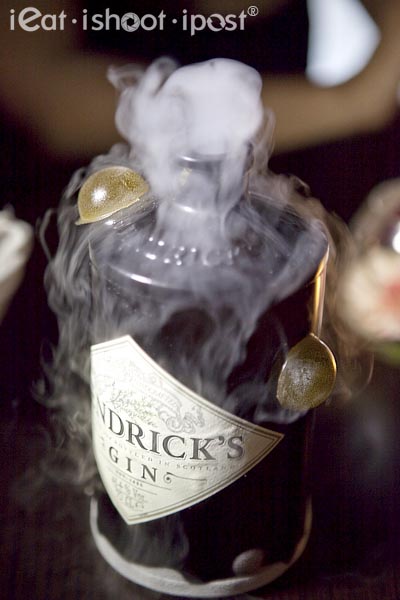 After dinner, Tim came by the table with a bottle of gin with two blobs stuck to its surface and announced that this was his version of after dinner mints. We were supposed to smell the mint whose scent was carried by the cold nitrogen smoke and then eat the blobs of mint jelly on the bottle. I think that aptly sums it up for the kind of dining experience you would expect at Tim's place.
Conclusion
If you are looking for a small restaurant which serves progressive cuisine at reasonable prices then this is the place! I have always admired Tim's skill as a chef and he is a family friend (his dad is Big MOG) so you are probably justified to think that I would be biased. But I am not the only one who recognizes his skill. He was recently nominated as a finalist for the World Gourmet Summit's promising young chef of the year award, so there are many others who think likewise as well!
Special promotion for ieatishootipost readers
Mention that you read about Tim from ieatishootipost and get 1 for 1 dessert! Valid for two weeks from 19 Apr to 2 May.
Thanks to Chef Tim for hosting us.