I finally found a stall in a hawker centre that sells Zhar Leong (Chee Cheong Fun with You Tiao)!
For those who haven't yet tried this Hong Kong Dim Sum dish, it is essentially deep fried flour wrapped in steamed flour and drenched in a slightly sweet and savoury soy sauce. A very simple dish which uses the most basic of ingredients but it really hits the spot and can be quite addictive.
Zhar Leong isn't quite considered a top dim sum dish in Singapore, but in Hong Kong it is found in every self respecting Dim Sum restaurant. I must say that it is my favourite form of Cheong Fun (Steamed Rice Rolls) and I would always ask for Zhar Leong first and settle with Char Siew Cheong Fun if it wasn't available. It isn't easy to find Zhar Leong even in a lot of fancy Dim Sim restaurants which is why I am quite excited to find this stall that sells it for $2.50 in Changi Village Food Centre.
I thought that it was very smart of Chef Tham to include this dish in his newly opened stall. It really does differentiate his stall from the others. It certainly caught my attention. Chef Tham used to be the head Dim Sum Chef of Goodwood Park Hotel, before he decided to venture out to start his own business, so he certainly has good credentials backing him up.
The Cheong Fun is made fresh when you order and was quite good though I expected it to be just that bit more soft and silky since it is handmade. Otherwise, for $2.50 it did satisfy my craving for Zhar Leong. 4/5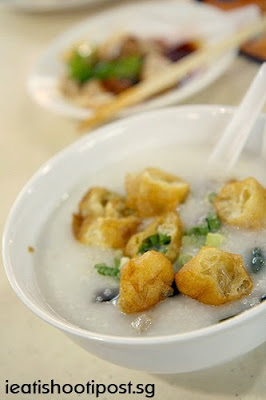 For those who like the Hong Kong style congee, you can also order a bowl of congee from the stall. For me, the Hong Kong style congee is less robust than the Hainanese style. The porridge here reminded me of congee that Crystal Jade serves. The pork balls are a little different from the usual local version where minced meat are rolled into balls. These are a little more bouncy and have a texture somewhere between the commercially available pork balls and the ones you make yourself at home. Great if you are looking for Hong Kong style porridge. 3.75/5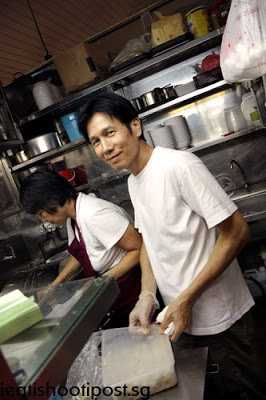 Conclusion
Not many places where you can just sit down and order a plate of Zhar Leong in Singapore so it is well worth a visit if you are after a tasty snack.
My apologies, the Changi Village Food Centre is closed for renovations till 7 Oct 2008. Thanks to our readers who highlighted this to us.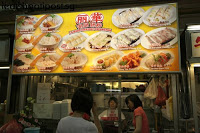 What to do next: