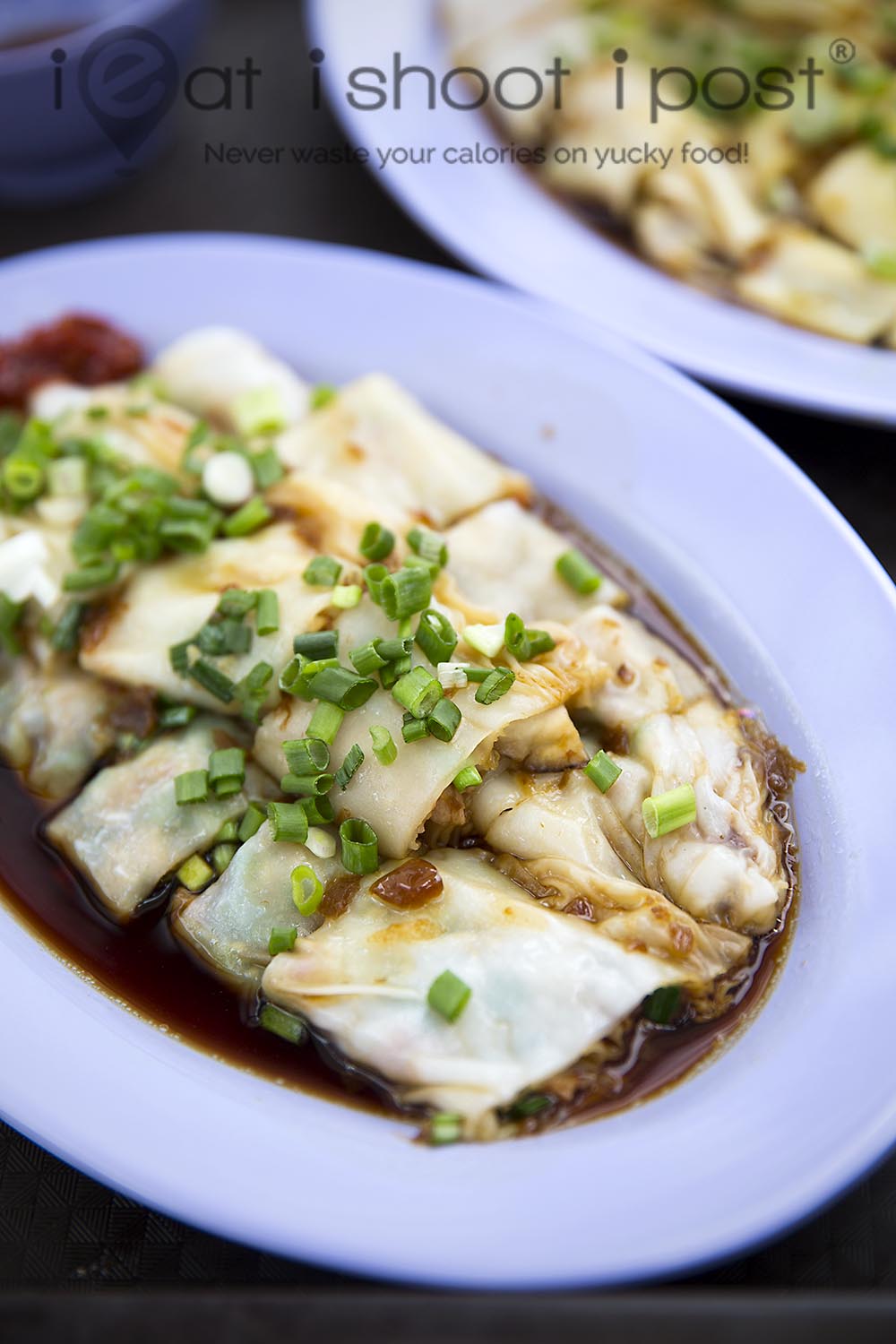 Here is another hawker who is making chee cheong fun fresh on the premises!  I had written about Pin Wei at Cambridge Road FC and the Freshly Made Chee Cheong Fun at Old Airport Road previously but it has been quite a while since a new stall has emerged.
I still can't figure out why there aren't more new chee cheong fun stalls opening. They are a very popular breakfast food especially with kids and it is easy to attract attention when you are making it on the premises. As a new hawker stall, it's so much easier to differentiate youself from the competition as compared to the more common fare like fish ball noodles and chicken rice!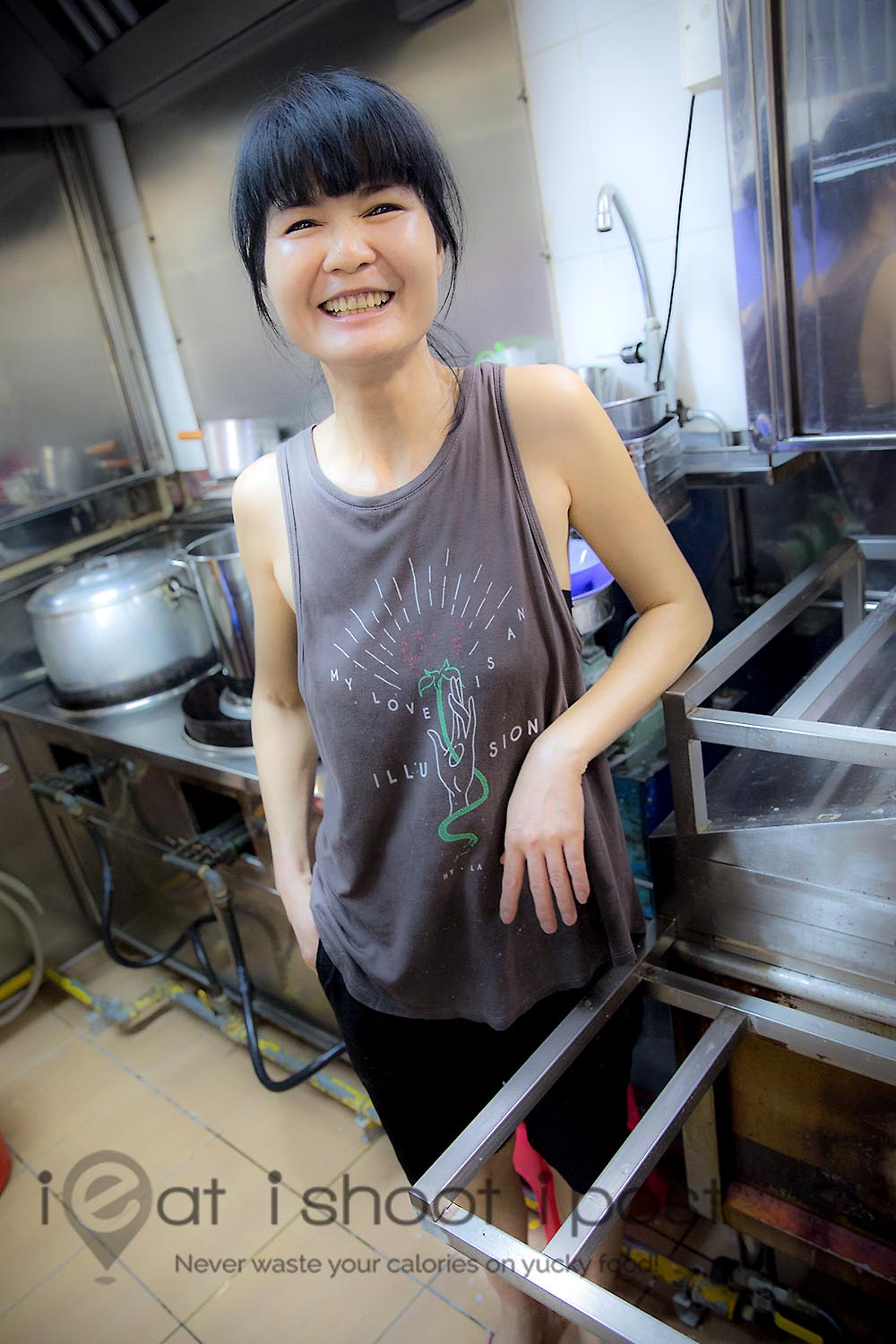 Our stall today is run by Liang Yuan who used to work as a beautician before deciding to make a career switch.  The inspiration came after a trip to her hometown of Guangzhou and when she returned home, she got down to making her vision a reality.
One of the barriers to entry for this dish is the fact that the steamers are so readily available in Singapore, so they have to be custom made.  Her machine is made in Singapore based on photos of the ones being used in Guangzhou and features a two tray system where the rice slurry can be steamed directly on metal trays without the need for the steaming cloth.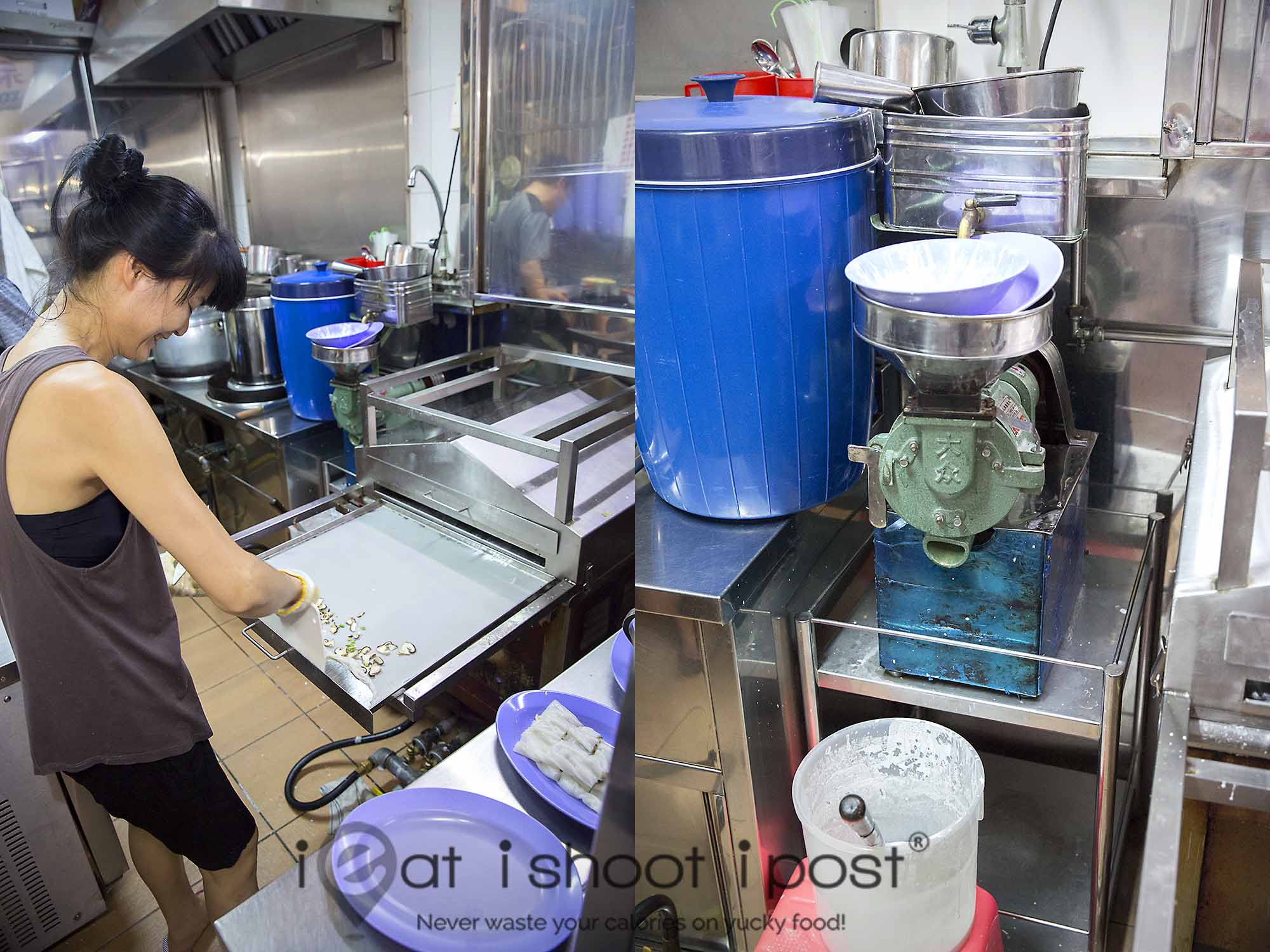 Liang Yuan tells me that it took her some time to experiment before she finally succeeded in making the chee cheong fun.  She started off using rice flour to make the slurry, but it didn't give her the texture and flavour she was looking for.   Now she mills her own rice to make the slurry.  This means that she has to return to the stall late at night to start soaking the rice so that it will be ready to be milled in the morning.  Kudos to her passion and dedication to her craft!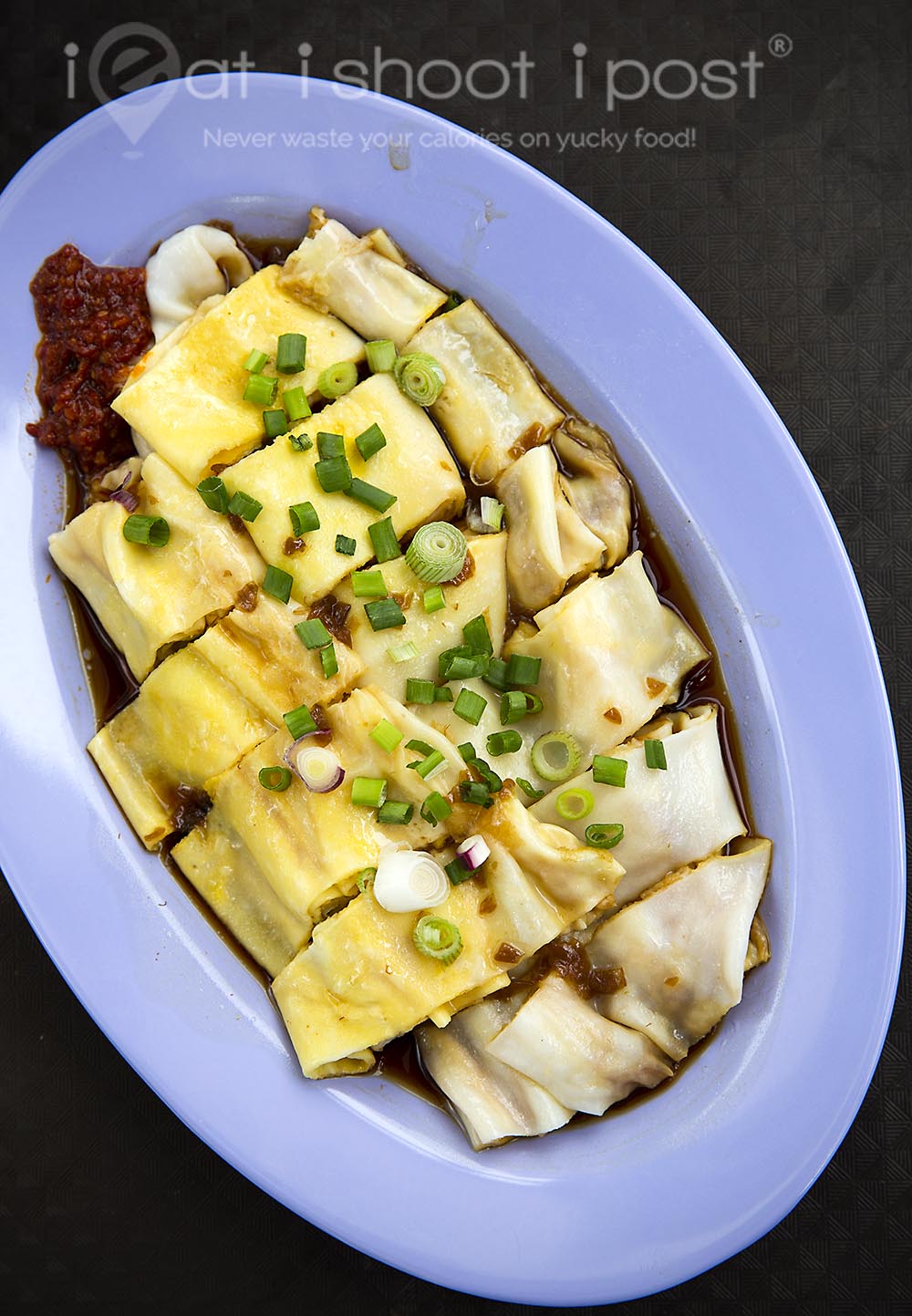 The cheong fun is thin yet resilient and the sauce is more savory than sweet. I would have liked the sauce a little sweeter and the cheong fun more slippery but you don't find freshly made cheong fun made from milled rice even in restaurants, so that is what makes this stall stand out. 4/5 You have a choice of different flavours like flavours like the standard charsiu and prawns, to more unique ones like hae bee and mung kwang, leeks and mushrooms.
Aside from the standard chee cheong fun, she also makes an egg version where the egg is added to the slurry before steaming.  This is the first time I have come across this egg chee cheong fun which is a popular staple in Guangzhou.   The egg alters the texture of the cheong fun, making it thicker and less slippery.  I was told it is very popular with the kids, though I don't think it is something I would order again.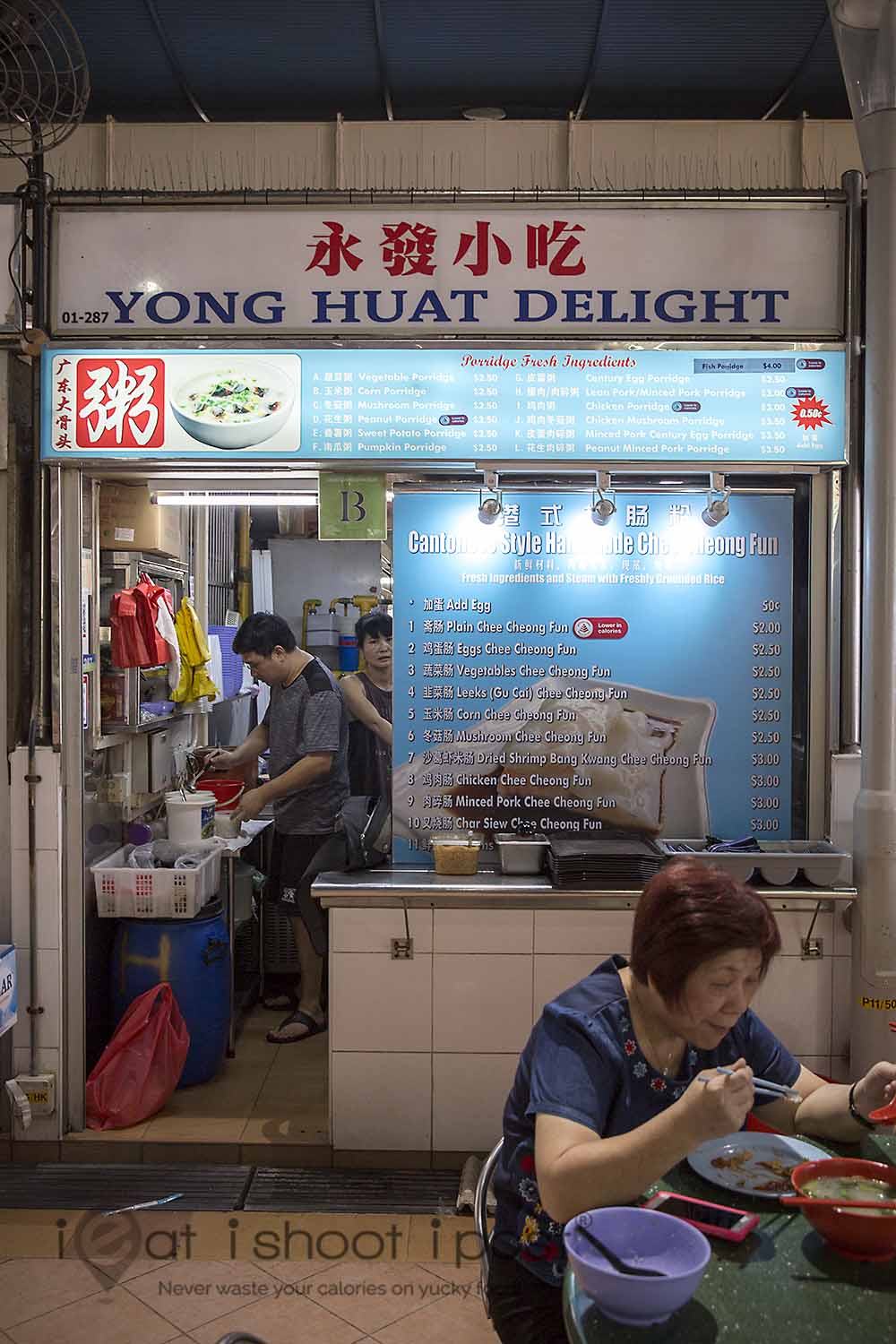 Conclusion
It's good to be able to have freshly made chee cheong fun at hawker prices.  The dedication of the hawker to her craft exemplifies what what spirit of hawker food is all about — an expression of one's culinary passion made accessible for everyone to enjoy!