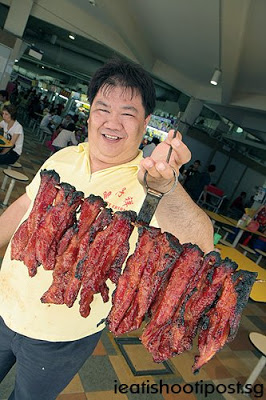 A trip to Fatty Cheong's Char Siew is regular after-church ritual for the family. The kids love it, the in-laws love it and most importantly, I also love it. Ok lah, we always try to bring the kids to what they like to eat, but it is always a bonus if I also like the food as well. Parents, you know what I mean right?
After blogging a few Char Siew places, we are always drawn back to Fatty Cheong's as his Char Siew is consistently juicy and well charred. Anyway, for those of you who like to try making Char Siew at home, I managed to convince Fatty Cheong to share with us his Char Siew recipe.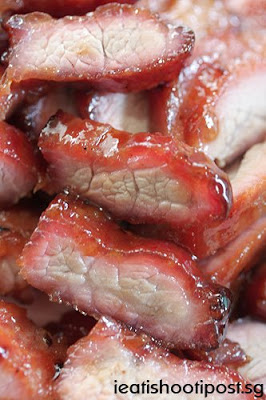 According to him, the following are the ingredients he actually uses at the stall. Of course, the big difference is that he has a charcoal oven but many of us don't. So you will have to use your conventional oven or one of those
"Xue Di Zi"
aka
Turbo Broiler
if you have one of them. Incidentally, you probably know of the "Xue Di Zi" (Flying Guillotine) if you are about my age (or older) as it was one of those iconic weapons in old Kung Fu films. My mother-in-law affectionately named her Turbo Broiler (also an iconic kitchen weapon in that era) "Xue Di Zi" because of the similarity in shape. I wonder if it is just her or does everyone else also call it a "Xue Di Zi"?
Fatty Cheong's Char Siew Recipe:
1 kg
Pork Collar
(if you like it juicy) or Pork Shoulder (if you like it leaner)
Mix all the ingredients together to make the marinade then use it to marinade the meat for at least an hour or even better if you can marinade it overnight.
Roast in a moderately hot oven for half and hour, turning and basting the meat till it is cooked and slightly charred.
As with all hawker recipes, a lot of "Agarism" (estimation) is involved. So you might have to tweak it a little to suit your taste. And if you find it too tedious, you can always pop down to Fatty Cheong's to get some freshly roasted Char Siew!
Do write in and let us know if the recipe works for you!
Read more about the Xue Di Zi
here
Watch "Master of the Flying Guillotine"
here
(Get ready for a great 70's Kung Fu flick)
Check out the other famous places for
Char Siew
Disclosure: Some links above are affiliate links, meaning, at no additional cost to you, we will earn a small commission if you click through and make a purchase.