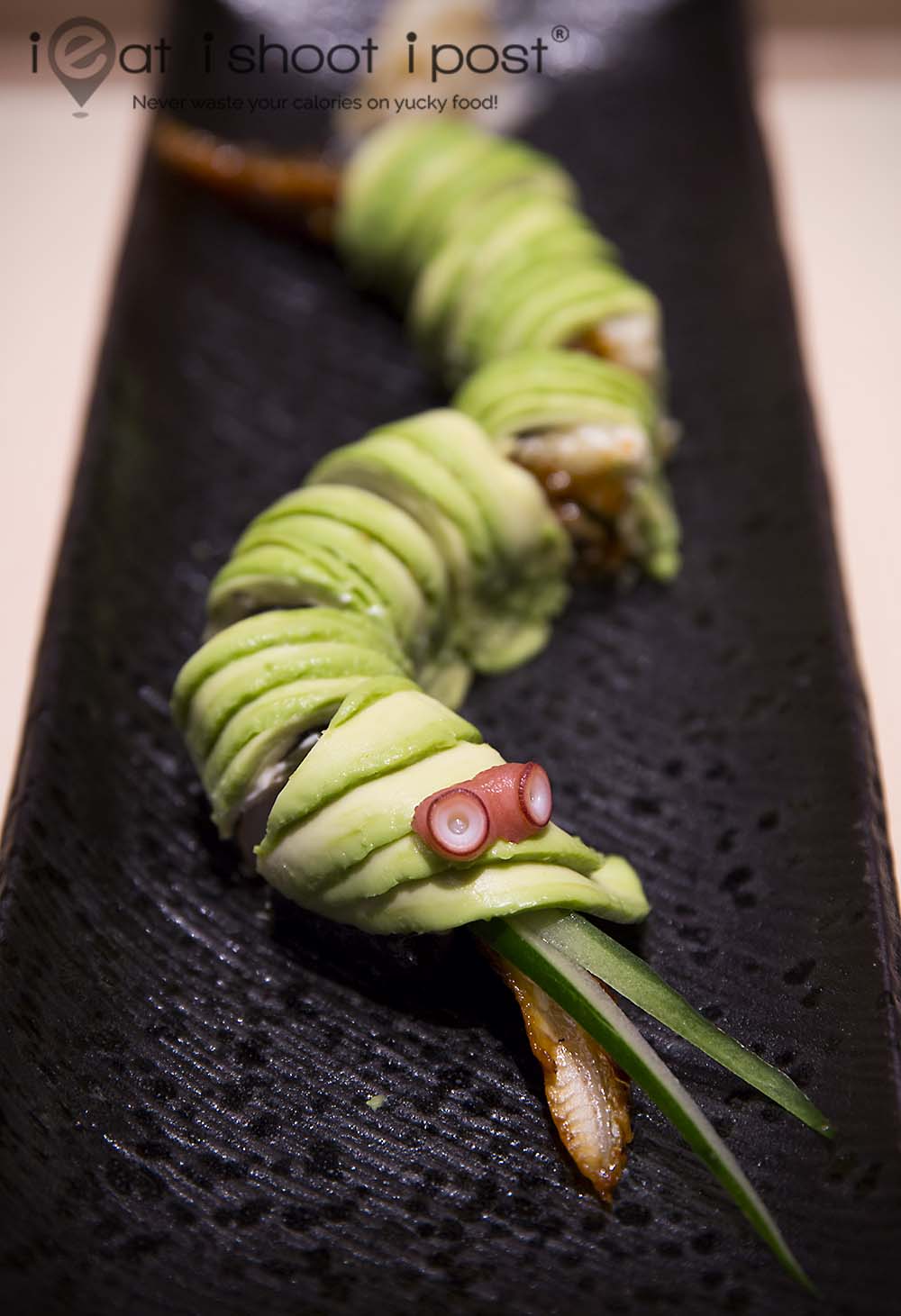 The California roll was created over five decades ago in Los Angeles by Chef Ichiro Mashita who substituted tuna with avocado during the tuna off-season.  He inadvertantly started the American sushi revolution which soon gave rise to sushi named after the other states in America.  In Seattle, they made their rolls out of smoked salmon and called it, surprise surpise, the Seattle roll.  The Philadelphia roll had cream cheese in it and in New Mexico the sushi roll gets spiced up with chillies!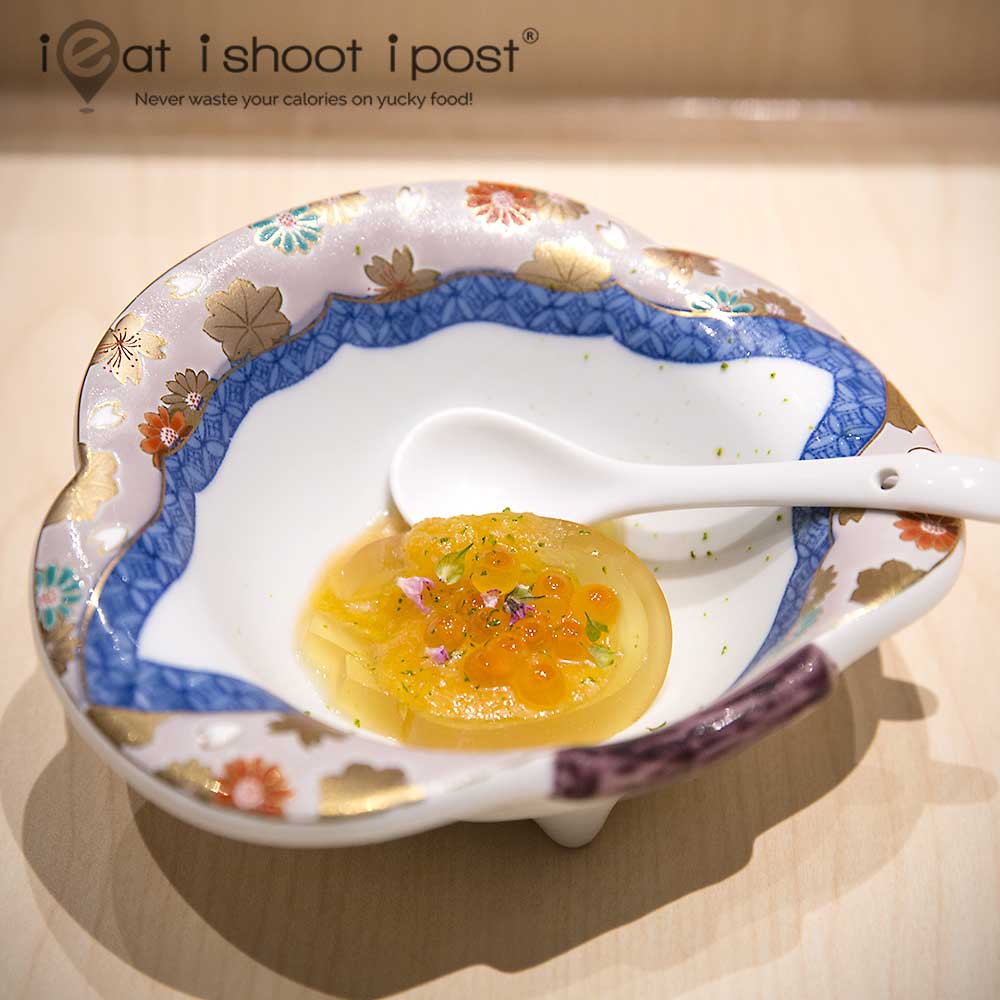 As the popularity of Japanese food spread, chefs invariably started incorporating flavors to suit the local palate.  In Singapore, our guys started training under Japanese chefs in the 80s and most are now masters in their own right.  Some of these chefs are responsible for creating Singaporean Japanese dishes which are as foreign to the Japanese as Singaporean noodles are to the average Singaporean.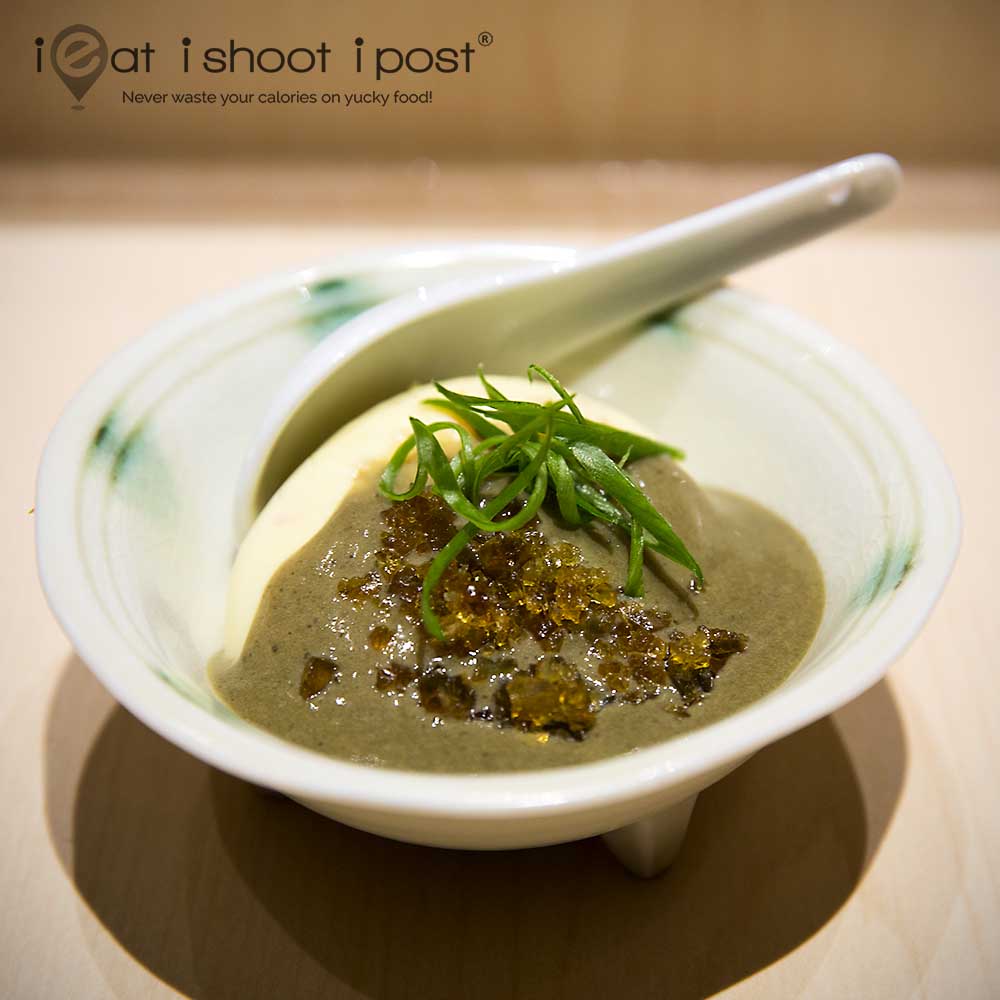 One of these dishes is pidan (century egg) tofu which our protagonist today, Chef John Phua, claims to have invented in the 90's.  Chef tells me that he got the idea while having a bowl of century egg porridge in the morning.  He can't be sure if the dish was already around, but he did go on to concoct the pidan sauce by himself.  Nowadays, pidan tofu is widely available in Singapore, but I am sure not many people realize that it is a Singaporean Japanese dish!
To make pidan sauce, you blend the yolk of the century egg with soya sauce, mirin, sake and sugar.  The whites or in this case, the blacks are chopped up separately to preserve their jelly like texture.  Chef John's sauce is still one of the best that I have tasted and interestingly, the Japanese here have taken a liking to it and are introducing it to their friends back home!  Who knows?  One day you just might find pidan tofu in Japan! 4.25/5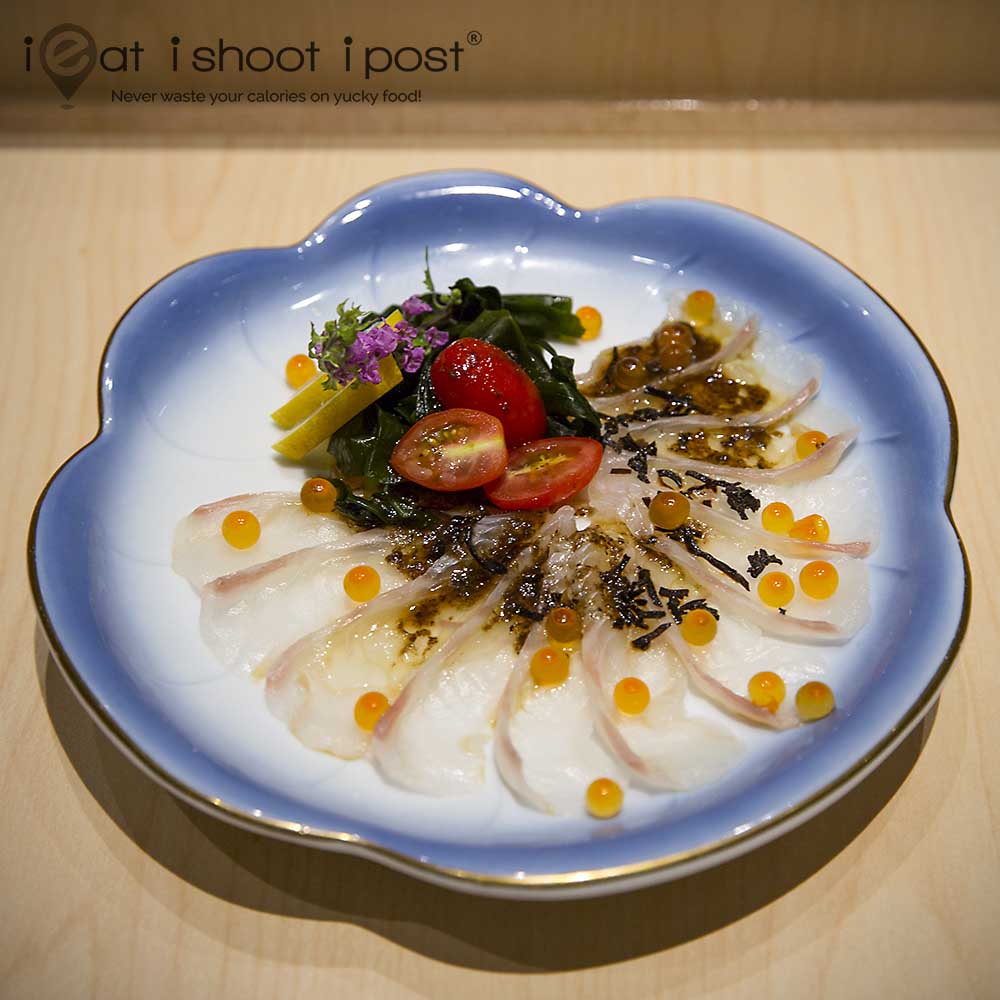 I have known Chef since his days at Fukuichi restaurant and I have always liked his cooked food. The sushi and sashimi are good, but it isn't the kind of place you go to eat the ultimate sushi meal.  Basic seafood like hamachi and hirame are fresh but certain items like tuna, lobster and scallops are frozen in order to keep prices affordable.
A dish like the hirame truffle is the kind of thing that Kyoaji excels in.  The sauce is very tasty and goes really well with the hirame. 4.5/5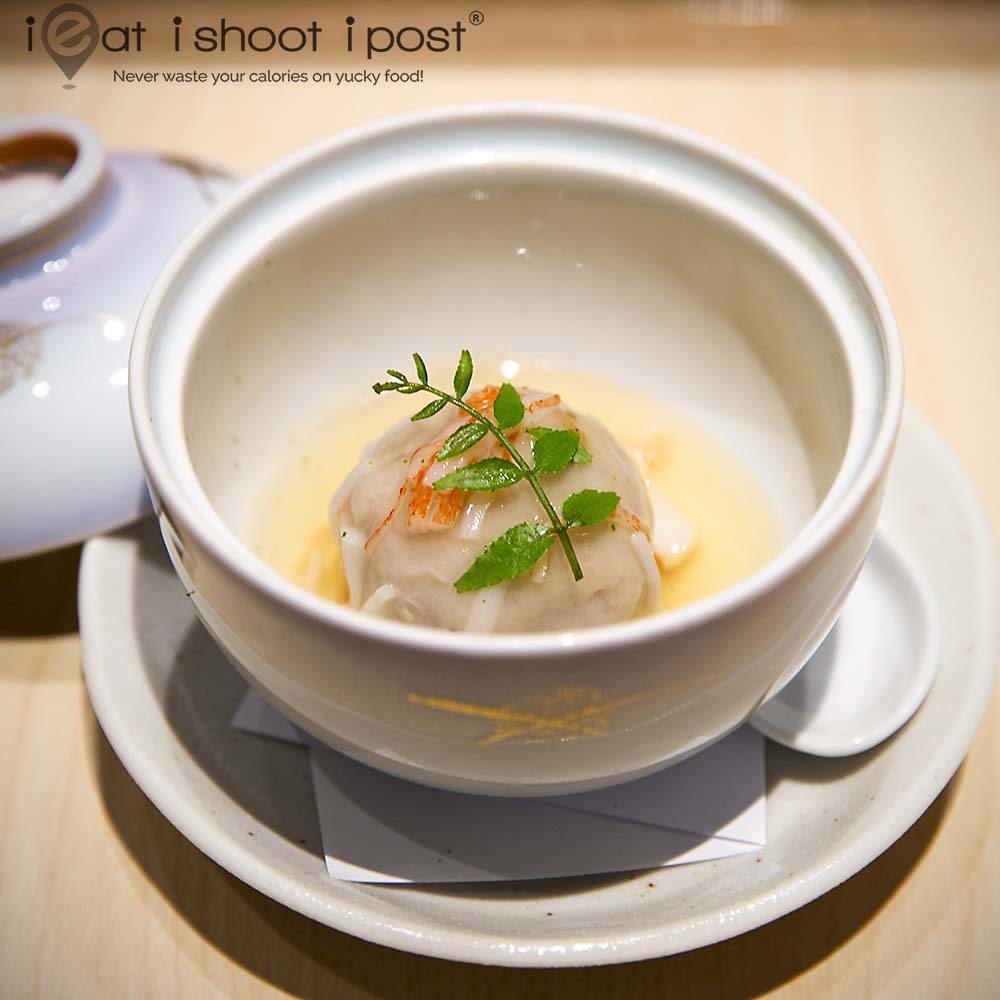 If you like orh nee, you will enjoy the Imo manju which is a yam puree steamed with unagi.  There was some butter in the yam puree which gave it a nice flavour.  I'd rather they not add the imitation crab sticks as it just cheapens an otherwise excellent dish.  4.25/5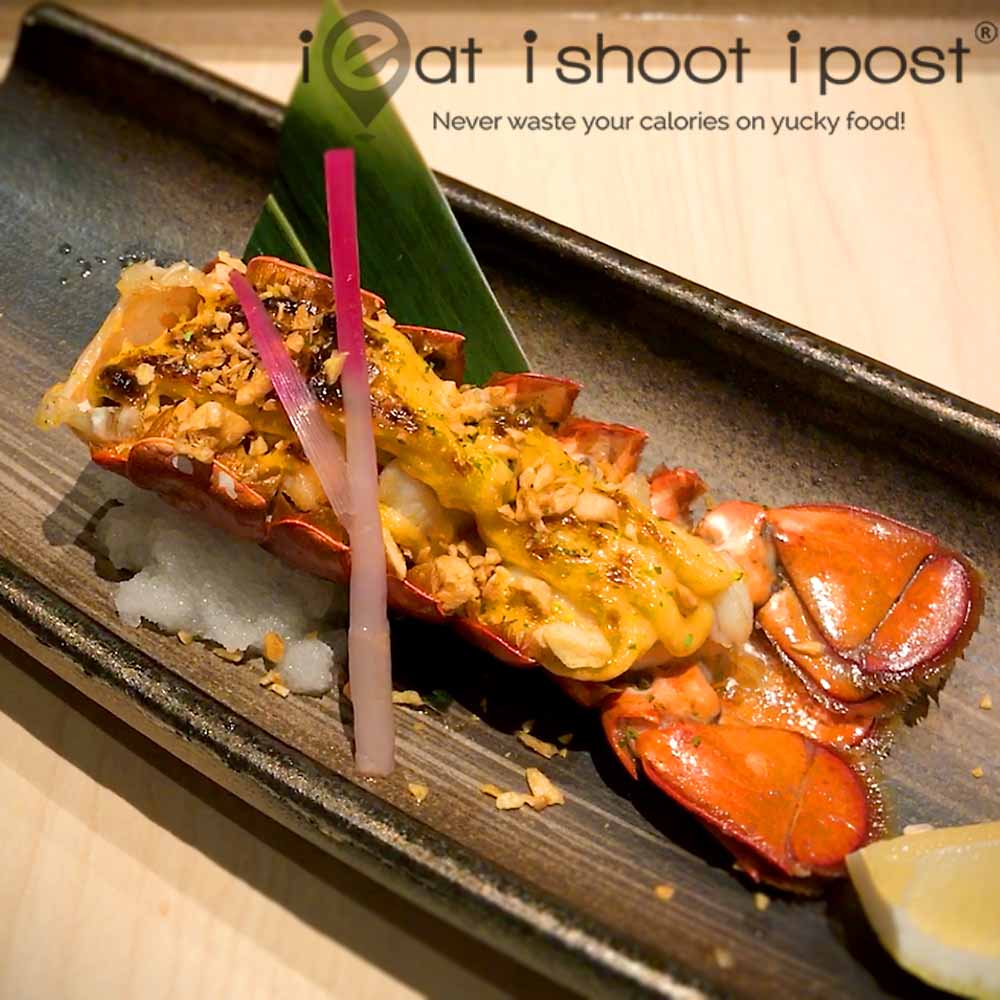 Ise ebi yaki is a dish which was created for Chef's new restaurant.  The topping is reminiscent of a romesco sauce which you might get at a Spanish restaurant.  Indeed,  if you removed the bamboo leaf and pickled ginger, it can probably pass off as Spanish food.  It is tasty nonetheless, although the frozen lobster meat can't compare with that of a live lobster. 4/5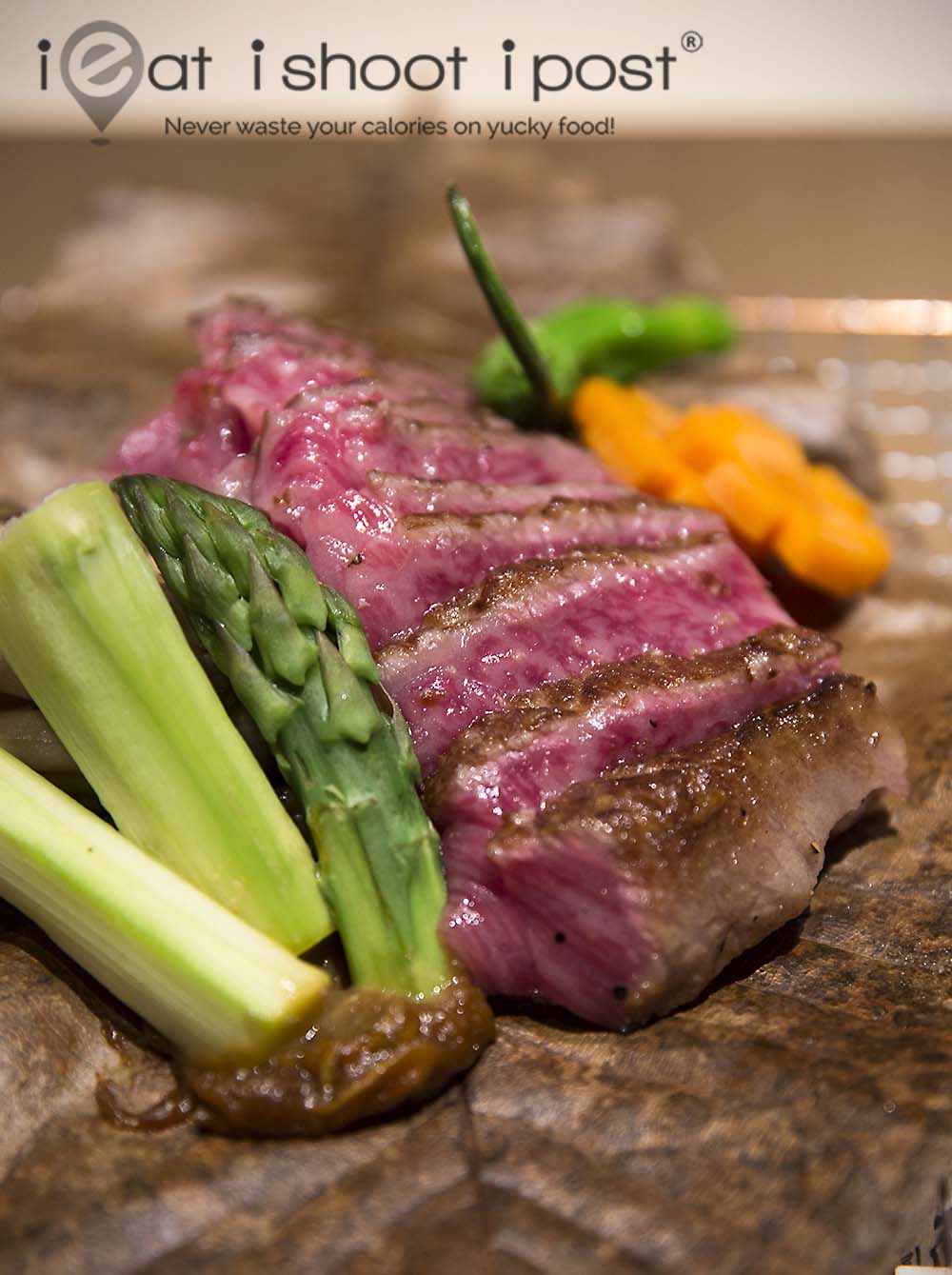 The wagyu was accompanied by a very tasty miso sauce which begs for a bowl of rice to go with it.  They are still working out how to control the heat under the hoba leaf.  When we were there, the flames were just not hot enough to get the hoba leaf smoking.  It should be fine after they change to using charcoal. 4.25/5
Conclusion
The dishes at Kyoaji will appeal to those looking for Japanese dishes with a local flair and bold flavours.  Chef John is loves to experiment with new flavors and is credited with the invention of pidan tofu which is a bona fide Singaporean Japanese dish!
Ieatishootipost special menu (Valid till 30 Nov 2017)

1.  Fish collagen with yuzu sauce
2.  Kani tofu
3.  Nama kaki ponzu (oyster with ponzu sauce)
4.  Hirame truffle
5.  XO Chawanmushi
6.  Ise ebi yaki (lobster with garlic sauce)
7.  Imo manju (steam yam)
8.  Japanese Wagyu hoba yaki or toro ikura don
9. Caterpillar maki
10.  Asari miso soup
Price: $80++ per pax.  Min 2 pax
This set is valid for one month till 30 November.  Please reserve your set by calling 6694 4068 and reserving your ieatishootipost set.