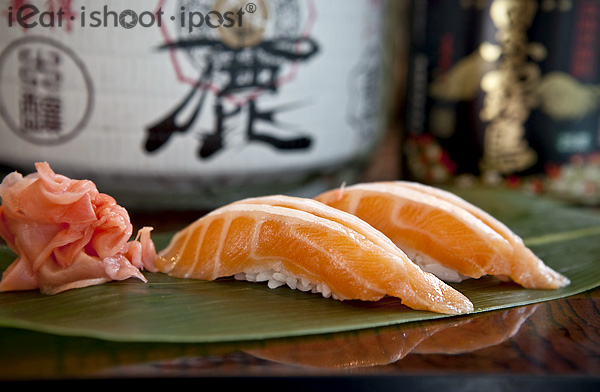 Sake Sushi (Salmon)
There are basically two types of Sushi Restaurants. Those that you have to plan for months to go and those that you just drop in whenever you want.
Sushi is not cheap because it takes a lot of effort to ensure that the fish is "Sashimi Grade". So what exactly is "Sashimi Grade" fish? If you try to buy salmon from the supermarket, you would be confronted with the warning that certain salmon are not meant to be eaten raw. There actually isn't any authority that grades the fish into sashimi or non-sashimi grade fish. So really, we consumers are at the mercy of the companies that sell us these products.
Raw fish, especially fresh water fish, can potentially harbor parasites. Salmon in particular which spend part of their lives in fresh water are common hosts for the tapeworm larvae. When ingested, the tapeworm makes its home in our intestines where it can grow as long as 30 feet. The parasite can be killed by freezing the fish to minus 35 degrees celcius for 15 hours. In fact, the sushi chefs in Japan are all trained to serve only Salmon which have been frozen before. So when we talk about good quality fish, it certainly does not mean that it has not been frozen before.
The other fish that we all love which has probably been frozen is the bluefin tuna. Ninety percent of all tunas caught have been blast frozen when they are caught by the fishing boats. Since the fishing boats spend months at sea, it is very rare to be able to eat tuna that has been freshly caught. In general, when meats are frozen in our home fridges, the slow freezing process means that the water within the cells crystallize and puncture holes in the cell walls such that when they are defrosted, the water in the cells leak out and you have a piece of dry meat. Fish which has not been frozen and thawed properly turn mushy instead. In order to avoid this, meats have to be blast frozen so that the water does not have time to crystallize. At sea, they would decapitate the tuna and throw them into a bed of snow and apply liquid nitrogen to quickly blast freeze the fish. Fish frozen this way can be kept for 2 years and when thawed is supposed to be very close to fresh fish.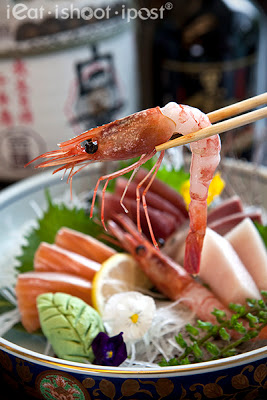 Amaebi $3 ea (Sweet Prawns)
So, when the restaurant declares that their fish are flown fresh from Tsukiji or Hokkaido what does it mean? It certainly does not mean that the fish has not been frozen. Perhaps the Hamachi (yellowtail) is fresh since it is a farmed fish in Japan and it can be shipped directly. Some of the other fish like Saba (Mackeral) and Kohada (Gizzard Shard) might also be fresh, but when it comes to Tuna, it would still be likely that it was frozen on board the ship.
Fukuichi restaurant stands out from a lot of other Sushi restaurants in how they source their fish. Instead of flying in the fish fresh, they tell you straight off that their tuna and swordfish is all frozen and fresh off the fishing boats. The story is that the parent company is involved in processing fish, freezing them and exporting them to Japan. Singapore, being a trans-shipment hub is an ideal place for fishing boats to off load their tuna to be processed into sushi blocks before exporting to the Japanese market. So the owners thought it was a good idea to make some of these fish available to the local market and tied up with a 100 year old restaurant chain from Japan to set up Fukuichi.

Aburi Shio Maguro (Albacore Tuna)
I am pretty weary about eating cheap sushi, but at the same time I am also weary about having to pay over $100 to sit at the Sushi bar to enjoy a Sushi course. So Fukuichi seems to fill the gap in between by providing good quality fish at a more affordable price. Just for comparison, their Toro is $11 per piece and Ama-ebi is $3. I tried their sashimi set and the fish is excellent even though they were frozen fish. Then again, most of these fish would have been frozen even at your high end restaurants.
A few years back, I baulked at the thought of eating raw fish. But now I love sushi. I was converted when I started my research into sushi and was taught by the Sushi Sage, Nogawa-San, how to enjoy sushi.(Check out my video on how to eat Sushi in the post) Up till then my experience with sushi has been limited to conveyor belt sushi. But when I was converted when I learnt the pleasure of eating sushi at the bar. Here you can interact with the sushi chef and learn a lot about the seafood you are eating.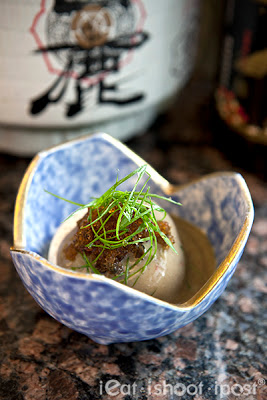 Cold Kani Tofu Starter $3
The cooked food at Fukuichi is very good too. Chef John (previously from Shimizu at Gillman and Shinobu at the PSA bldg), who is a veteran with 25 years cooking Japanese food in Singapore is very competent in tweaking Japanese food to our local palate while still preserving the Japanese character of each dish. The Kani Tofu starter is one good example. He marries cold tofu with crab meat and dresses it with a sauce made from Century Egg and Mirin. This makes a nice refreshing starter which I quite enjoy. 4.5/5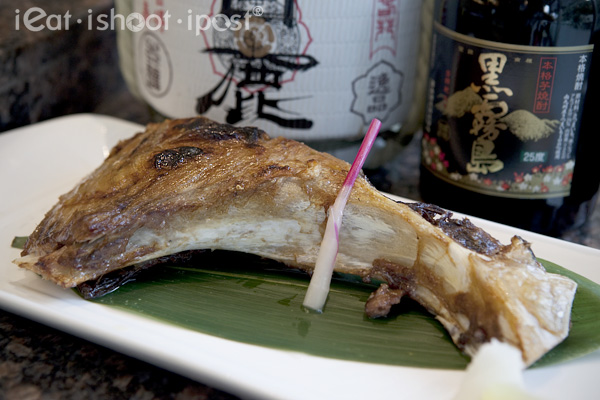 Kama Toro $35 by itself or $50 with 4 sushi
Since Fukuichi specializes in tuna and swordfish, any of their dishes here that features these two fish are very good value. For those who like Otoro, you should really try the Kama Toro or Tuna collar. This dish comes as a set since the amount of meat available for sushi comprise only a small portion of the tuna. So when you order Kama Toro, they extract some bits for nigiri sushi and the rest of the collar is grilled and served plain. This is a great dish for two as there is quite a lot of meat in the collar which is flavourful and quite fatty since it is from the portion of the fish just in front of the part they carve out for Otoro. 4/5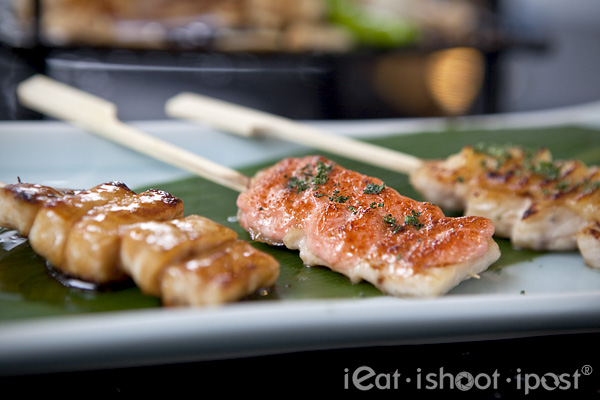 Grilled Swordfish Belly $12 for 3
Swordfish (mekajiki) is very nice for sushi as it has a creamy, buttery texture. But the belly is a little too soft to be served as sushi, so they serve it as a grilled set which comprise of teriyaki, mentaiko mayonnaise and miso flavoured skewers. This is very nice to go with sake as it is very rich and you really can't go wrong with the familiar flavours. 4.25/5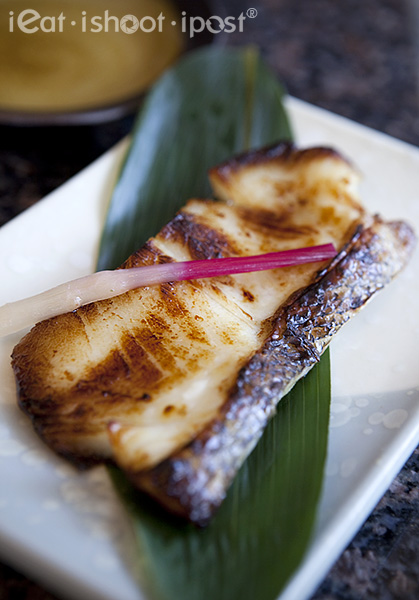 The one item that I have to go back to eat is Gindara Saikyo-yaki which is Gindara marinated in Saikyo miso, mirin and sake. Now, I am very partial to Gindara Teriyaki and it is a dish I order all the time, but I was very very pleasantly surprised by Chef John's Gindara Saikyo-yaki, it was easily the best I have tasted. Granted it is different from Gindara Teriyaki, but from now on it has become my benchmark for any Gindara dish. For $16, the portion is generous and if you love Gindara, you will love this! There is no sauce in this dish, unlike Gindara Teriyaki, but the marinade has seeped into the connective tissue between the muscle sheets, so you get a wonderful flavour that hits the back of the palate when you start chewing. 4.6/5
If you are looking to have one dish that will help you finish a whole bowl of rice, then you might like to try the Ebi Teppan. This is of course a very familiar dish but I like how Chef John managed to infuse a nice charred flavour to the prawns by dicing it and pan frying it over a hot plate instead of the more common way of butterflying the prawns and grilling it. The flesh of the King Prawns is nice and juicy and you may be tempted to order another bowl of rice to go with it. 4.5/5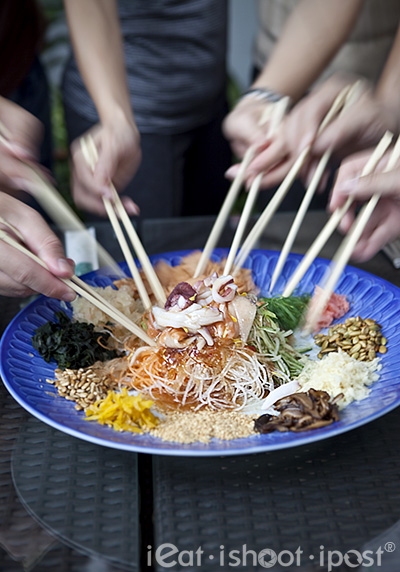 Fukuichi Style Yu Sheng
For those looking for Yu Sheng which is a little different, you can try the Yu Sheng at Fukuichi. All the dried pickles and ingredients are made in house and they use Salmon, swordfish and octopus for the raw fish. The sets are $38++ nett (salmon only) and $68++ nett (Salmon, Octopus and Swordfish).
Photos by Joao and ieat
We recently held our Canon-ieat photography workshop at Fukuichi and our participants were treated to some excellent arrangements by Chef John. I shall leave it to you to admire the photos courtesy of Joao who attended my class last year. Thanks for the photos Joao!
Conclusion
If you enjoy Japanese food with the family this is a good place to check out. Prices are reasonable and the quality of sushi is much better than the usual chains at the shopping centres. So you probably end up paying just a little more but you get much better ingredients. The restaurant owns the processing plant in Singapore and so the items which feature tuna and swordfish are really great value.
Special for ieatishootipost readers
Mention ieatishootipost and get 20% off ala carte items and a chance to sign up for a one year VIP pass which gives you 20% off for one year! Offer is valid until end Feb.