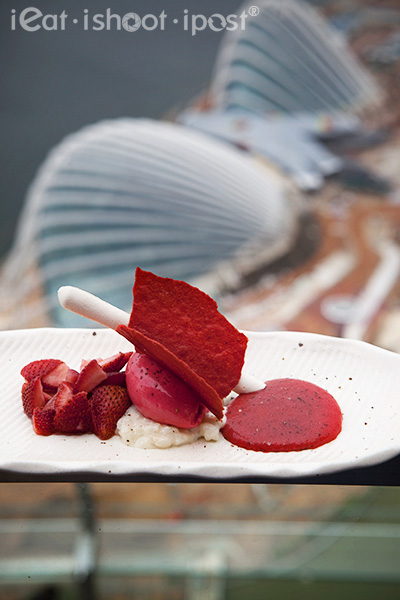 How often have you driven along the ECP into the city and looked at the three towers of the Marina Bay Sands and wondered to yourself what the view from the tip of the overhanging "banana split" looks like? Well, it looks like this: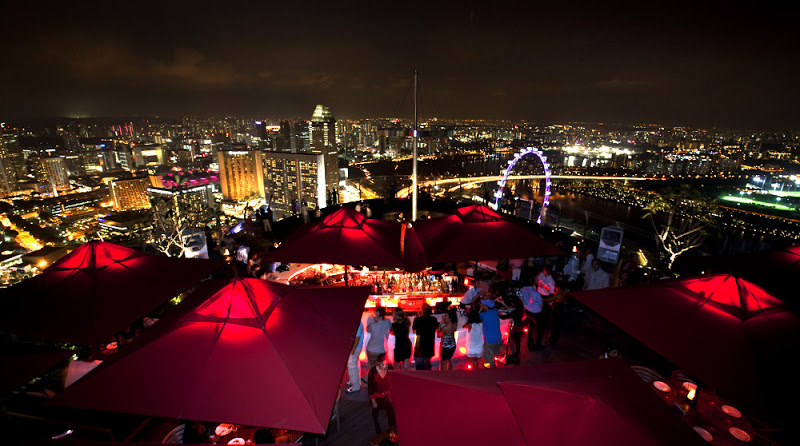 The next thing you might wonder, (if you haven't already been to Skypark) is how much it costs to get up there, cos surely it is one of those places in Singapore that is on your list of places to visit one day. Well, the answer is $20 for the admission ticket.
Then the next thought you might have may be, "Perhaps instead of spending $20 to go up there, I should just plan a meal at one of the restaurants?" Then of course, you would wonder what kind of food is being served there and whether it might still be more affordable to just buy that $20 ticket.
Now if the above thoughts have ever crossed your mind, then this post is for you.
Kudeta is the restaurant which occupies, what some might consider, the most coveted dining spot in Singapore. I mean, how much more iconic can you get? Once you have been to the restaurant, whenever you see Marina Bay Sands in a postcard you can tell your friends that you have eaten right up there in that overhanging bit of concrete 57 stories up! The good news is that Kudeta has positioned the restaurant as a place for casual dining rather than fine dining. So you can book your table, order a few dishes and a drink and just sit around and enjoy the view. So the exclusivity is not limited by the size of your wallet but on whether you managed to book a table!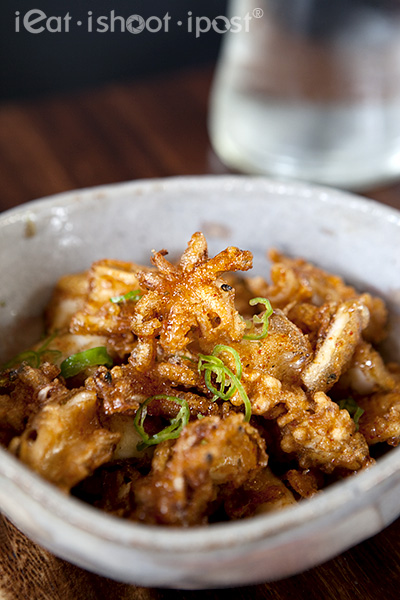 The food here is classified "Modern Asian" which really needs some explaining. How do you define "Modern Asian"? Well, I will tell you what it is not. It is certainly not Laksa Pasta, or Fried Hokkien Sphaghetti. Modern Asian at Kudeta means getting an American and a French Chef together, putting them in Little India and asking them to use whatever ingredients they can get their hands on to create dishes. Certainly, with Chef Dan's background in Japanese cuisine, a few of the dishes will be quite distinctly Japanese, like the grilled Wagyu with salt for example. But look at his Crispy Sticky Baby Squid and you will understand what "Modern Asian" means.
This is not a retake on our Singaporean classic Crispy Baby Squid, nor is it the Indonesian crispy Sotong, but a whole different dish altogether. Here, specially selected three inch, fresh Sotong (must not be too big) is fried in a crispy batter made from Japanese Potato Starch before coating it with a sweet and sour Thai fish sauce and lime dressing. The batter is light and crispy and the sotong is wonderfully tender. Order one to go with your drink and settle down to watch the camera flashes of the hapless folks stuck in the slowly revolving Singapore flyer and think to yourself: "Hey, I am higher up then you, I got nice food and a drink and I can actually go to the toilet whenever I want!" 4.25/5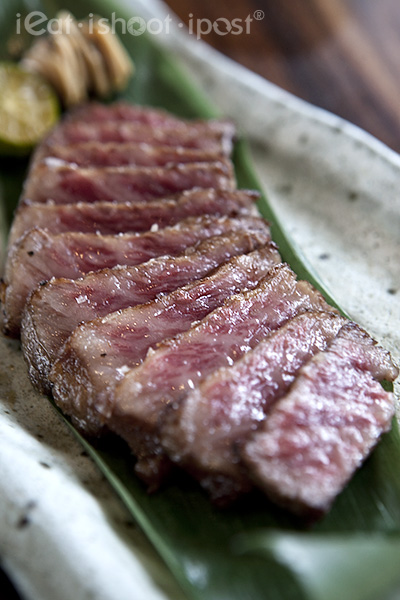 Chef Dan is a person who is meticulous about good produce and would go out of his way to procure the best stuff available. One of the things that Kudeta loves to boast about is the fact that they are the only restaurant in Singapore to sell Ohmi Beef from Takara Ranch. Now, you might have already come across a few other Japanese restaurants selling Ohmi Beef, so what's the big deal? Well, Ohmi Beef, besides being one of the three big names in Wagyu (Kobe and Matsuzaka being the other two), has been served to the Emperor since the Edo period.
There are of course many Ranches in the Shiga prefecture, but Takara Ranch is one of those really small boutique ones where the cows receive extra special attention. They only have 350 heads of cattle and they are reared in pairs to reduce stress levels by having a Siong Di (brother) to moo along with. (They are dispatched together as well). Chef loves to tell me the story about how they managed to clinch the deal by getting the Japanese representative from Takara Ranch drunk in order to get him to sign the contract!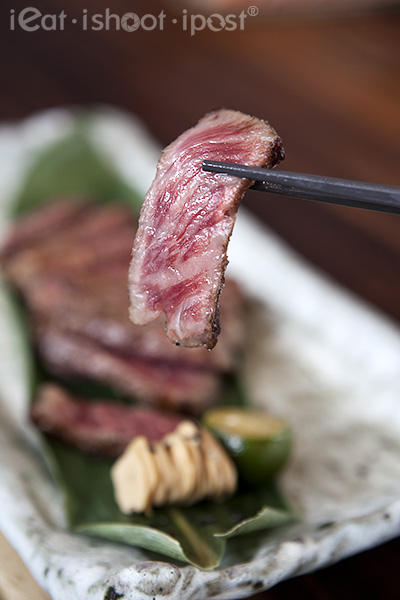 Needless to say, this is one of the best Beef that you can ever lay across your tongue. At $105 per 100g, it is certainly not cheap, but even when I was in Japan, I had to pay almost $200 for 270g of Matsuzaka Sirloin, so given the stronger yen now, its really not that much more that what you pay in Japan. OK, a bit unfair to give a 4.75/5 rating to a dish which is basically just grilled, although they do use Japanese Charcoal and it is perfectly executed. But how to give anything less for such a prized sliver of meat?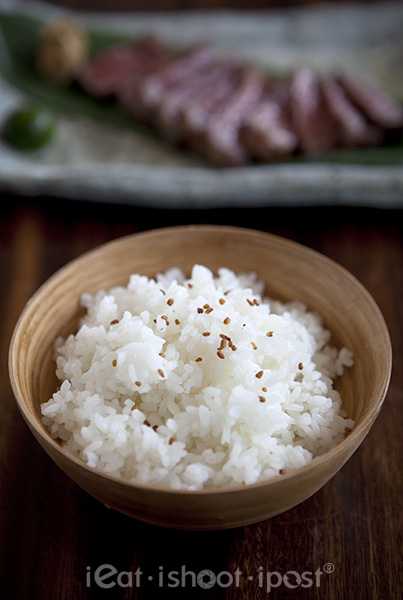 I always find that the best carbs to go with Japanese Wagyu are not potatoes but rice. The meat is already so rich that when the oils start to melt at body temperature, that the best thing to soak up the oil and add a bit of sweetness, is a nice mouthful of rice. Even better if it is a good Japanese rice like Akita Komachi which is the choice of most Japanese Sushi Chefs. I am glad that at Kudeta, they do serve Akita Komachi rice. Some may feel it is a waste to serve it as plain rice when its value could be quadrupled when it is made into Shari (Sushi Rice) so $5 for a bowl isn't really expensive especially when you compare it to that slice of Beef which is already $15.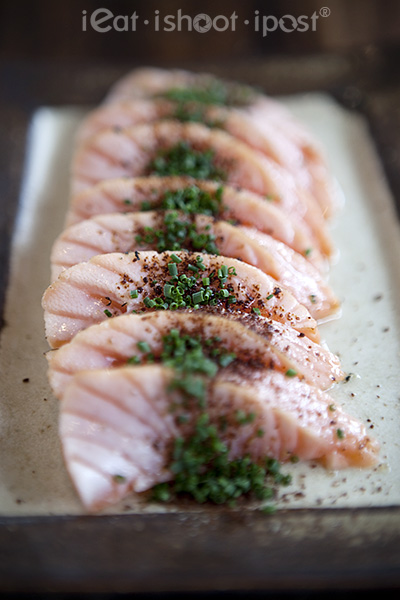 The Scottish Salmon Sashimi again shows Chef's attention to produce. Instead of using Norwegian Atlantic Salmon, which is the most commonly served in Singapore, Chef chose Scottish Salmon because it is reared in Loch Duart which is a natural lake where the fish has room to swim and are fed with natural feeds which contains no artificial colouring. It is interesting to note that the bright orange colour of Salmon is derived from astaxanthine which wild salmon get by feeding on crustaceans. With farmed Salmon, some producers add colouring into the feeds to give the Salmon a pleasing orange glow which is great for the eyes but not for the body.
The hot oil treatment gives the Salmon just that extra bit of flavour as the flesh is just slightly cooked. It is very good and Rockett Girl really enjoyed it. I however still prefer it cold as I find that warm Salmon always loses that bright fresh flavour and springy texture. 4/5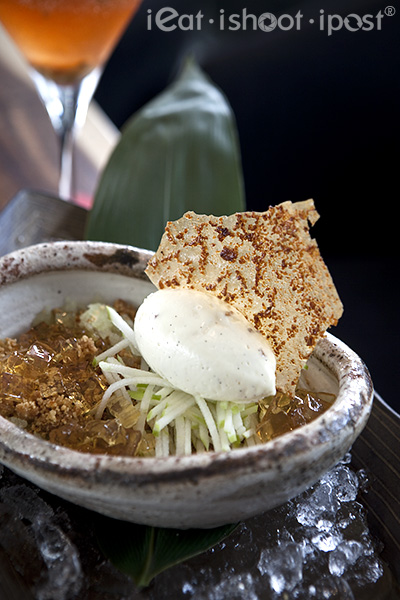 You will not be disappointed with the desserts here. They are some of the best and innovative desserts I have come across and are surprisingly affordable. The Strawberry dessert is made with a Strawberry flavoured white chocolate ganache on a bed of cardamom flavoured rice pudding, an inspiration derived from Little India. Those familiar with Indian desserts will recognize the salute to Mother India immediately. It was something new, unexpectedly good and surprisingly light. 4.5/5
For something even lighter and more refreshing, go for the Apple and Honey. The "Honey" is actually honey that has been dehydrated so that it has crystallized. It is then served like a crumble over crunchy julienne green apple with an apple flavoured white chocolate ganache and apple jelly. Well balanced and a refreshing way to finish a meal. 4.5/5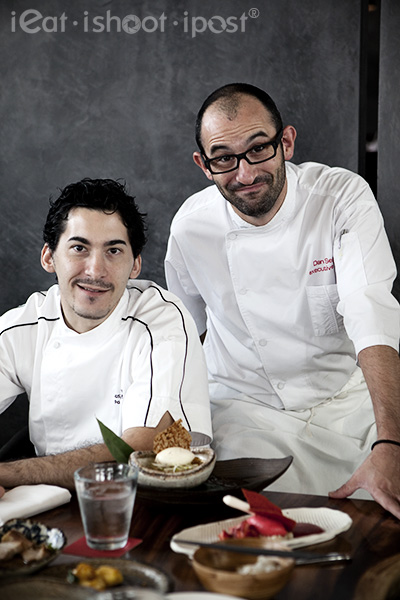 The menu at Kudeta is ambitious and there are some hits while others still need some tweaking. The Muscovy duck for example still can't really hold up to a simple Roast Duck that you can get from some of the better hawker stalls. So don't expect all the dishes to be great. Then again, with such restaurants, it is not about tried and tested dishes, but the adventure of trying new things. So if a new dish doesn't work for you, find something else that does. And if all fails, heck, you still got the view, which is what you are there for anyway.
Conclusion
Make no mistake. You come to Kudeta for the view. The food and especially the desserts are an added bonus. The best thing is that they have priced it within reach of the masses, so you really don't have to think twice and plan for months just to enjoy your meal with the view.
This was a media invite