Have you ever wondered how I find all the makan places on the blog? Well, when I first started the blog it was quite easy. Just look for lists of all the best food places that people have posted on the internet. Once that began to dry up, I started our own forum to let our kakis exchange notes about what they have discovered. Very soon, we have our very own makan brigade and it's just a matter of asking the brigade Captain, a post currently held by Soundman where to eat lunch in any given week. Then of course there are the plethora of email that come in to tell me about this stall and that. By the way, I had quite a few requests this week from people who want in on the makan brigade. Well, we operate a meritocratic system that is opened to anyone with a mouth and a stomach. All you have to do is to join the forum, start communicating with our kakis and very soon, you will be invited to a makan session somewhere!
Ah, back to the story that I was about to tell you. Although most of my makan sessions come through recommendations, every now and again that I stumble on a bloggable stall simply by chance. This is how this particular stall got blogged. But that is not all, there is another interesting story behind this particular one.
It happened one Sunday afternoon as I was making my way down to Killiney Kopitiam to meet up with the camera crew who were shooting an episode for Discovery Travel and Living. The storyline revolved around how smells bring back memories and we were supposed to talk about Kopi and toast. As I was making my way down to Killiney Kopitiam, I spied this stall selling Curry Puffs. They had just come out of the fryer and looked irresistible, so I succumbed to its irresistibility and bought a few to eat over at Killiney Kopitiam. (OK guys, please don't do what I did. I happened to be meeting the boss of Killiney that day so he gave permission for us to eat the curry puffs at his shop).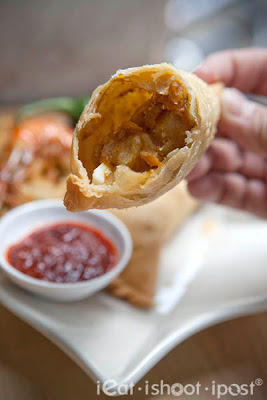 The curry puff turned out to be really good, so I made a mental note that I shall visit them later. As it turned out, the camera crew from Discovery Channel arrived and because the Kopitiam was a bit crowded, we decided to shoot some of the secondary scenes along the shophouses and yep you guessed it, I found myself back at Killiney Curry Puff having to act out the scene where I take photos of the curry puffs. (These are the photos I took during the shoot) There you have it!
The Malays usually call this particular snack Epok Epok. Epok is the Malay word for "to fold over". Of course we know it as Curry Puffs. The Malays sometimes called the triangle ones "Karipap" while the Chinese call the thick skinned ones "Kali-pok". Personally I like the Malay version because the crust is thin and crispy, so you can afford to eat a few and not feel too jialak. Although the Mak Chik here tells me that you are not meant to eat Epok Epok with Sambal Tumis, lots of people, including myself enjoy it that way.
The secret of a good Epok Epok is to eat it fresh out of the fryer. That means that you either need to get them at the stall early in the morning or find a stall that has a high turnover of Epok Epok throughout the day and this is one stall that does just that. The filling is made with the local "Holland" potatoes which are the ideal ones to be fried with rempah to produce a creamy and spicy sweet filling that goes so well with the thin and crispy crust. The final icing on the cake is a sweet and fragrant Sambal Tumis, add on a hot cup of Teh Tarik and its Kok Kok Kali-pok! 4.25/5
You might find it incredulous to find a photo of Vadai at at Malay stall, but they sell do Vadai here! Why? Because the Malay lady married a Baba and somewhere up the family tree, there was an Indian. So now you know why they sell Vadai (pronounced Waday). For a stall which calls itself Killiney Curry Puffs, you would be surprised that it is the Vadai which is the real star. These are one fantastic savoury doughnut. The dough is light and airy and the crust is thin and crispy. The flavour is just right and it has that extra ooomph that makes me want to go back to get some more soon! 4.5/5


Conclusion
Great Epok Epok and even better Vadai. The stall sells all the other staple Malay fare like Lontong, Mee Rebus and Mee Siam and is a great place to find a snack any time of the day!