Jin Long is a Cze Char in the Bedok heartland that would be a Restaurant if they had their own space. Innovative Cze Char is the name of the game here, and we were very delighted with what we ate. Take for example the Chai Poh Tofu above. Chef Ah Gu (Mr Bull) invented this dish which takes the humble chai poh (preserved veg) to new heights. I was actually reluctant to order this since I thought that chai poh was really boring. But man! I have never eaten chai poh like this! Light and crispy, if you don't tell me it is chai poh I would never have guessed.
The tofu was silkly "melt in your mouth" smooth, like eating a deep fried chawanmushi. Ah Gu tells me its because he makes the tofu himself from soy milk and egg. Very nice and a definite MUST TRY!!
4.5/5 Must come back for this!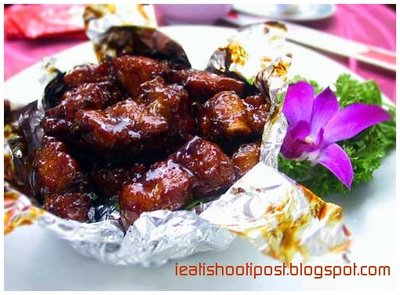 Baked Sweet and Sour Pork Ribs
Quite tasty, but I find the meat a little emaciated. Baking the pork ribs gives it a slightly different texture and taste. Think I still prefer my Jing Tou Pai Ku.
3.5/5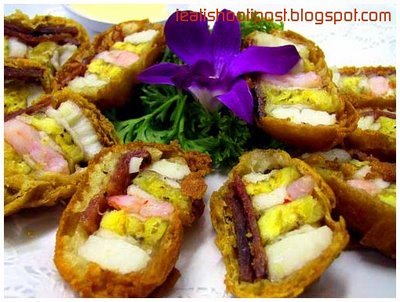 Deep Fried Scallop Combination
Another interesting first. Scallop, prawns, bak kwa, banana , in a goreng pisang (banana fritters) batter. Mmmm. Should it be fried scallops with banana or goreng pisang with scallops? Worth a try, though you can't really appreciate the taste of the scallops. But the combination works.
4/5

Gotta try this!
Crispy Prawns in Cream Sauce
Very nice fusion of European and Chinese cuisine. The cream sauce is certainly something that you might expect to find with pasta and is quite reminicent of Bearnaise sauce. I found the prawns a tad overcooked, which is quite common with Cze Char Prawns. (Then again, the only real way to eat prawns is freshly steamed with a bit of soy sauce and chopped chilli!) However, the shell is so crispy you can eat the whole thing. The sauce is too nice to waste and tasted brilliant with the beehoon we ordered. (Remind you of pasta?)
4/5 Definitely try it for yourself, its something quite different.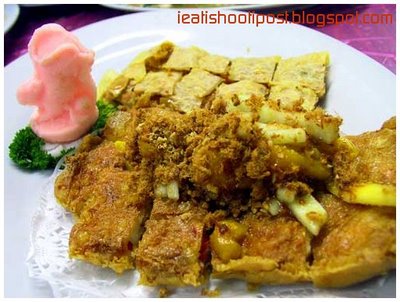 Crispy Tofu and Roast Duck Rolls
I haven't figured out why he serves this two together. Maybe it just makes the dish bigger. The Crispy Tofu in the foreground is a mixture of seafood and tofu deep fried till crisp and topped with a mango, pear, peanut and porkfloss salad which really does work well together. The roast duck roll is a bit less impressive as it tastes more like fried fish paste in ngoh hiam skin. Roast duck? Where?
4.5/5 Crispy Tofu. Must come back and order again!
3/5 Roast Duck Roll. Where's the duck? Quite ordinary.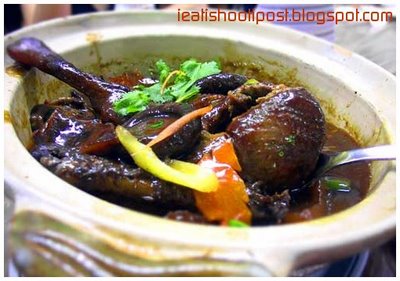 Braised Duck with Sea Cucumber
Compared to the others, this dish was a bit of a let down. It's not bad, its not outstanding. The duck was nice and falling off the bone tender, but the Sea Cucumbers were still crunchy. Flavour wise, ok only
3/5 Rather spend my calories elsewhere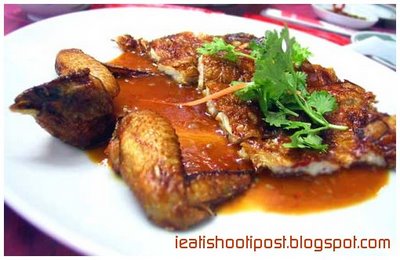 Crispy Fried Chicken
Looks good but underneath the canopy of chicken skin is fish paste!! Ok it is very innovative, but I like my crispy skin chicken. So it's a bit dissappointing. Just leave the chicken meat where it is supposed to be and it will be alright.
3.5/5 Worth trying I guess, but I am not ordering this again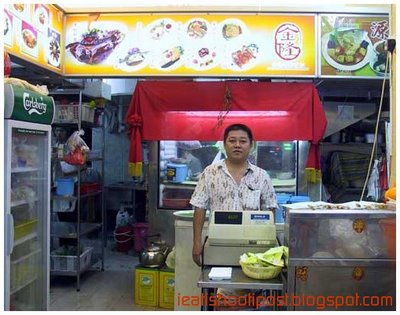 Ah Gu and his Jin Long Seafood Restaurant
Worth a visit and pleasantly surprised with the innovative dishes. Will definitely come back again to try other dishes
Overall Score
4/5 for innovative dishes in a Cze Char setting at Cze Char Prices
$130 for 9 dishes to feed 8 adults