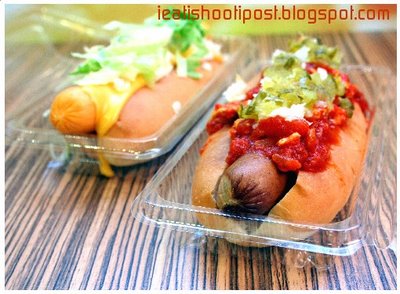 There's a new dog on the block! Retrodog takes the good old hotdog and makes it better. And for $2.80 for a dog and drink set, you really can't go wrong.
The hotdogs are not your run of the mill dogs, they are the grade that they serve in hotels. But don't expect German Bratwursts. They are pretty tasty mid range dogs. What really sets retrodog apart are the really soft buns which they put in the special steamer and the range of condiments they provide.
Everyweek, they will have a special sauce to enhance the hotdogs. We just missed the mango relish which they make themselves. But we were pleasantly surprised with the cheese sauce, chicken tomato sauce together with the onions, lettuce and relish which they provide.
All in all, really good value for the money and a welcome innovation to an old favourite, which I feel has up to now, not been given enough justice in Singapore.
Not something you would travel all the way from the West to eat, but certainly worth a try if you are in town!
4/5 for value and range of condiments