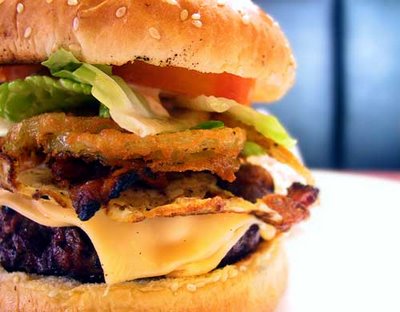 Aston's SuperShiok Burger – ieatishootipost
Move over, Uberburger, Singapore's got the Astons' SuperShiok Burger!! This luscious burger also gives new meaning to Carl's JUNIOR.
I just couldn't get the thought of a superburger off my mind since last Friday when I had my ribeye at Astons. So today I succumbed to temptation and went again to order the SuperShiok Burger. Only one phrase to describe it — Phwaa Say!! Super Shiok!! (I say, really delectable!)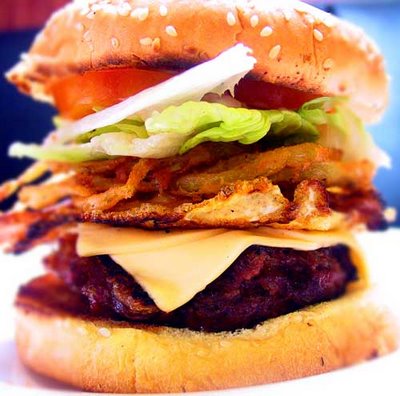 10 essential ingredients that make the SuperShiok Burger
From bottom up:
1. XL Soft Sesame Seed Bun
2. Freshly chopped sirloin steak pattie 2oogm, medium done
3. Astons homemade Smoked Hickory BBQ sauce (fantastic smoky, tangy flavour)
4. 2 slices of cheese
5. 2 rashers of streaky bacon – grilled to crispy
6. 1 fried egg
7. Lightly battered, crispy fried onion rings (Available only on off peak periods)
8. Lettuce
9. Tomatoes
10. Mayonnaise
So, can anything be better then discovering possibly the best tasting and largest burger in Singapore? Oh yes!! That's when the best burger also happens to be only $12.50 with no +++. Compare this with Uberburger where you get 200g chopped Sirloin on crusty bun with salad for $16 +++. I am kissing Uberburger good bye!
Why only rate it 4.5? Well, that's to give Astons some space to furher improve on his receipe. Like using Wagyu beef and adding Foie Gras perhaps?
This special order burger is only available on off peak periods, please give him a break!
4.5/5 for best taste and best price