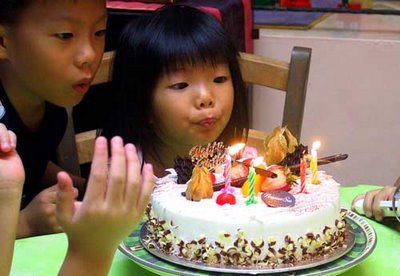 My little princess turned 4 last Sunday! That was quick! It wasn't so long ago when we had to change her diapers. Now she's waking me up everyday and telling me its time to go to work. Before you know it, I'd be walking her down the aisle!
Megan's turning out to be quite a performer and would not hesitate to pick up the microphone to sing and dance to the music. We are also discovering that is one cunning little girl who has a way of manipulating things so that her brother always looks as if he is in the wrong. After all who can put the blame on such an innocent, angelic looking face? Already she has her choice of suitors every Sunday, with the older girls at church all asking for her permission to carry her. "I want this chay chay", she would say, with her tiny little fingers pointing to the fortunate teenager.
Psalms 127: 3 says: Sons are a heritage from the LORD, children are a reward from him.
What did I do to deserve such a reward? Truly, it is only by grace.