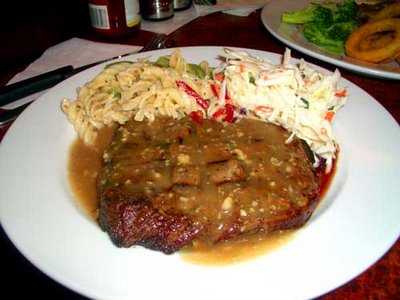 ASTONishing! That's the best word to describe my supper at Aston's Specialities.
What started out as our routine D&M(Deep and Meaningful) turned out to be the best dining experience of the month!
So what were we expecting? A quiet night out, quick simple "hawker style" western food then head home to bed.
It's been a tiring week for both of us. From what we know from the forum, this restaurant which used to occupy a stall at the nearby coffeeshop serves reasonably good steaks at very good prices and the food is a few grades better then your run of the mill hawker western food.  As we drove past the restaurant, we noticed how crowded it was.
"That's a good sign" I thought to myself, as I parked the car.
When we walked in, Astonishment #1, the crowd was none other then a group of seasoned makankakis busily devouring the entire rib eye section of one cow. No kidding, 8 kg of Prime Roast for 15 people! The cow certainly did not die in vain as the meal was accompanied by wines from every corner of the globe.
HAPPENING!
After exchanging notes about pleasure derived from various parts of the cattle's anatomy we managed to sit down to have our D&M amidst a group of really happy people.
Lo and behold! Astonishment #2 walked in. Spotted a couple we haven't met for 6 years and also another fellow I met at a car garage once. So wifey, being in deep and meaningful mode, started a D&M with other wifey that we haven't met for 6 years. I resumed ruminating with the dead cow's society.
Astonishment #3. The Rib Eye Steak was an amazingly good, 250g of tender NZ beef for $14.90. That's value for money. At $14.90, this Rib Eye easily beats stuff you get at Jack's Place and even some other steak houses. Of course you should not expect it to be as good as Black Angus, but at $14.90, I can eat this every week! We had a selection of pasta salad, coleslaw, onion rings and sauteed vegetables for side dishes all of which was a very good and certainly a welcomed change from the usual bake beans, cucumber and fries that you find at hawker western food stalls.
We managed to speak to Aston (The owner and chef – Dah!) when everything sort of quietened down. We was quite surprised to find that he charges only $1.10 for a can of Pepsi Lite.
Here's Astonishment #4: His philosophy is that since they did not add any value to the Pepsi, he does not charge any extra for it. He only charges a profit for those things that he has added value to. (Don't establishments that charge $5 for a can of Pepsi just turn you off?) I am beginning to like this place more and more.
Astonishment #5: Aston is currently experimenting with a Supreme Beef Burger concept!! Ah! A man after my own heart. So we discussed the fundamentals of a SuperBurger. I was pleasantly surprised to discover that he actually chops the beef for each burger he serves and not mince and his normal burgers starts at $5.50! I am already planning my next visit. What I am having is a really thick and juicy (200g) freshly chopped burger pattie, fried egg, bacon, crispy fried onions in batter, lettuce, teriyaki sauce, mayonaise on a large soft burger bun. Phwaaa Say!!! Move over Uberburger! Oh, it is also possible, instead of a burger pattie to have thinly sliced Rib Eye steak, seared quickly with teriyaki sauce and layered in the burger bun!! Looks like I'll be posting more pics very soon!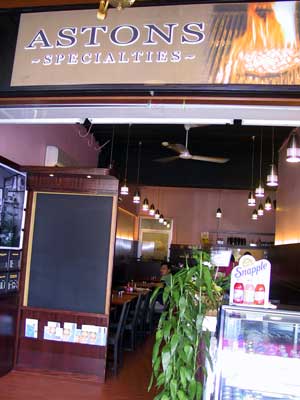 What can I say? The phrase that best describes Astons is "Value for money (VFM)" and the Chef can cater to your whims and fancies (During Off peak periods). This is certainly a place that you can come couple of times a month to fulfill your quota of beef.Oh! Before I forget. From 19 Aug onwards, Aston is serving US Angus Rib Eye steak, 250g for $23.90! VFM or what?
4/5