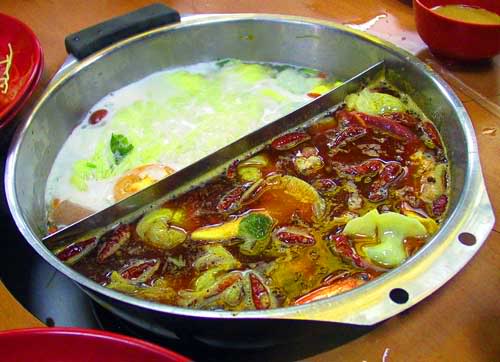 I have never been a steamboat person. Dunking a piece of meat in chicken soup just doesn't turn me on. For me, meat has got to be grilled, fried or deep fried with a nice marinade. How tasty can a piece of boiled meat be?
All that changed when I had my first beef shabu shabu at the beginning of the year. Aside from having thin slices of tender, melt in your mouth beef, you also get a rich broth at the end to enjoy. I started to appreciate steamboats more. My wife insists that its because I am getting old.
But from the looks of it, steamboats aren't just for the old. The restaurants that line the streets between Beach Road and Bugis are teeming with teenagers and older folks alike. There must have been more than 10 such steamboat restaurants. Hmmm, am I missing something here?
So after dropping the family and spending half an hour looking for parking lot, we settled down for (my first) mala steamboat. I think that's steamboat with the fiery chilli padi soup. I was more interested in the thinly sliced meats and was glad to find that various members of the animal kingdom were aptly represented. Thin sliced streaky beef, mutton, pork and chicken. Yes, this looks promising. There was also the usual selection of seafood, vegetables, tofu and processed meats in all different shapes and form. What impressed me most was the wide variety of sauces available! Satay, sesame, peanut, soy, vinegar, chinchalok, chilli, sambal, the list goes on. I found that the combination of sesame and satay sauce was heavenly with the sliced meats.
The fiery cilli padi based soup was a little too painful for me. Problem is that I start sweating and scratching my head and pretty much give up before my endorphins are released. So I never get too far with spicy stuff to enjoy the rush.
For $15, everyone had a good feed except the kids ($8 – no wonder there are so few children around) Certainly worth coming back again with a few good makankakis. (Just to watch them eat!)
3.5/5
Stall next to Alex Eating House, just opposite Shaw Towers.
After about 2 hours, the shelling stopped, (The table was chock full of crab shell, prawn shells, clam shell, egg shells) and we decided that we must have gotten our $15 worth of food (I must have eaten 1.5kg meat, crab and prawns – I figured the average price of $10/kg meat should be about right). We were so stuffed that we decided take the longer route to the car and check out the other eateries along Liang Seah Street. I haven't been down here in a while, so I was amazed to see how many new eateries have sprung up.
Hello! What is this? Hong Kong desert shop? Hmmm interesting, but we are so full! The signage says: Ji De Chi (Don't forget to eat). Our stomachs said no, but like sotongs (squids) we were drawn to the light. Wow, so many interesting deserts! Ah, just look look and see see. It was packed and there were no seats anywhere. Just as well, I thought, we can't possibly eat anymore. Just then, a nice couple got off the table just next to me. What the heck? It was my destiny.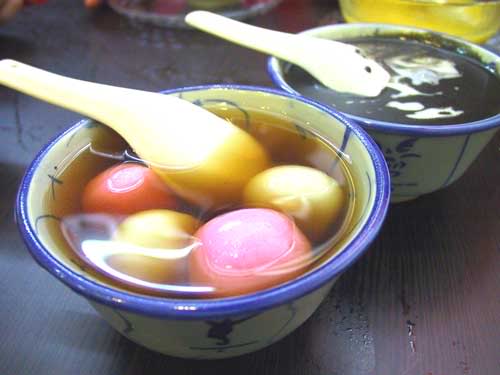 So we ordered a few different things to try. It was very good but I felt that the desert shops that sell this types of deserts in the hawker centres are comparable in taste. However, the atmosphere makes all the difference. James had the mango with grapefruit juice which was very refreshing. We also sampled the herbal jelly, glutinous rice balls in ginger soup and sesame/almond paste.
Great way to end a great evening. Eno before bed, tommorrow I diet.
3.5/5