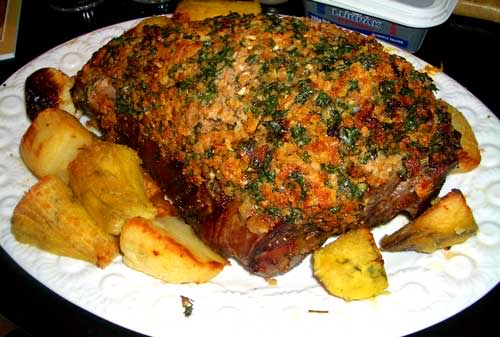 I finally got to cook after a long hiatus!
Sometimes the simple things in life are often the best. But just by tweaking things a little, the simple things can be made even better.
So roast leg of lamb with crusty herb topping and roasted Japanese sweet potatoes, pumpkin and potatoes, simple yet satisfying taste of Oz!
Here's the receipe: (I usually only estimate)
One leg of lamb.
Marinate overnight with juice of 1 lemon, cracked pepper, 3 cloves of finely chopped garlic. Remember to stab the lamb all over so that the marinade seeps into the meat.
Next day,
Put the lamb in the oven at 250 degrees for 30 minutes.
Prepare the vegetables by blanching in boiling water for 5 minutes then scrapping the outside to form a rough service. Coat with Olive Oil. Doing this will make the outside extra crunchy.
After 30 mins,
Lower temp to 200 degrees put the vegs into the oven and roast for 30 minutes.
Prepare the herb crust by adding half cup chopped parsley, half cup crushed Jacob biscuits or breadcrumbs, 2 cloves garlic, thinly grated rind of 1 lemon, sea salt to taste, olive oil to combine into a moldable paste.
After 30 mins,
Press the herb crust mixture onto the lamb and roast for another 30 mins.
The crust should be browned, the roast vegetables crispy and golden and the lamb nice and pink.
Enjoy with gravy and mint sauce. Mmmmm yummy