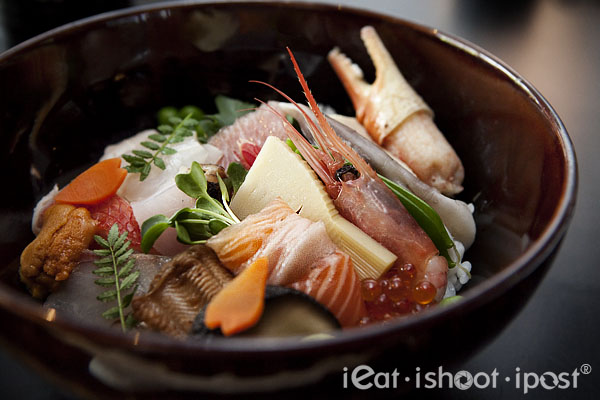 Chirashi Sushi $150
My wife would be pleasantly surprised, and my mom who look to heaven with thanksgiving if they found out that I actually ate a bowl of rice with raw seafood on top! You see, I grew up with seafood-phobia and it was not until I met my wife (girlfriend then) that her family introduced me to seafood. There was a stage in my life where I would never touch anything that swims. But slowly that all changed. Wives do have a way of transforming their husbands as you well know, so I became more open to seafood, though not really a big fan, preferring hoofs to fins anytime.
So for a guy like that to devour a whole bowl of raw seafood must be nothing short of a born-again experience. The transformation from seafood phobia to seafood philia was gradual. My problem with seafood at first was because I was introduced to the really fishy fish instead of white fish. Gradually, I somehow learnt that fish and chips were actually quite nice. Then I learnt that steamed Coral Trout with ginger and shallots was also quite nice. But the leap from eating fish to eating raw fish was yet another hurdle which I eventually crossed because I was absolutely intrigued by the Sushi Culture. That led to a lot of research into fish and suddenly I realised (the ignoramus that I am) that there are plenty of fish in the ocean and they all taste different! Then there are the health benefits of eating fish too. Unlike animal meat which contain fats, fish meat contain oils which are cardioprotective. So now I find myself trying to order fish instead of steak at restaurants.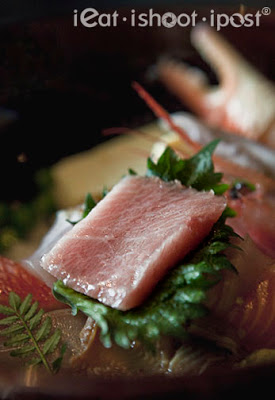 Otoro – Shimofuri marbling pattern
I have Chef Nogawa to thank for helping me to appreciate sushi. I never did like Sushi until I ate Sushi at the counter. Here is where you can interact with the itamae (Sushi Chef) and learn about the fish you are eating as well as appreciate the hand molded sushi rice.
The next logical step after Nigiri Sushi (The ones with the fish on top) is of course Chirashi Sushi which basically is a bowl of rice with all the seafood piled on top. To me, this seems like the kind of thing a Japanese mom would serve her family when there is no time to cook a proper meal. I have a few kakis who love this way of eating raw fish and they would swear by it. So Chirashi Sushi has been on my to-do list for a while.
This is a very impressive bowl of Chirashi Sushi to say the least. And so it should be at $150 per bowl. The seafood reflects the Spring catches from the historic fishing towns of Uwajima and Sanriku and you can expect all the good stuff like Otoro, Uni, Snow Crab, Hottate, Anago etc etc. Everything is top quality and they all taste fresh to me, but to be honest, I would be hard pressed if you ask me if the freshness is worth $150 since I don't get to eat this that often.
Everytime I eat Sushi, I learn a bit more about it. On the past few occasions, I had wondered why Otoro sometimes looked like Pork Belly (ie layered) and sometimes like Karubi (fine reticular fat interspersed between the fibres). Well, it turns out that there are two types of Otoro. There is the layered type known as dandara which resembles pork belly, and there is the Shimofuri type which is described as having a "falling frost" pattern. I had a slice of this in my bowl and it was absolutely delectable. The rest of the seafood was great, but this one slice of otoro was one of the best I have tasted.
The reason that the Japanese love Tuna so much, which regrettably has led to overfishing, is that the Tuna is one of the very few fishes which have fats that are interspersed between the muscle fibres. Most other fish have their fat concentrated in one spot. This peculiar anatomy is one of the reasons why the Tuna, unlike any other fish, have the ability to raise its internal temperature to 18 degrees above the temperature of the sea water around it.
I was particulary impressed with the Tempura at Inagiku which was served as part of our media tasting menu. I found out later that Inagiku started out almost 150 years ago in 1866 as a Tempura restaurant in Asakusa. Is it a coincidence or is deep fried food a rage in the 1860's given that the English Fish n Chips was believed to have been founded in Oldham in 1860? Anyway the Tempura at Inagiku is famous and a lot of it has to do with the super fine sesame oil that they use for deep frying. Even in Singapore, the deep frying oil is specially imported from Japan and it is this oil that gives the Tempura that special flavour which is made even better when dipped into their special dipping sauce. 4.5/5
Conclusion
Would I specially order Chirashi Sushi again? No not really. I think if you are a lover seafood and want all your seafood on one bowl, then it is for you. I prefer to eat nigiri sushi on the bar where the rice is freshly pressed and I can take my time to savour each slice of seafood. Inagiku is an excellent place for a great Tempura experience though, but be advised that if you want to taste that special refined sesame oil, you have to be ready to pay for it.
This review is based on a media review session hosted by Inagiku to introduce their new Sushi Chef, Chef Hiro, and also to highlight the spring harvest. The dishes shown are smaller portions as they are part of the media review menu.