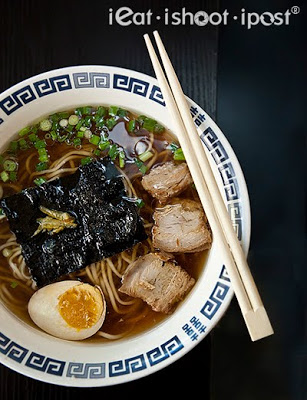 This Stall is Closed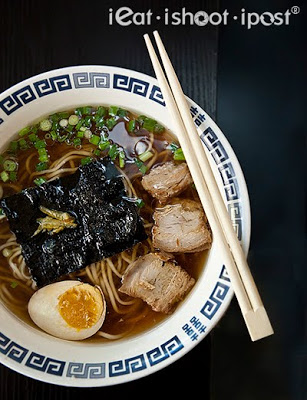 Shoyu Ramen $11
You know that I have a soft spot for hawkers uncles and aunties with lots of passion about their food right? Well, when it comes to Ramen, there are very few places where you would find a Ramen uncle who is so passionate about Ramen that he would actually make his own noodles and would personally supervise the bowls of Ramen that are being prepared in his kitchen.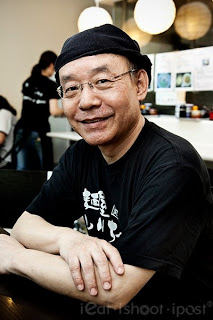 Tajima-san – my Ramen Shifu
Tajima-san used to be the President of the Ramen association of his company which meant that he and his bunch of Ramen devotees would go round Japan looking for the the best of the best Ramen. That is one of the reasons why he offers so many different styles of Ramen at his restaurant. Basically, he is just serving the Ramen that he loves to eat. I had the privilege of learning about Ramen from the man who I consider to be an authority on Ramen. There was no other means of getting the information I wanted otherwise. I had even gone down to Kinokuniya to look for a book on Ramen, but there was none. Aside from a few English websites on Ramen, there are no other resources on Ramen that I could get my hands on.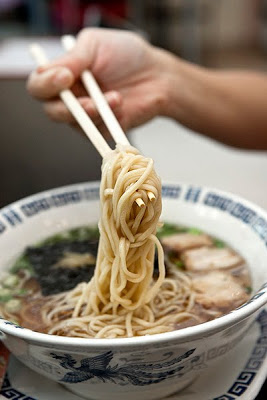 Homemade noodles are Menya Shinchan
Tajima-san tells me that the older generation of Japanese prefer the Shoyu style clear soup Ramen which is Tokyo style Ramen. The very first dedicated Ramen restaurant, Rairaiken, in the Asakusa district of Tokyo was first to introduce this style of Ramen to the Japanese. This Ramen is very light and consist of thin noodles in a bath of clear Niboshi (Japanese Anchovy ie Ikan Bilis) based consomme.
In my previous post, I posted the video of the Ramen master teaching his disciple how to eat Ramen. The scene came from the 1985 Japanese comedy, Tampopo. I wanted to re-create that scene by asking how Tajima-san would eat a bowl of Ramen, and this is what he told me:
Before you do anything else, you need to smell the steaming bowl of noodles first. That way you get to appreciate the fragrance of the flour and the anchovies emanating from the steam and it also helps clear your sinuses at the same time. Next you take a sip of the soup and savour the delicate flavour of the sea. Then, you slurp the noodles, taking a bite of the chashu in between slurps. You should finish the bowl in 5 minutes or the noodles will become too soggy. Lastly, hold the soup bowl with two hands and finish off all the soup and then let out a sigh of satisfaction.
I never learnt to enjoy Shoyu based Ramen until I ate the version at Menya Shinchan. Now I can safely say that I know why the Tokyoites love their Ramen. The aroma of the Niboshi is so strong (almost a bit too strong) that you can smell it before it hits your table and the soup is light and fragrant as are the thin noodles. The Shoyu based Ramen is the Ramen of choice for the older generation as it is what they grew up with. The younger generation like a different style of Ramen which is heavier and more robust.
The Sinjiro $13
Menya Shinchan is one of the few places I know of in Singapore that serves Ramen Jiro. In case you don't know, Ramen Jiro has a near cultish following in Japan. It is the Japanese equivalent of a triple pattie cheeseburger with the works.
Ramen Jiro first started in the town of Mita as a Ramen Shop catering to the students of Keio University. As you can imagine, University Students have large appetites and very little money, so Ramen Jiro is basically a darn big bowl of affordable Ramen. But over time, it became THE big bowl of Ramen to the extent that if you are able to finish a bowl of Ramen Jiro, you would get looks of admiration from the other patrons of the Restaurant. Yes, Ramen Jiro is not something to savour, it is something to conquer if you want to be a Ramen Jiro Hero.
Young men would line up outside the stall to take up the challenge of finishing the Ramen Jiro without throwing up in the restaurant after the meal. You don't just rock up to eat Ramen Jiro, you have to plan carefully for it. If you are eating Ramen Jiro for lunch, make sure you don't have breakfast. They advise that if you are planning to have Ramen Jiro that day, you should prep yourself by eating a Nishi pear before the meal. The pear has digestive enzymes which will help digest the gigantic meal. Incidentally, that is also why they add pear juice to bulgolgi marinade as it acts as a meat tenderizer.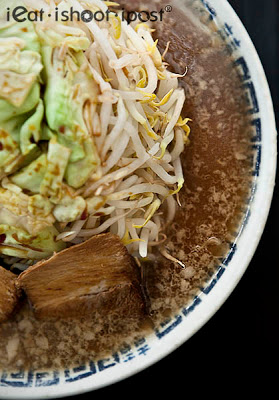 Aerial View of Sinjiro showing the abura (pork fat)

The Jiro does not conform to any of the styles of Ramen around Japan. In fact, some Japanese don't even consider Ramen Jiro as "Ramen". It is simply Jiro and there is nothing to compare it with. The soup base is not your creamy Tonkotsu soup. Instead, it is a semi clear rich Pork bone soup with bits of abura (small pieces of fat) suspended in it. Then there is the huge serving of chewy noodles supporting a Atlas sized mound of beansprouts and cabbage leaves. It looks like a snow capped Mount Fuji when it arrives on your table.
I forgot to ask Tajima-san why his is called "Sinjiro" rather than Ramen Jiro, but I suspect that it might be because it is the shorten version of Singapore Jiro. Ladies, don't despair, the Sinjiro comes in two sizes like it does in Japan. You can order "Shou" (small) or "Dai" (large). I can tell you that I have problems finishing even the "Shou". It is not something I should be proud of and if my Jiro mates knew about it, I would be teased to no end.
There is so much lore surrounding this Ramen that I would refer you to this very interesting audio where you can hear this Japanese chap recounting his Jiro experience as well as this excellent post by Rameniac. Do this research before you gather a few friends to take up the Jiro challenge and I guarantee that you are going to have a really fun Ramen session!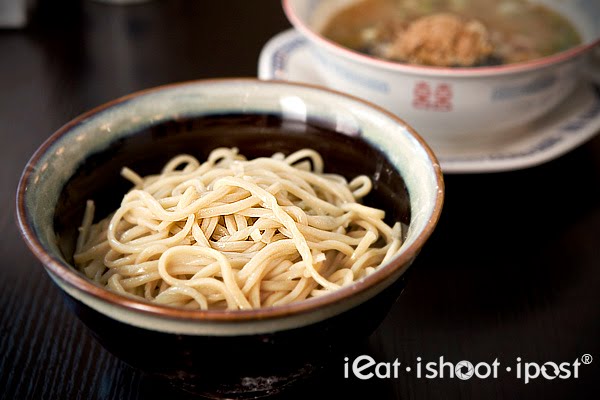 Tsukemen Ramen with rich pork broth $13
Now I come to the best part of Menya Shinchan. I have eaten quite a few Ramen in my quest to find the best Ramen experience in Singapore and I have often said that there has yet been one Ramen which gave me the same eye opening experience as the first time I ate Katong Laksa years ago. Yes Ramen is great and it is very tasty but there has so far not been one which could bring me to the brink of uttering the expletive "Shiok!" until now.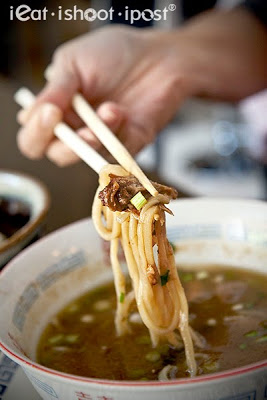 Rich, bonito flavoured dipping sauce with morsels of Charshu
This is my first encounter with the Tsukemen. Essentially, it is a bowl of chewy, toothy, cold noodles which is served with a dipping sauce which has bits of Charshu submerged in a thick and rich concentrated pork broth scented heavily with Bonito flakes with a gratuitus dollop of pork lard. This is NOT a dipping sauce that you would want to finish unless you want to give your cardiologist some immediate business. Enough said, the only word to describe it is "Shiok!"
Tokyo Ramen: Noodles 4.5/5, Soup 4.25/5, Charshu 4.25/5
Sinjiro: Noodles 4.25/5, Soup 4.25/5, Charshu 4/5
Tsukemen: Noodles 4.6/5, Dipping Sauce 4.75/5
Conclusion
Menya Shinchan is the type of stall that I like. It is passion personified. It is Ramen made by people who love Ramen, who live and breathe Ramen and want to convert the whole world to worship at the Shrine of the Supreme Ramen. Discovering a restaurant like this is what this blog is all about.