Registration is closed!
Thanks for your overwhelming support!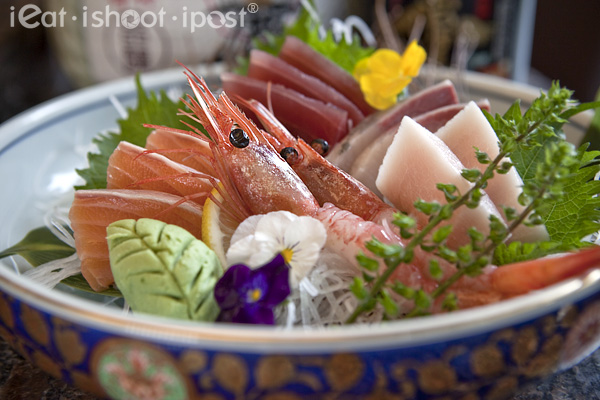 Notice is hereby given that the next ieat makan session will be on held next Friday at Fukuichi Restaurant. Fukuichi will be putting Alaskan King Crabs on their menu soon, so we are going to be the privileged to be able to get a preview of it. There will of course be Tuna and Swordfish and a whole lot of other seafood to savour! We are also preparing a presentation to show how all these seafoods get from the bottom of the ocean onto your plate, so its going to be another EduMakan Session!
Here's the Menu
1. Cucumber with Fermented Beans
2. Kani Tofu
3. Chilled King Crabs
4. Chawanmushi with Crab Roe
5. Sashimi platter: Maguro (Tuna), Mekajiki (Swordfish), Amaebi (Sweet Prawns), Salmon
6. Shiromaguro Aburi (White Tuna)
7. Grilled Swordfish Belly
8. Tuna skewers with Foie Gras Sauce
9. Gindara Saikyo (Grilled Black Cod with Miso paste)
10.Fish Porridge
11.Cheese Tofu
Venue: Fukuichi Japanese Restaurant, Level 2, 111 Somerset
Date: 11 Mar (Fri)
Time: 7pm
Cost: $65 per pax
This special Makan Session is being sponsored by Fukuichi and MHC Asia for our ieat School Building Fund, so that means that not only do you get great value for your $65, but it actually goes to help build school houses for the kids in Sandakan!
Don't imagine these to be schools to be like what we have here in Singapore. They are simply wooden structures with Zinc roofs so that the kids have a basic shelter to conduct classes. What Goducate does is to provide materials like timber and Zinc sheeting for the locals to build their own schoolhouses. Goducate then sends in trainers to go into the village to help set up the school program. In this way, each literacy centre will eventually be self sustaining.
We have just completed the sales of the 2000 "The End of Char Kway Teow" books for Goducate and in total we raised $21,966 for the ieatishootipost School building fund. Thanks to everyone who has bought a book from Goducate! Each schoolhouse costs around $1000 so we have enough for around 22 new centres! Dr Paul Choo's vision this year is to build 100 literacy centres, so there is still much work to do!
Last year, we managed to raise $22K for Goducate through our makan sessions and donations from our readers. The money has been used to buy a fourwheel drive vehicle which has been used to ferry the kids, staff and stationary to difficult to reach areas. Here is what our Goducate worker on the ground told me:
"The vehicle you donated opened to the poor children of Sandakan tremendous opportunities of learning and exposure. For them whose way of life is just walking around aimlessly inside their kampongs, or running for their lives -something has changed. They are able to realize there is a world aside from their kampong when we bring them out. This they will not be able to do without the private vehicle since they are undocumented children.
Right now, they are awed not only by the "town" and other places we go for learning but also by the experience of riding in a car. We believe they will dream of driving and owning one too! For them, who were once resigned to their circumstances but now are reading and writing dreaming something like this is a really big step. Emergencies like going to a clinic, reuniting or sending off a parent or a sibling being deported or has to go away and fetching volunteer moms for training make the vehicle a lifeline."
Thanks to everyone here for your continued support for our fund raising activities!
For this makan session, a large part of your $65 will be donated to our ieatishootipost School Building Fund. On top of that, MHC Asia has pledged to match us dollar for dollar! So if you are looking for a worthy cause to support, you can make an extra donation directly to Goducate that night and double your contribution! For this event, we are looking to raise at least $10K. You can help us exceed the target!
To register, please write to: [email protected]. In the Title write: Japanese Seafood Fest. In the body write: Name, Nick, Handphone, no. of pax. (Max 4)
You can read more about Goducate here.
You can read my post on Fukuichi here.
Thanks to our following sponsors for their generous donation!