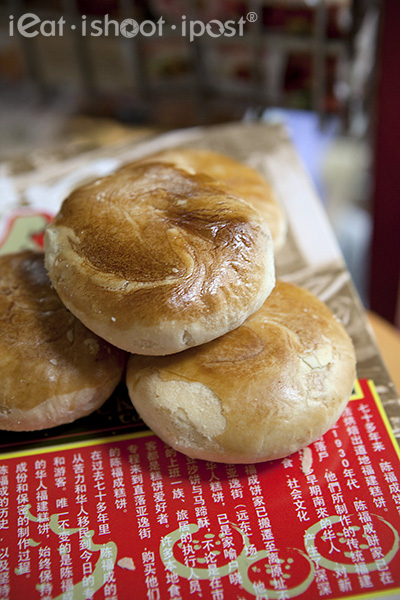 This stall is closed.
Article revised and edited 5 Mar 2011
Tan Hock Seng: Freshly made Beh Teh Saw and Phong Piah
In the original article, I did not make a distinction between Phong Piah and Beh Teh Saw. These two Hokkien biscuits are similar but are considered different entities. Beh Teh Saw in Hokkien means "Horse Hoof Crispy Biscuits". The reason they are called that is because they used to bake them by sticking them to the side of a clay oven. As a result, the biscuits are thicker on one end and resembles a horse hoof. Phong Piah on the other hand are round in shape as they are baked in an oven. The filling in both are the same but the pastry for the Beh Teh Saw is crunchier then the Phong Piah. When I have a choice, I would go for Beh Teh Saw as I love crunch of the pastry. Otherwise both biscuits are similar enough to satisfy a craving.
I love Phong Piah, don't you? I think they are probably my most favourite biscuits in the world. I could eat several of these with a cup of Teh Tarik and be a very happy man. My fondest Phong Piah memory must be when I first ate it fresh out of the oven in Malacca. I can't remember the name of the shop, but they were located in an old coffeeshop. The crust was so crispy and flaky and the sesame malt sugar filling was still warm and stringy!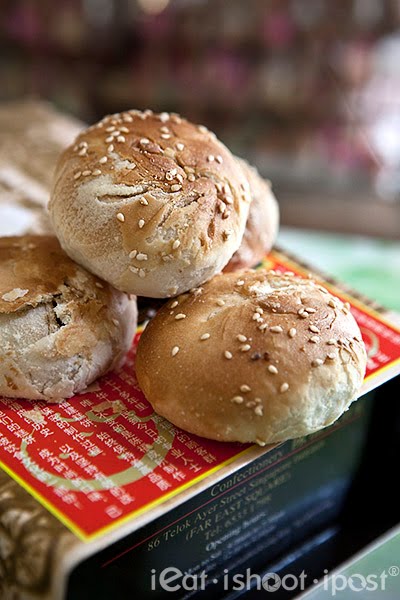 Beh Teh Saw (Horse Hoof Biscuits)
Here in Singapore it is hard to find freshly made Phong Piah. Well, actually as it turns out, it is not that hard, its just that I did not really try looking for them. Most of the time, I buy the packaged ones from the supermarket or some friends (really good friends) might buy me some from their trip to Malaysia. But a Phong Piah that is freshly out of the oven is something to behold. I try to recreate the super crispy crust and sticky stringy malt filling by putting my Phong Piah in the ovenette for a few minutes, but nothing beats a Phong Piah straight from the oven.
My friends at Hock Lam Beef noodles alerted me to this 70 year old Hokkien confectionery located just around the block from them and told me that they make some of the best Beh Teh Saw/Phong Piah around. This is of course, very exciting. What is more exciting is that this shop seems to have been frozen in time! The biscuits are still unceremoniously packed in normal plastic bags, two layers to be safe, still warm, mind you, with a sign made from pink vanguard paper that has been wrapped with clear plastic. How old school can you get? The only attempt they made to try to modernize is to print some boxes which I think is only used when you specially request them.
The Beh Teh Saw are the best I had in recent memory. The filling is generous and not overly sweet and the balance with the salty sesame paste is just right. When I got mine at 3pm in the afternoon, they were still warm! I was told that they come out of the oven starting from 11am. So the next time, I plan to swing by at 11am to get them while they are hot and then skip over to Mr Teh Tarik just behind the shop and finish off at least four or five of them over a hot cup of tea. All this shiokness for less than $4! 4.5/5
Have you heard of Pepper biscuits? Well, I haven't up till now. The crust is quite similar to the Phong Piah but instead of sesame filling, its a sweet pepper filling. If you think its a bit weird to have pepper and sugar together than think Black Pepper Crab and maybe you will be able to accept this. The other difference is that the whole of the top is covered with sesame seeds. Interesting, but I still prefer my Pong Piah. 4/5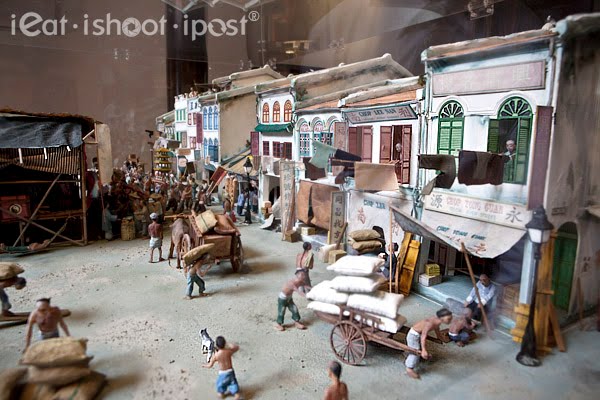 Tan Hock Seng has been around for 70 years and they original shop is at the corner of Telok Ayer St. When you go to Far East Square, you can see a diorama of Telok Ayer St in the old days in the museum. the shophouse you see in the photo could very well have been where the original Tan Hock Seng was situated.
Conclusion
Who here likes Phong Piah? One of the best biscuits in the world if you ask me. Even better fresh from the oven!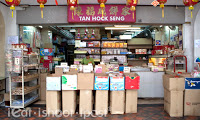 Thanks to Sen for the video upload!