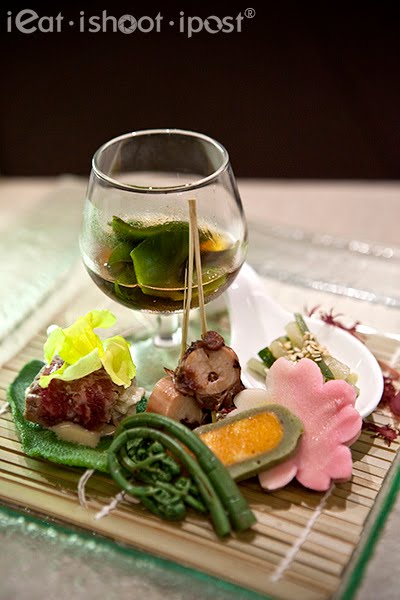 Appetizer: Bracken, Mozuko Seaweed in Vinegar sauce, Wheat gluten, Wagyu Beef rolled in fresh beancurd skin, simmered octopus, pickled cucumber Korean style
Kaiseki is a bit like Bak Kut Teh (Pork Bone Tea) and Dim Sum, aka Yum Cha (Drink Tea) in Hong Kong. They all started off as an excuse to drink tea but ended up with the spotlight on the food instead.
Kaiseki started as cha-Kaiseki which was basically a simple meal that precedes an elaborate tea ceremony. But after some time, the focus shifted to the food and the tea was relegated to a supporting role. The Kaiseki that we are mostly familiar with is more akin to a menu degustation in which several courses are served, usually in small portions so that you get to taste many different produce of the season. But those who have experienced the real Kaiseki in Kyoto, like my friend Bibikgourmand (some people are so lucky!), will tell you that a Kaiseki meal is much more than a mere degustation. It is supposed to be bounded by exacting ritual requiring each course to showcase seasonal produce through its colours, appearance, taste and texture. As you can imagine, eating a proper Kaiseki meal can be quite a formal affair where you need to maintain a stiff upper lip, wear your best kimono and ensure that you follow all 600 rules (Ok may be not 600 but there are a lot) of using your hashi (chopsticks). And if you are paying for the meal, to make sure that you are able to increase your credit limit with a phone call…… just in case.
Fortunately, this is not the case for a Kaiseki course at Kuriya Dining. For all intents and purposes, it was an excellent 6 course set lunch showcasing the flavours of spring with different cooking methods. Less formal perhaps, but no less enjoyable.

Guiding me on the path to Kaiseki enlightenment is my friend, Shinji who is not just another Japanese foodie, he also happens to be a professional fishmonger, which means that we all will get to learn a bit more about seafood in this post! I was also very privileged to be able to sit at the sushi counter where famous Chef-in-Pink, Master Chef Naoki Tsuzuki was around to take us through his spring creation.
For me, the fun of the Kaiseki, or a menu degustation for that matter, is the fact that you get to experience lots of different things but not get too uncomfortably full in the process. In fact, the philosophy behind Kaiseki is to serve you just enough so that you are still a little hungry at the end of the meal. That way you will still be thinking about the food when you proceed to the tea ceremony. But don't worry, here in Singapore, they make sure that you do get full from the meal, 'cos they know that we Singaporeans love to complain about expensive meals that are "Jia Buay Pah", (Not filling) such that you still need to go for a plate of Hokkien Mee after your meal.
The appetizer course alone was a culinary journey through 7 different items made from at least 12 primary ingredients. The highlight was undoubtedly the simmered octopus and the Wagyu Beef Roll with fresh bean curd skin. However, the ingredient that really caught my attention was the leaf from the "ice plant" which was used to as a edible saucer for the Wagyu. Now, you might overlook the green leafy things on your plate because you assume that they are only for decoration, but the "ice plant" is something that you want to place a bit of attention to because it has a very nice, light and crunchy texture which is excellent when served ice cold. 4/5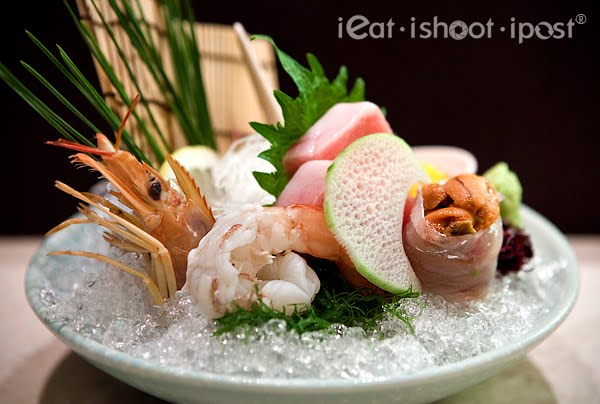 Sashimi course: Kuruma Ebi, Otoro, Uni wrapped with Tai
It is said that the love for Uni (Sea Urchin Roe) is not universal. In fact, there are many Japanese Sushi Tsu (experts) who don't even like it. But to me, Uni is sublime. It is the one item on the Sushi menu that excites me most, even more than Otoro (tuna belly). In case you still don't realize, those creamy, sexy, velvety tongues of oceanic pleasure are actually not the roe, but the gonads of the spiky black creatures. The Japanese actually call the green sea urchin, bafun (click for video) which literally means horse poop because it looks like hay after it has passed through the equine alimentary canal. Another type of uni that is commonly found at Tsukiji is the purple sea urchin, or Murasaki Uni. (click for video) These are the spikier ones whose gonads are supposedly the smoothest amongst the Unis. The female gonads are sweeter than the male ones but that little trivia is rather useless to know since the Chef never asks you about your sexual orientation before serving you the dish.
If you haven't tasted Uni before, it is like eating a creme caramel that has been made with seawater which is not surprising since one of the taste molecules contained in Uni is bromophenol, which also gives fresh seabreeze it characteristic scent. When you pop Uni in your mouth, it bursts into an unctuous umami that fills the palate while the centre of the tongue registers refined but complex sweetness that lingers long after it slides down your throat. Chef Tsuzuki wrapped a healthy mouthful of Uni in a layer of thinly sliced Tai (seabream) and for me it was an ethereal moment of epiphany. 4.75/5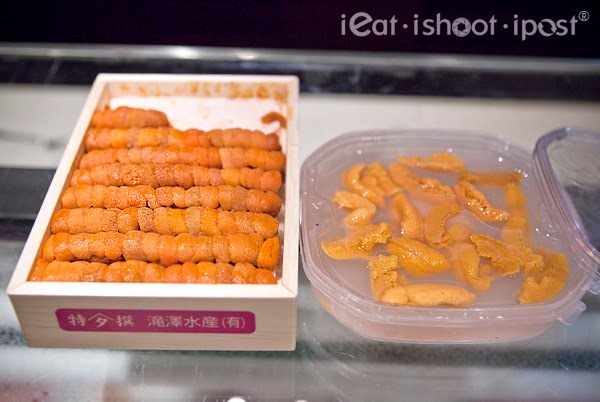 Different packaging of Uni: Left Geta (lined) Uni, Right Kaisui (Sea water) Uni
Chef Tsuzuki was kind enough to show us two types of Uni they had that day. Geta Uni* is probably the one that most of us are familiar with. It is packed in a box and treated with Alum solution in order to preserve its shape. The cheaper ones will be subjected to a more concentrated Alum solution in order to make them last longer which might end up leaving a bitter aftertaste in your mouth.Uni that is less than fresh will get gooey and if you eat one then, you will get an ethereal moment of epiphany of a different kind. The price of Uni is highly dependent on the species of Uni, its place of origin, as well as how it is packed. If you are lucky, you may have the chance to try Uni which is packed in seawater. (kaisui uni) This type of Uni is seasonal and its taste lighter and livelier than the boxed version. Chef Tsuzuki tells me that both are good, and he will choose which one to use based on the dish that he wishes to create.
Our sashimi platter is part of the "upgrade" which we chose. The normal price of the Kaiseki Lunch is $48 (starts from $38) and you can upgrade the normal sashimi platter to the premium one for an extra $20 which is excellent value since you are getting Uni, Otoro and Kuruma Ebi in place of maguro (tuna), sake (salmon) and kanpachi (amberjack).
* Geta Uni is uniform in shape and lined properly. Bento Uni, which is also served in a box, is a cheaper version where the Uni is haphazardly placed and consists of different size and colours.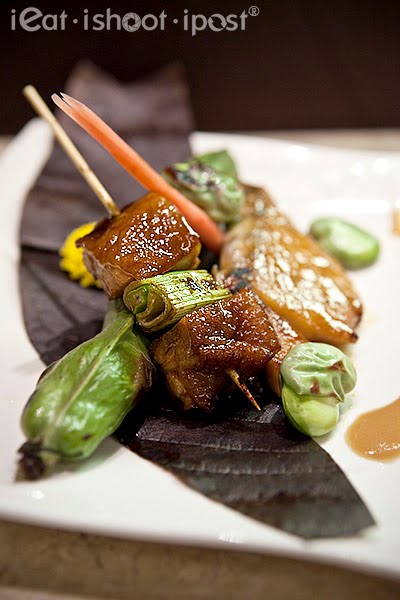 Grilled course: Chicken Teriyaki, Grilled Mackeral with Sesame Sauce, Grilled Broad Beans
The grill course wasn't as exciting as the first two. The Chicken Teriyaki was good but not exceptional but the mackeral was excellent. Chef Tsuzuki marinated teh mackeral before grilling it and serving it in a goma sauce which was made from freshly ground sesame seeds that gaive it a wonderfully nutty aroma. I would gladly trade the chicken for another slice of the mackeral. 4/5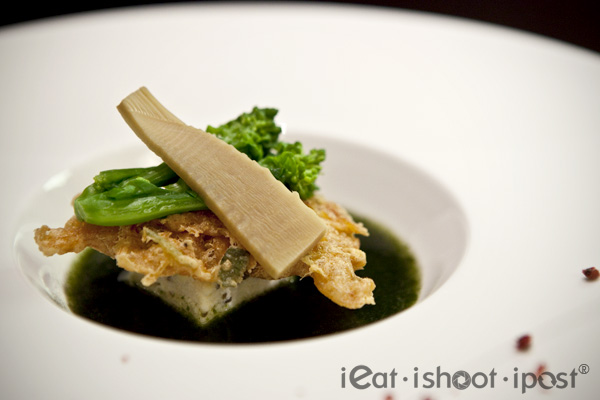 Braised Course: Braised Bamboo Shoot in fish cake, Sakura Ebi Tempura, Wakame sauce
The star of this course was undoubtedly the Sakura Ebi Tempura which went really well with the Wakame sauce. Springtime is when these "Cherry Blossom" shrimps come into season which is why they are being featured in the spring menu. Nowadays Sakura Ebi are available all year round as dried shrimp, but the fresh ones are something to behold. They taste like a very refined version "keropok" (fish crackers) but with a nice savoury shrimp taste that is not overpowering. I thought the fish cake was nice but it was overshadowed by the Sakura Ebi in the dish. 4.25/5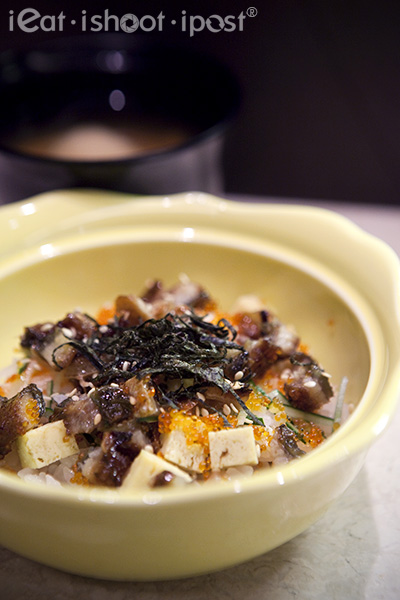 Rice course: Mixed Unagi Chirashi
Springtime is when the Japanese celebrate the "Hina-Matsuri Festival" which is the girl's festival. During this festival Chirashi rice is often eaten, which is why Chef Tsuzuki featured a a mixed Unagi Chirashi in the Kaiseki. I don't usually like Unagi but somehow the mix of Unagi (grilled freshwater eel), tamago (egg omelette), tarkuan (preserved radish) and tobiko (flying fish roe) was a perfect combination. The flavour and the texture of the sushi rice was excellent and is testament to the amount of effort Chef Tsuzuki has put into creating the perfect rice. First, he only uses the best unpolished rice from Japanese that is polished to his exacting standards in Singapore. Then he uses purified alkaline water to cook the rice in which a piece of charcoal is added in order to distribute the heat evenly. The result is glistening plump, fluffy grains of rice with a pleasing bite and just the right amount of stickiness such that cling but not clump to each other. 4.5/5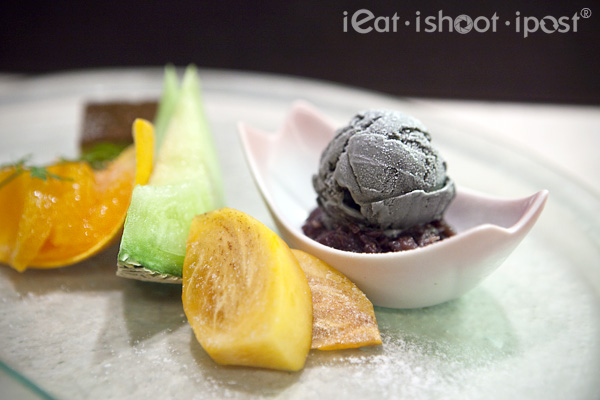 Dessert course: Seasonal fruits with Sesame Ice Cream and azuki beans
Black Sesame Ice Cream with Adzuki bean paste is not highly imaginative but these were all made by the Chef himself and were excellent. Amongst the fruits that are in season is the Setoka orange which is a hybrid seedless orange developed by the Japanese that is supposed to contain higher levels of sugar compared to the run of the mill orange. Chef went to great lengths to serve the orange segments after removing the pith. Unfortunately my two segments weren't as sweet as I would have expected. The dessert course is the only one that is not fixed so you might end up with something different. 4/5
Conclusion
Had a wonderful experience at Kuriya Dining and I was pleasantly surprised that it didn't cost us as much as I expect. We ordered a Kaiseki Lunch and a Sashimi set to share between the two of us and it ended up costing around $65 per person. No cheap for a lunch, but for quality of the seafood and produce we got, I was expecting to pay much more for the whole experience.
NB: This was the set lunch menu which was design to give value for money, so it might not reflect the full potential of what Chef Tsuzuki can do. Of course, an omakase (chef's table) would be the best way to gauge, but you will need to set aside a budget of $200 to $500 per pax.