This stall has closed!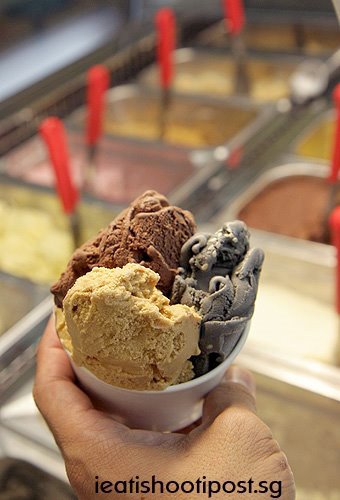 3 flavours of homemade gelato $3.50
Golden Mile Food Centre will soon be turned into a centre for Hawkerpreneurship.
I am amazed that the place has quite a few stalls manned by young Hawkerpreneurs trying to break into the food business. Remember the Belgian Waffles and Pasta Planet which I blogged previously? They are all here, as well as some other new stalls selling "Ang Moh" food that I will blog about later. Yes, the Hawker centres are an cost effective way for anyone to create a brand which is relatively low risk. And the irony is that when you actually sell stuff that usually belong in a shopping centre, you actually attract more media attention.

One of the latest entrant into the "Cheap and Good" category is this little Ice Cream shop in Golden Mile Food Centre called Ice Queen Ice Cream. Opened by a young lady who calls herself a "part time hawker", this is the kind of hobby stall where the emphasis is on making something that the owner is proud of, as opposed to making enough money so that one can pay the bills.
While studying in Melbourne, this "part time hawker" learnt the art of Gelato making from an Italian couple who ran a Gelato stall while letting out rooms to University students. Being a bit of a health nut herself (just a moderate health nut, I guess), she makes her Gelato with just enough cream and sugar to keep the ice cream from becoming icy. So it is low fat, low sugar and no egg which is healthier than your normal ice cream.
This Gelato (ice cream for the heartland aunties) really is "Cheap and Good" and it's every Kiasu Singaporean's dream. I was quite impressed with the Black Sesame Ice Cream
4.25/5
which was full of nutty flavour but without being too rich. The Peanut flavour was again quite excellent as is the dark and rich chocolate flavour. The ones with alchohol, viz the Rum and Raisin and Baileys were notably not "drunk" enough, but you really can't expect too much at $2 per scoop. If you prefer something a little more tart, you should try the sour plum sorbet which a lot of readers from
the forum
said they like.
Cheap and good Gelato. Where else can you get 3 scoops for $3.50? I really think that this part time hawker is really treating it as a hobby more than anything else and I suspect that after running it for a few more months, she will decide to increase the prices in order to get some money to buy some nice accessories. So better enjoy it while you can.
Update: 29 Nov 2008
Our readers are reporting that the stall has been closed for a while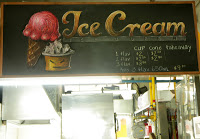 Find out what the others are saying about this in
the forum