We Singaporeans continue to be fascinated with the Ang Mohs. When I was young, I had the perception that Ang Mohs here were all very well to do CEOs and Expats in positions of influence. That was because my father worked in an Ang Moh Company and he had an Ang Moh Boss.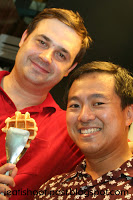 Nowadays we are seeing more and more Ang Mohs living in the heartlands. (And I don't mean locals dying their hair blonde) But we are still fascinated by them. So when you get an Ang Moh selling sausages in Chinatown, the media gets excited with the story. Somehow, we don't expect an expat to be mingling with the heartlanders.
Along comes Sebastian, a very smart Ang Moh who realizes the potential marketing power of an Ang Moh serving Ang Moh food in a Hawker Centre. Little surprise that just three months after their opening, there are so many newspaper clippings in front of their store that they can start selling Kachang Putih (Gone were the days Kachang Putih was sold in newspapers).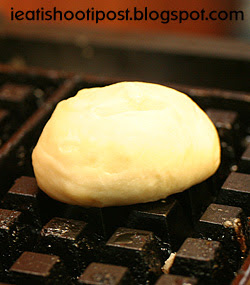 There are two qualities that make Singaporeans Singaporean. We are world reknown for our love for food and our love for getting a good bargain. So what do you get when you put an Ang Moh in a hawker centre, selling fondue made with genuine Belgian Chocolate at a price you cannot find anywhere else? A "Sure win" situation to say the least.
Of course, you can have all the marketing hype, but if your food is not good, people will stop coming. Our hatred of getting "Ketok" (swindled) supersedes our love of getting a bargain.
So what I am saying is that the food here is not only cheap, it is also quite good. The waffles here are very nice. They are not the usual thin waffles you get in the heartland bakeries. These waffles are made from dough rather then batter, so they come out with a bready texture. Certainly something you would expect to find in a proper cafe than a hawker centre.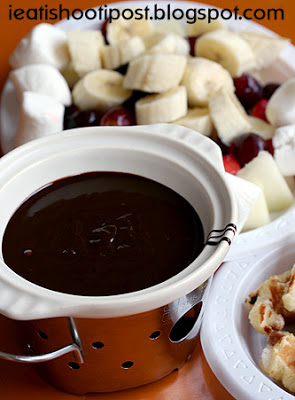 Fondue Set $14.80 includes 2 bowls of ice cream (not shown)
The chocolate sauce is made from pure Belgian chocolate that Sebastian imports from home. His family actually runs the business of the same name and they have a few branches worldwide. Because the chocolate sauce is made from pure chocolate with no added milk or cream, they don't actually put a candle to heat up the sauce. Instead it is served in a warmed claypot. Our dessert specialist, iwatch_ueat said that this Fondue "Can-do lah", but she still prefers if it was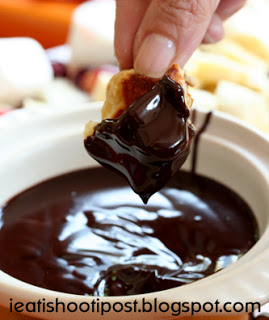 bubbling, so that you can actually melt the marshmallows. I tend to agree.
However, you cannot discount the fact that this is a very good bowl of chocolate sauce, and that for $14.80, you are getting a big plate of fruits which includes strawberries, bananas, grapes, marshmallows and honeydew melon, two Belgian Waffles and two bowls of double scoop homemade ice cream. I think your Singaporean instincts are telling you to at least go and check it out, right? 4/5
Conclusion
This one of a kind, Ang Moh in the heartland type of stall serving quality Belgian chocolate fondue for cheap. Even if I say no good you would still go and see for yourself right?
The Sweet Stone Parad Ice
Golden Mile Food Centre
505 Beach Road #01-67
11.30am to 9.30pm
James 97389868
Sebastian 90078465