With holydrummer and iwatch_ueat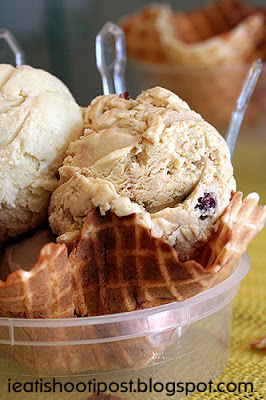 Thanks to the comments by Kare Kevil, I found myself standing outside this small outlet of The Ice Cream Gallery at Eastwood Centre. I must say that I really do like our very own homegrown ice creams more than the international brands. Their adventurous offerings never fails to bring novelty and delight to my palette.
We sampled a few of their flavours but decided that our two favourites were Rum & Raisins and D24 Durian (as were recommended by Kare Kevil). I will say that at this point in my life, this IS the BEST Rum & Raisins ice cream I have ever tasted! It even got a stamp of approval from our Professor of Rum and Raisinology (holydrummer) There was a generous amount of large juicy Drunken Raisins so Rummy that if you had 2 scoops, you might fail a random breath test! 4.5/5.
The D24 Durian ice cream was also Fair Dinkum (Oz slang: No Bull! This is the real thing!). 4/5 But I have to say that I would still rather buy the real thing, chill it in the fridge and eat that! The advantage of Durian Ice Cream though, is that you enjoy the flavour without having the smell on your fingers all day and you can put it in the fridge without having to deodourise the fridge afterwards.
Conclusion
I think each of these Boutique Ice Cream Parlors has their own special flavours. Rum and Raisins is definitely Ice Cream Gallery's Cream of the Crop. By the way, you should try the combination of Rum and Raisins with Chocolate as suggested by holydrummer. Not good, VERY good!
Other Branches:

TANJONG KATONG (MAIN)
242C Tanjong Katong Road Singapore 437030
(Beside famous Punggol Nasi Lemak Store)
Telephone: 6348 6535
HILLV2
4 Hillview Rise, #02-08, HillV2, Singapore 667979
Telephone: 6710 7334