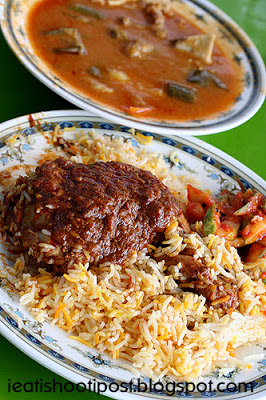 Once in a long while, you get so enamoured by a certain dish that you just keep going back because you can't get enough of it. This is precisely what happened to me when I first tasted Hamid's Briyani last week. This recommendation came from a comment from one of the numerous "Anonymous" readers of this blog (You guys should really just give yourself a pen name!)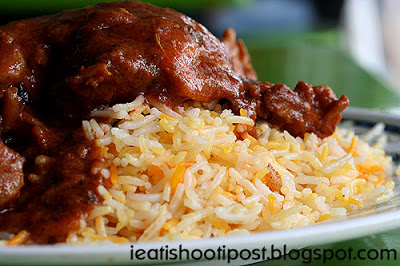 No kidding, I have to say that this is the most tasty meal $3 ($3 for mutton, $3.50 for chicken) can buy in Singapore! You will derive the most pleasure per dollar from this one dish compared with any other food in Singapore and I would like to see if anyone can top this.
The texture of the rice was near perfect. The grains were fluffy and separate and firm to the bite and you can taste the buttery ghee and spices in it. I said near perfect because they don't use the top grade of Basmati rice here ($3 what do you expect?). The mutton was so tender you could seperate it with a fork and it literally dissolves in your mouth. (That could be that particular piece that we had). The Chicken Masala ($3.50) gravy was the real killer. The combination of the gravy with the rice was 100% satisfaction. 4.75/5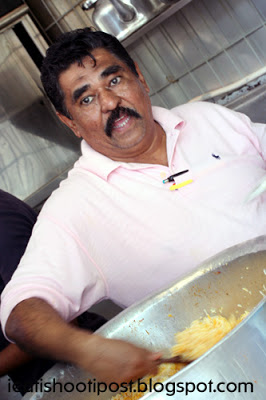 Pak Hamid might look like Saddam Hussein, but he was a real jovial fellow who didn't mind sharing a few tips on how to cook briyani with us. So here's how his Briyani is made: You start by frying the onions in oil till golden brown, then you add in the cloves, cinnamon and other spices and fry it until it is fragrant. Next add Evaporated milk and water and bring to boil. Add the rice in the ratio of 1:1. Stir constantly while the rice is being cooked. When it is cooked, add ghee and dab some yellow colouring on top of the rice, then stir and mix the rice. (I think I would just go to Hamid's and pay $3, wouldn't you?)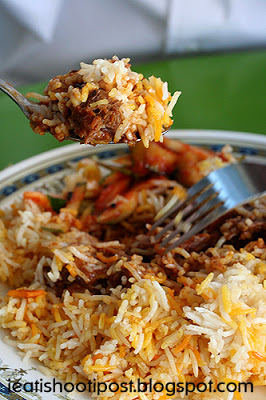 Conclusion
This has been the only stall that I have revisited 3 times in a week since I started the blog. I would challenge anyone to find something more tongue tinglingly satisfying for the same price! Now, the man himself told us that on Wednesdays, he sometimes makes a very special Fish Dum Briyani using top grade Basmati Rice and that this is even more shioker than what we had. Can't wait to find out!
NB1: Some one told me about a $11 Briyani in little India that is absolutely devastating. I am waiting for a chance to see if it can match Hamid's satisfaction per dollar value. To do that it would have to be 4-5 times more tasty!
NB2: I also sampled 2 other Briyani's this week which I will not be blogging. They were Abak's Dum Briyani around Arab St area and another stall at Geylang Serai Temp Mkt run by 2 sisters. They were highly recommended by some people. I have decided not to blog them for the moment because I was not so thrilled with them as I was with Hamid's.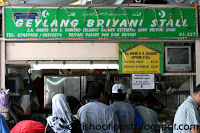 Acknowledgement: An Anonymous reader' recommended this on the House of Briyani post
Update: 18 Nov 2009
Hamid's Briyani has moved to the new Geylang Serai Market. I forgot to record the number of the stall but it is in the 2nd row from the end of the building.