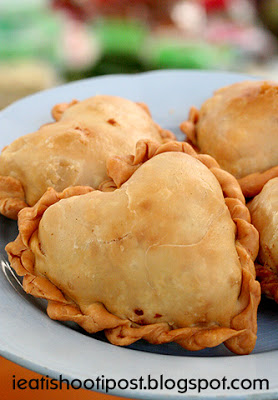 We were just walking around Geylang Serai Temp Market looking for other shiok stuff to eat when I chanced upon this stall selling Epok Epok Love with a picture of Minister of Environment, Yaacob Ibrahim eating one of the curry puffs. If it's good enough for a Minister, it must be good enough for me!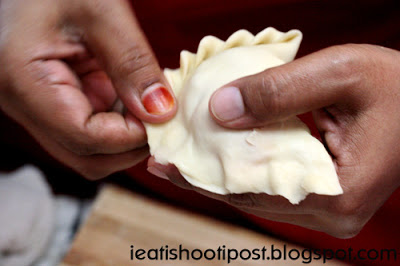 So what's so special about this Epok Epok and why do they make it into the shape of a heart? Well it turns out there is a long story behind the whole thing. (Remember I said most long stories take only about a minute to tell?)
You know how life sometimes throws you a curve ball and turns everything upside down? Well, that's what happened to Junaida who used to be a Salesgirl over at Joo Chiat Complex. Her husband lost his job 3 years ago and out of desperation, they turned to making Epok Epok to keep the family of five going. Even their 3 boys gave up their TV time in order to help peel potatoes. Thankfully, after some time their Epok Epok became so popular that they were making 600 to 1000 per day! Knowing how hard life can be, they in turn use their Blessings to be a Blessing to others by donating Epok Epok to charity. Hence, Epok Epok love. Curry Puffs made from the heart.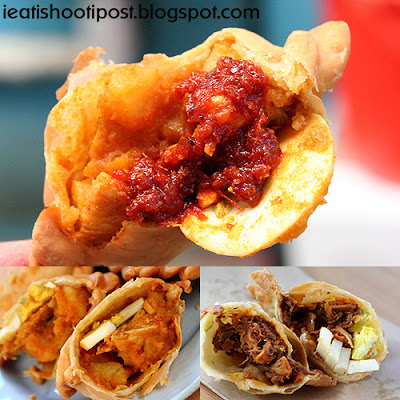 OK, so it's a HEARTwarming story, but what does it do for the stomach?
This is probably the most impressive Epok Epok I have eaten till now. Each Epok Epok only costs 40cents but the filling is very generous and it even comes with eggs inside. The sardine puffs had more sardine than onions and were pretty full too. Their Heart Shaped Curry Puffs are a special order item. Each one costs $1 and it contains pieces are yummy chicken meat, potatoes and eggs inside. I actually prefer these Epok Epok over the Chinese version because the skin is thin and crispy so you won't feel jerlak after eating a few of them. Before I forget, you must get Junaidah to give you some sambal to put into the Epok Epok, oooooohhh sedap lah Mak Cik (Very tasty lah, Aunty!) 4.25/5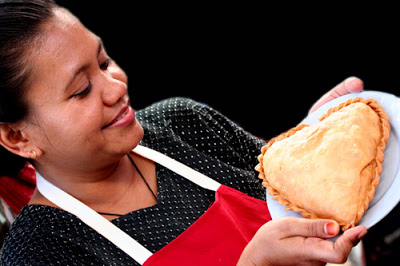 For those special occasions, you might even consider ordering their BIG heart shaped Epok Epok ($15 special order) to be shared among loved ones! Hmm, with Valentine's Day just around the corner, I wonder if it is romantic to present a curry puff like this to your loved one?
Conclusion
Definitely one of the best Epok Epok I have eaten! Now I am trying to convince Junaida to make me a Minced Beef Super Epok Epok! Stay tuned.