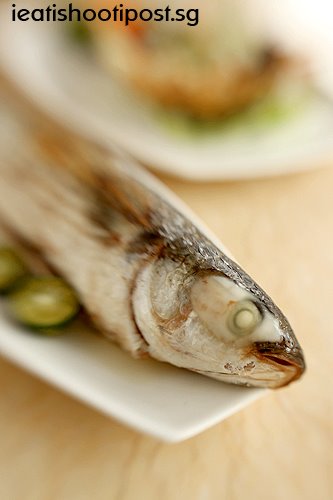 Mullet in Banana Leaf $15
There is nothing particularly sexy about a Mullet. In fact, the word "Mullet" is one of those soft core derogatory words that just sounds cute enough not to be overly vicious. So calling someone a "Mullet" in the US is akin to calling him a "Sotong" (squid) here which refers to a person, for example, an NS boy, who wouldn't know that he should throw the grenade after he pulls out the retaining pin. Then of course, we had those Mullet hairstyles which Billy Ray Cyrus used to wear of which I am sure would make your hair stand on end.

But there is one group of people for whom the word "Mullet" conjures up some gastronomic excitement. My father falls into this group. That is part of the reason why I am writing this post which is dedicated to my dear old dad. He is a typical Teochew Ah Hia who just loves this fish which we Teochews call "O Her" lit "Black Fish". I still remember how excited he would get when he gets back from the market with his prized Mullet. Within the hour, the fish would be steamed and he would sit down with mom, the Mullet, and a saucer of "Tau Cheo" (fermented bean sauce) and start extolling the wondrous chunk of "fat" that is found in the stomach of the fish. Needless to say, we three boys have not been properly introduced to this extraordinarily ordinary fish, so to my Dad, the Mullet is Max Ooomph, but to me, it's like Phewweee! Fishy sia!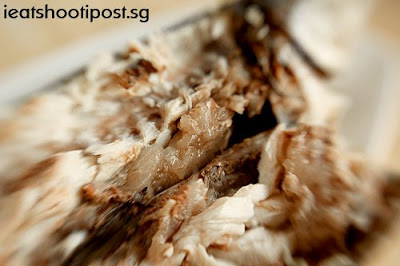 Anyway, if you happen to be a Mullet lover, you will be happy to see this prized piece of "fat" in the belly of the Mullet. Now, anatomically speaking, you don't just get a piece of fat in the middle of your abdominal cavity, so what I figured out is that this "fat" actually refers to the Mullet roe or the male Mullet's milt sac. Perhaps the Mullet maestros can confirm this for us?
Anyway if the Mullet is famous for anything, it must be for its roe. The Teochews love it, as do the Italians who sun dry and cure it to make Bottarga which I actually don't mind eating. A bit of shaved Bottarga with pasta is a real treat as it does taste a bit like caviar. Perhaps my dad was right all along….
If you like Mullet, the House of Bamboo Noodles is dishing out fresh Mullet which is simply wrapped in Banana Leaves and pan fried. The owner happens to be Teochew and loves the fish. For me, sorry lah Pa, I tried it again but still cannot fully appreciate it. It's still a bit too fishy. It's a 3/5 for me but a 4.5/5 for others like Cactuskit who was the one who alerted me to this dish.
Conclusion
So, are you a Mullet connoisseur or do you shun Mullet like moi?