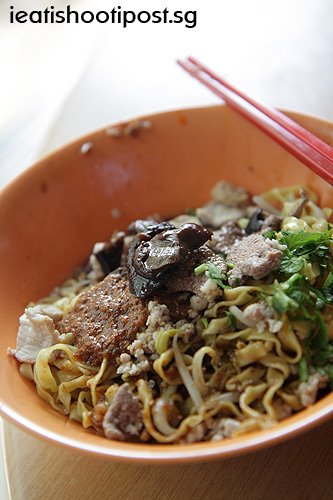 Bak Chor Mee is such an underrated Singapore dish. When we conducted our polls last year, Bak Chor Mee was the third most favourite Singaporean hawker dish after Hokkien Mee and Chicken Rice. But, if you have a friend from overseas coming to Singapore, how many of us would think about bringing him to eat Bak Chor Mee? No, it is either Chilli Crab or Chicken Rice but not Mee Pok Tar or Bak Chor Mee. In fact, I don't recall seeing Bak Chor Mee being featured in any of these foreign food documentaries whenever they feature Singapore food. Yet Bak Chor Mee remains very close to the hearts of many Singaporeans. The phrase "Bak Chor Mee (or Mee Pok Tah) mai Ter Kuah" (Minced Pork noodles, no liver please) is such a commonly used phrase that it can be ranked up there with "Relac one corner" and "Arh Boh Den?". Still remember that podcast by Mr Brown?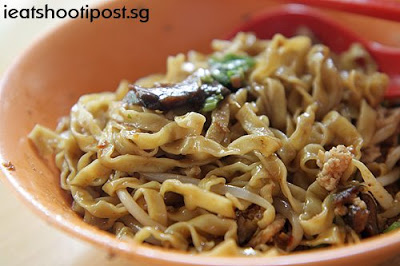 I was told by Damien and Cactuskit that this Bak Chor Mee is quite legendary and used to be in that food centre in AMK before it burned down. They have since shifted to the temporary market and are still drawing the crowds.
As a dish, Bak Chor Mee, in general, is still has good as it was in the past. What I am saying is, when you talk about Chicken Rice, poeple always say how good it was in the past. This is the same with Char Kway Teow and even Hokkien Mee. But when it comes to Bak Chor Mee, I haven't heard many people complain that Bak Chor Mee was so much better in the past.
Bak Chor Mee really is about the noodles more than any other noodle dishes that I know. The topping and sauces really just serve to accentuate the flavour of the noodles. So you really need to start with a good quality egg noodle and then make sure you eat it piping hot. With each mouthful, you get to enjoy the aroma of the egg noodles that is lightly flavoured with the lard with the vinegar just cutting through the oils and getting the salivary glands to start working.
This is a fine bowl of Bak Chor Mee. I felt that the flavours are nicely balanced and you get a whiff of the eggy aroma of the good quality egg noodle with that first mouthful. The texture of the noodles was nice and QQ. It is a good as the other great Mee Poks around, but not really one head above the rest. 4.25/5
Conclusion
Actually the fact is that as Mee Pok/Bak Chor Mee goes, it is hard to differentiate between all the good ones around as they have all reached a certain standard. The one that stands out for me is Seng Kee Bak Chor Mee because I can order Fish Maw soup and Nam Joo Fried Pork Strips to go with my Bak Chor Mee. But if you are looking for a standard bowl of expertly made Bak Chor Mee and you are in Ang Mo Kio, this is it.