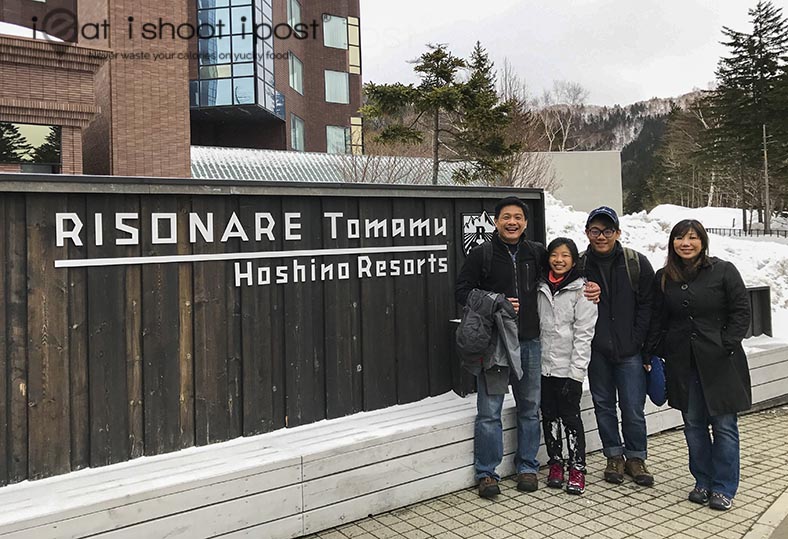 I have a confession to make.  I don't like the cold.  I don't like to wake up in the morning and not want to get out of bed because it is freezing outside.  I don't like to get my butt frozen on a cold toilet seat and I don't like to have to put on clothing that makes me look like the Michelin Man.
I guess that is why I was never too hot on skiing holidays.  My kids, on the other hand, love the snow, especially my daughter.  I think it might have something to do with a particular Disney movie about some princess and ice or snow or whatever.  Somehow, she has this thing about building a snowman.  I wonder where she gets these ideas from?
I have skied, maybe four or five times in my life.  A few occasions in Australia and once in Japan.  So, I am very much still a beginner whose primary focus while skiing is trying not to fall, not to go too fast, not to bump into trees and not to ski off the edge of the snow and into the abyss.
Having said all that, I actually found our recent ski holiday in Hokkaido quite enjoyable.  I think it has a lot to do with how the Japanese organise things such that you don't really feel the cold, unless you want to — a fact that I am always reminded of when I have to answer the call of nature in the mornings.
Hoshino Resorts Tomamu is located about an hour and a half East of the New Chitose Airport in Sapporo.  We arrived at the airport in the afternoon via a one hour stopover at Taoyuan airport.  This is the first time we flew by Scoot and I felt that there are two big advantages.  Firstly, you don't have to retrieve your luggage and re-check in again which is the case when you fly via Tokyo.  Secondly, the stopover at Taoyuan is only an hour, so it is just enough time for a quick meal and you are back on your way to your destination.  This really helps to cut down the total travelling time by at least 2 hours compared to our previous trips to Hokkaido via Tokyo.  If you do plan to go, my advise is to book your tickets early in order to get to get the best price and to look out for great deals every Tuesdays through their email blasts.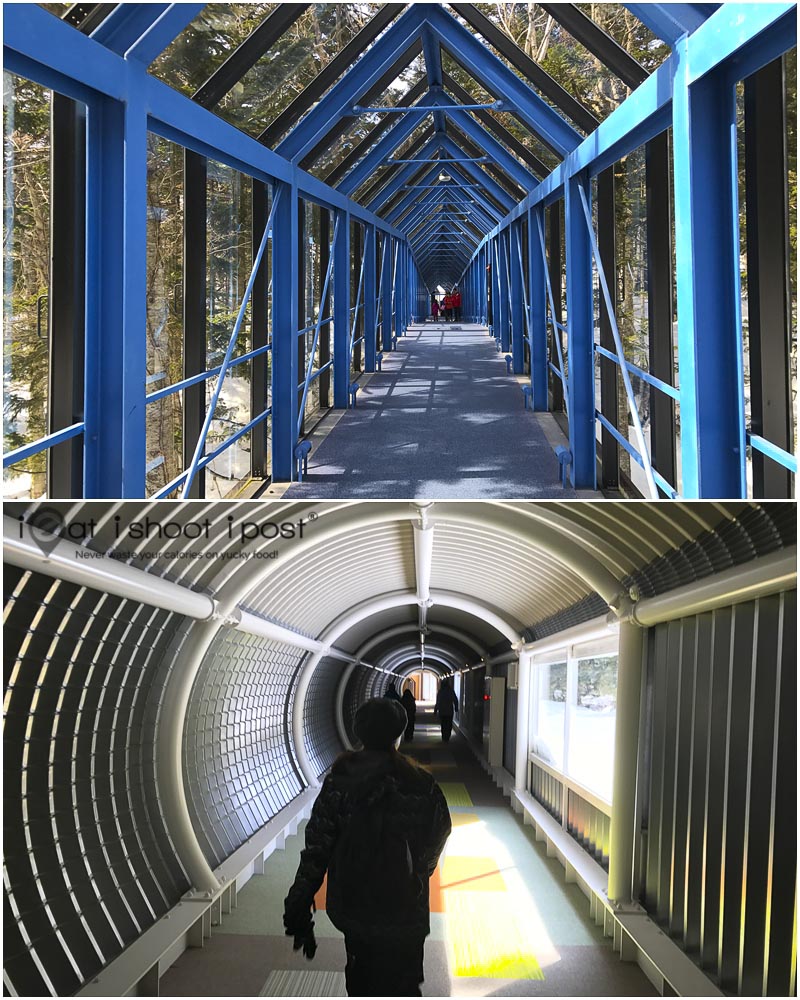 Hoshino Resorts Tomamu is an integrated resort comprising of two hotels, 25 ski courses, restaurants, outdoor activities, ice village and even an indoor beach which is kept at 30°C all year round.  In the summer,  crowds make their way up to Unkai terrace to experience the "Sea of Clouds"  and stay a few days to enjoy other summer activities like white water rafting, trekking, horse riding and hot air ballooning.
The most striking thing about the resort are the four towers standing in the middle of the beautiful snow-capped mountain range.  It is quite a sight when you first arrive at the place. The resort was built at the height of the Japanese economic boom and was initially targeted at the luxury market.  Since the bust,  it spent many years in the doldrums before the Hoshino group had took over and revived it by turning it into a family friendly resort.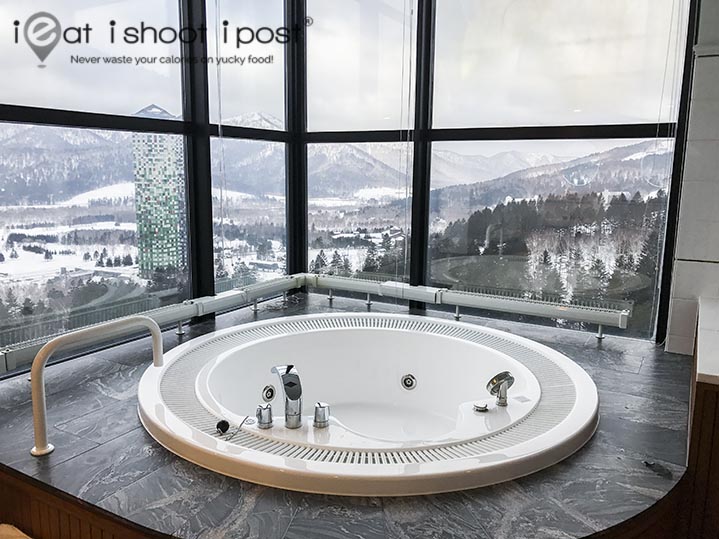 Although the place is over three decades old, you wouldn't have known it because the facilities have been so well maintained.  There are a few tell tale signs of its age, like the type of buttons used to call for the elevator and the analog room keys, but aside from that, the place looks as if they have just been renovated recently.  The rooms were surprisingly spacious.  Having travelled to Japan on numerous occasions, we have come to expect our hotel rooms to be tiny and cramped.  But our rooms at the Resonare Tomamu were quite spacious and comfortable.  The bathrooms came equipped with a jacuzzi with an amazing view of the snow capped mountains outside! There is nothing better than soaking in a bubbly hot tub while watching the snow falling on the majestic mountain range outside!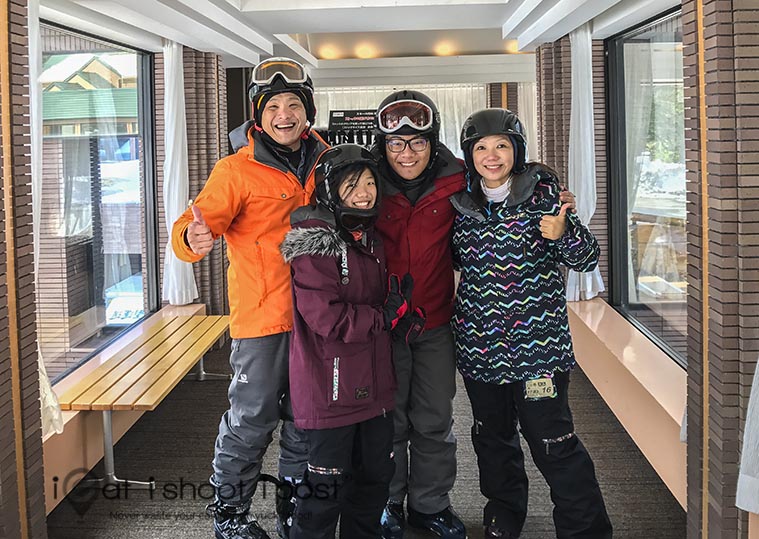 The whole process of getting out of your cosy bed and onto the ski slopes is pretty straightforward.  You get yourself decked out at the equipment rental shop within the hotel and simply walk out onto the ski slopes! You don't have to worry about not owning any of the ski gear as they can all be rented, from the jackets to the pants, helmet, goggles, gloves and of course the skis.  The equipment are in excellent condition as they are renewed after every three seasons.
Aside from skiing, there are also other outdoor activities like the snowmobiles and banana boat rides which you can hire at the Gao outdoor centre.  There's also mini snowmobiles for the younger ones where they can ride around in a kiddie circuit as well as a gentle slope where you can see how fast you can go in a snow sled.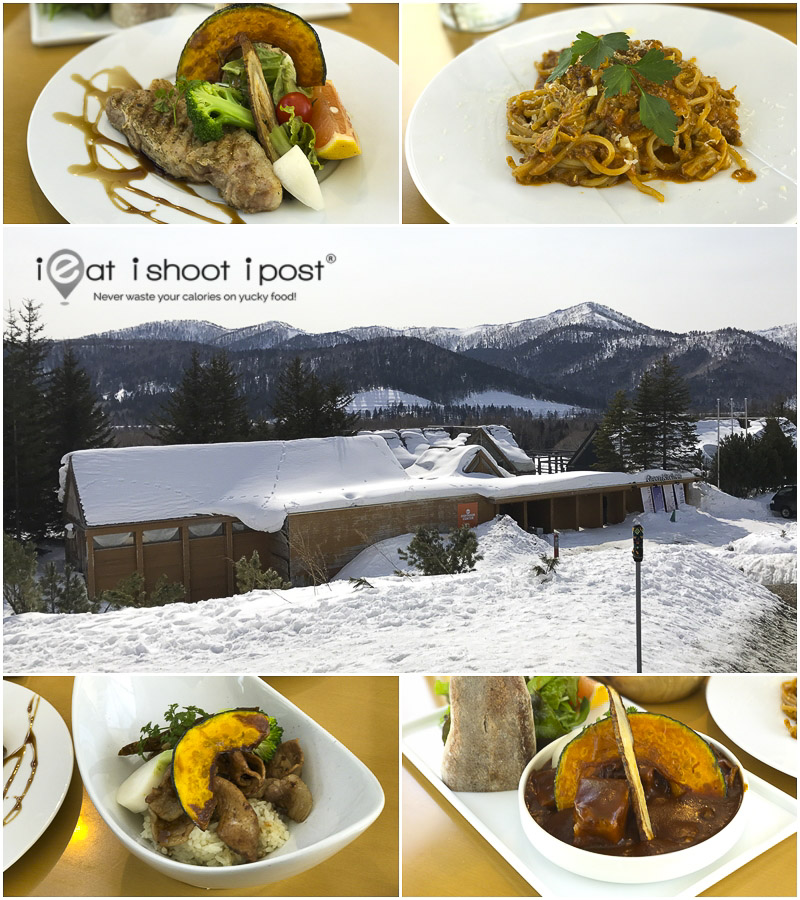 While at the Gao outdoor centre, you should plan to have a meal at the Green Kitchen.  This restaurant is one of the 10 or so privately owned restaurants in the resort and they pride themselves in using the best locally sourced produce.  Their spaghetti is surprisingly good as the pasta has a chewy, toothy texture that is not easy to find. Their beef stew and grilled Teriyaki pork don are also excellent.   The local Tokachi pork has a special sweetness which I just couldn't get enough of.  We didn't get to try the local wagyu as there are limited to five servings everyday.  So if you are planning to eat there, do go early and try to get your hands on the wagyu!
One of the best way to experience the freezing cold (That is after all why you are in Hokkaido in winter isn't it?) is to visit the Ice Village which opens only in the evenings.  Here is where you can experience what it is like to be an eskimo living in an igloo.  There's a chapel there if you wish to renew your wedding vows, a ice hotel and various igloo-stalls where you can get a drink at a bar, roast marshmallows, do some ice sculpting etc.  There is also an ice skating area there where you can try doing a somersault with a triple twist if you wish!
Heed my advice: Make sure to pack hand warmers!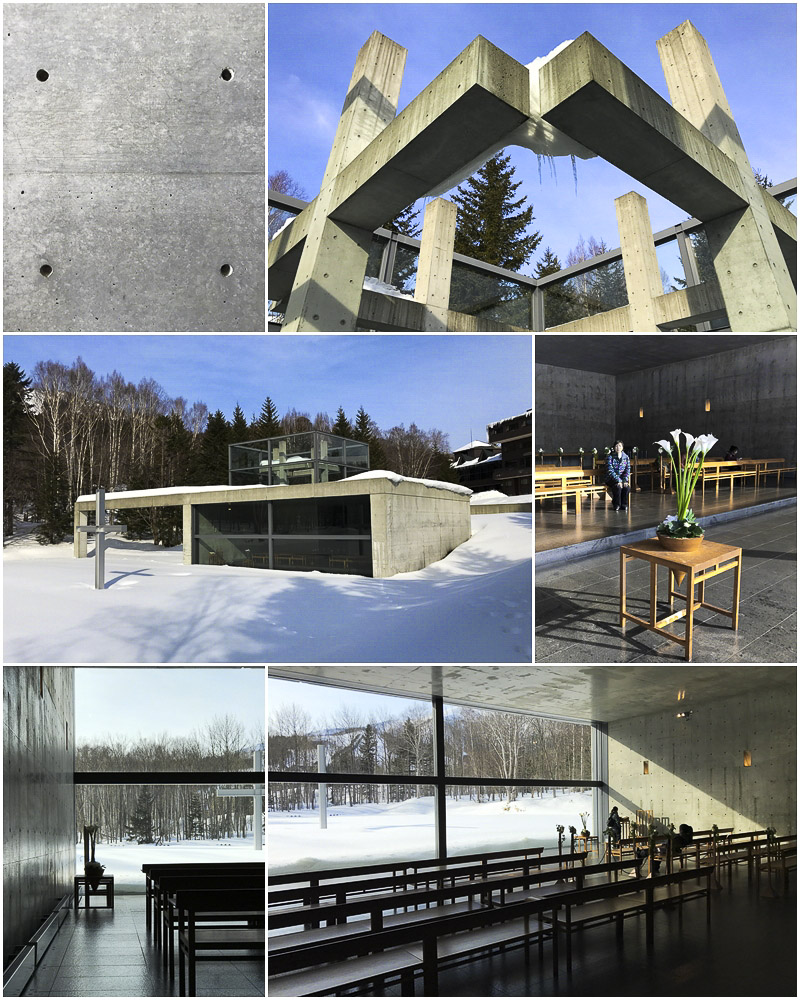 Located in the vicinity of the ice Village is the Chapel on the Water, one of the architectural masterpieces of renown Japanese architect, Tadao Ando.  This beautiful chapel is used mainly for wedding ceremonies and is built using nature as the main element in the design.  Instead of a wall covered with stained glass windows, the front of the chapel opens out to the beauty of nature, celebrating the handiwork of God.   The chapel is opened for viewing in the evenings only.
If you are planning to bring the family to Hoshino Resorts Tomamu in the winter, make sure you remind the kids to bring their swimming costumes.  Yes, you heard me right — swimming costumes.  That is because one of the attractions of the resort is Mina Mina Beach, a bigger than olympic sized wave pool built within a greenhouse in the middle of the mountains.  The temperature within the glass building is kept at a very familiar 30°C –great for those who are missing the balmy weather of Singapore!  There is also Kirin-no Yu, an outdoor onsen where you can pretend to be a snow monkey and soak in the hot water while having the snow fall on your head.
Note:  Mina Mina Beach and some of the other attractions are accessible via the free shuttle bus.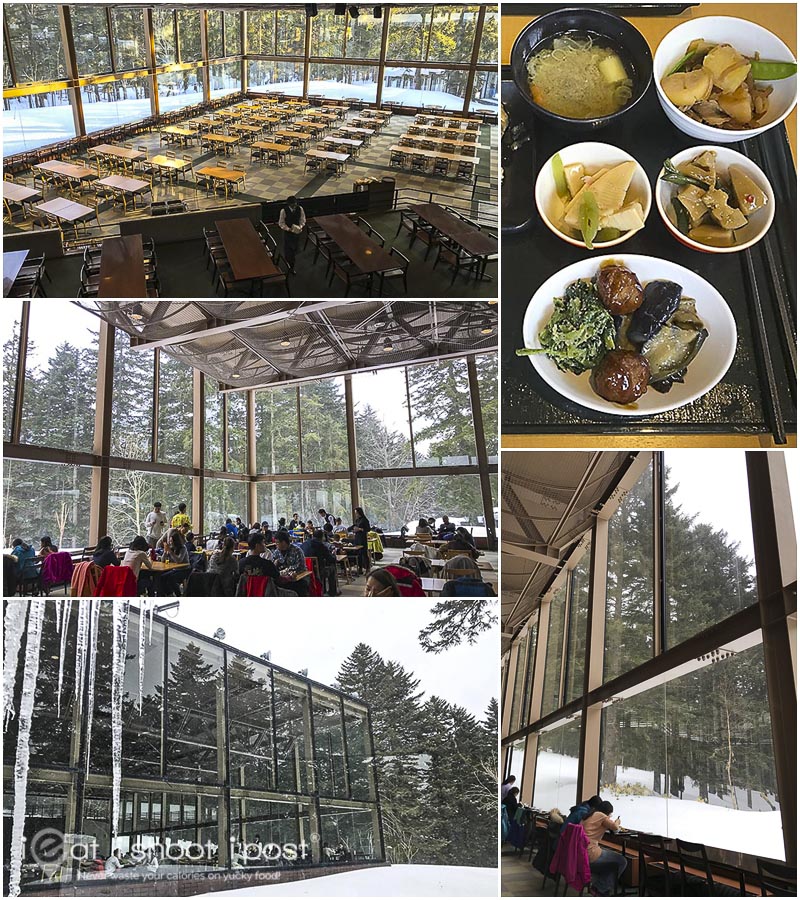 There are two buffet restaurants which are operated by the Hoshino resorts.  Nininupuri is the larger of the two and offers mid range buffet meals.  The key attraction of Nininupuri is the large open glass structure which opens to the beautiful 170 year old virgin pine forest.  It is a lovely place for breakfast and dinner.  If you have booked your rooms with breakfast included, then you can choose to have breakfast at several of the different restaurants.  Make sure that you have breakfast at Nininupuri at least once in the early part of your stay so that you can decide to return to it again.  Cost for buffet breakfast:  2200¥ (Same price for all buffet breakfasts at different restaurants)  Buffet dinner 3800¥
The other buffet restaurant is Buffet Restaurant "Hal" which is located near the Ice Village.  This place is smaller and offers a higher end buffet dining experience.  When we were there, they had a snow crab and salmon theme and so there was all you can eat snow crab legs and salmon handrolls.  Buffet dinner price: 5400¥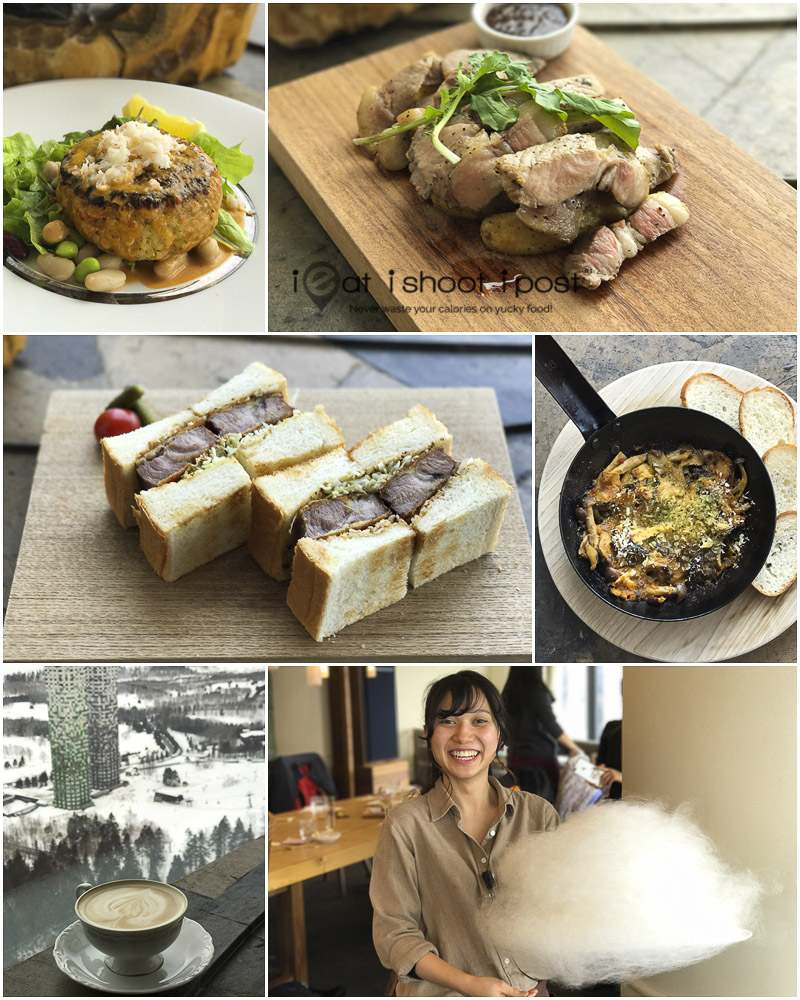 Tsubaki Salon, located atop one of the towers at Risonare Tomamu is a quiet place where you can grab a cup of coffee and a pork sandwich and enjoy the view.  Great place to have a break between your skiing runs!  They have a dessert platter which is covered with cotton candy which is a reminder for you to take the gondola up to Unkai Terrace to view the "Sea of Clouds!"  Actually it's just some cakes and pastries with cotton candy placed on top of it.  But it's still quite fun as you don't get to see much cotton candy nowadays!
Conclusion
We found Hoshino Resorts Tomamu a great skiing resort for the family.  The facilities are well maintained, the rooms are spacious and there are enough other activities to occupy you for a few days. There resort is a standalone facility, so there isn't a town nearby where you can explore and do some shopping, but if you are doing a road trip through Hokkaido, then it is a great stopover for a few days of skiing!
Website: Hoshino Resorts Tomamu
Disclosure
This was a media familiarization trip