Want to drink the Presidential Teh Tarik? Hop down to Marine Parade Food Centre and look for this Sarabat store and you too can feel like the President…..at least for 10 minutes. Of course the President does not come down to the stall himself to drink the Teh Tarik. That would mean a lot of work for the Security Guards who will need to get the Presidential Body Guards and also arrange for the neighbourhood police to partition off a section of the carpark for the presidential entourage. So much red tape for a cup of Teh Tarik. Instead the President's driver comes by to Ta Pau the Teh Tarik back to the Presidential Mansion.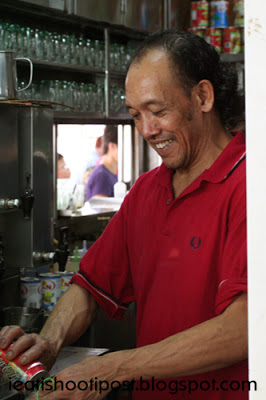 Although this stall is opened throughout the day, the President's Teh is only available during the mornings up till 12.30pm. That is because it has to be made by a particular man who is code named "Michael Bolton" to protect his real identity. (Actually I think it is because of his hairstyle). Anyway, the "Michael Bolton" only works the morning shift, so the Presidential Teh Tarik was not available when I got there at 2.30pm in the afternoon.
Ah, but you astutely observe that I managed to take pictures of him and are wondering why he cannot make a Teh Tarik for me since he is still around. I wondered too. I pleaded with the "Michael Bolton" for at least 15 minutes to no avail. The man just would not make me a cup of Teh Tarik. Frustrated, I unleashed my secret weapon…….iwatch_ueat.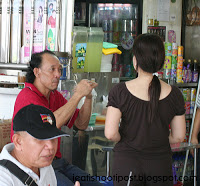 Now, if iwatch_ueat can't get him to make a cup of Teh Tarik, no one can. Trust me, this lady can even get a loan shark to give her money when she needs to.
Anyway, after 15 minutes of negotiations, she came back empty handed. Well not really, I did not get my Presidential Teh Tarik, but I got a good explaination why not. You see, they prepare the tea beforehand and because his shift was in the morning, the batch of tea that is already prepared was not done by him. So it would taste different even if he were the one adding the milk and tariking it. It so simple, why didn't he tell me earlier?
Anyway I had the Teh Halia Tarik made by the partner and it was very very good! There was enough punch from the Ginger, the Tea was strong and it was creamy and smooth. Sip, gulp….Aaaahhhhh! 4.5/5
Conclusion
If the one made by the partner was already so good, I wonder what the one made by the "Michael Bolton" would taste like? Looks like I have to visit this place on a Sunday morning in order to get a taste of the authentic Presidential Teh Tarik!
Update 28 Jan 2013.
Michael Bolten has "Balik Kampung" (gone home to Malacca)