This Stall is Closed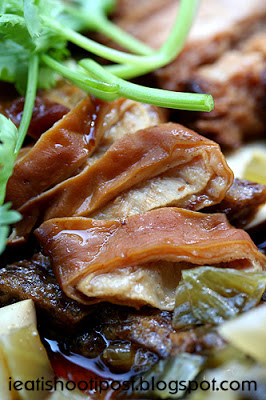 Just in case you are wondering what this stall actually sells, the answer is…..anything that the owner Jason is passionate about. Well, the mainstay of the stall is the Kway Chap which was recommended by one of our readers, Iris. She described this as a Yuppie Kway Chap that would appeal to people who would otherwise not go near piggy spare parts. The other thing that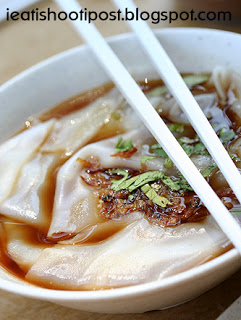 caught my attention was that the stallowner happened to be an ex-flight steward. Now, an ex-flight steward opening a Yuppie Kway Chap stall in Geylang, don't you think that is worth investigating?
And amazingly, that is exactly how I would describe this Kway Chap. The taste is new age, delicate and clinical. The flavour is subtle such that you can't really make out the spices, but they combine to give the Kway Chap that umami kick. Even for a person like me who don't usually eat Da Chang Tou aka rectums, I actually found this one to be quite delectable. 4/5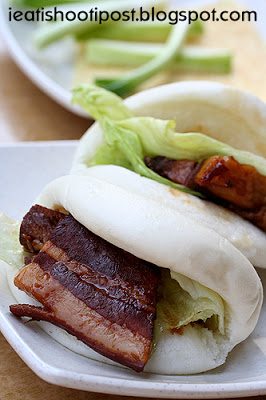 Are you all familiar with the Ma Ling canned Kong Bak? I grew up eating it and ooohhhh, it is so yummy! It's got a very special taste that I can't quite describe but I instantly recognize when I eat it. Unfortunately, even though there have been many new stalls sprouting up selling Kong Bak Pau, there really has not been one that I could rave about.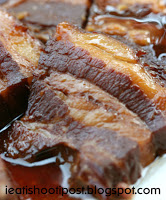 Not anymore! I think I have found my regular Kong Bak Pau haunt. The Kong Bak here has got that special Ma Ling Kong Bak taste but without all that lard oil in the sauce. It is not overly sweet but instead has got a really "Kiam Pang" (Salty Savoury) taste that is quite irresistable. Jason told me that his method of cooking the pork is quite different and though he did not reveal what gave the pork its "Ma Ling" flavour, he did say that he uses Japanese sauces to marinade the meat before steaming for several hours. It was so good, I tar paued a whole box home only to find that my kids finished it all up when I got home late from work! Now if he had deep fried the skin so that it was wrinkly I would have immediately give it a 4.75. But even as it is, it deserves a commendable 4.6/5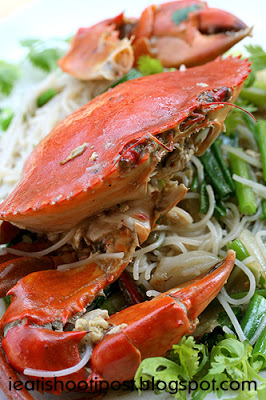 Crab Bee Hoon $10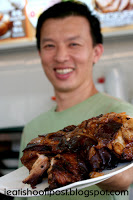 For those who like to eat Crab Bee Hoon for the Bee Hoon and not necessarily the crab, this is a good place to have your bee hoon without having to fork out at least forty bucks. The Bee Hoon here is pretty good and has that crustacean flavour infused into the Bee Hoon. For ten bucks you get a small but solid crab. Not a bad way to satisfy that crab bee hoon crave. 4/5
I have to hand it to Jason to come up with this next dish which is "Peking Rectum". Yes it is Peking Duck but instead of Duck skin,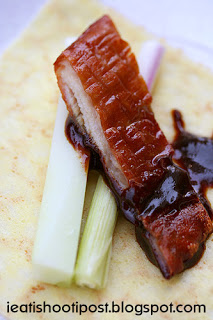 Jason has substituted it with deep fried Da Chang Tou. The idea was so novel, I had to try it at least once. I must say that the texture of the deep fried Da Chang Tou was really like the skin of the duck. But of course it does not taste like duck, it tastes like a sweet crispy morsel of meat. It's something you definitely need to try and take a picture of so that you can tell the world about it. 3.5/5

Conclusion
Jason's the kind of new age hawker chef that is going to change the way we eat hawker food. Passionate, well travelled and innovative, his constant experimentation has already produced a Kong Bak Pau that really is darn shiok. I am really looking forward to more new creations coming out from his kitchen. He has already promised me that he will look into the possibility of stir fried Lobster noodles…….. akan datang or should I say… makan datang… I hope… I hope….