This Stall is closed!

This stall is famous because its owners had just returned from a 15 year stay in Sydney where their restaurant was voted Sydney's top 10 by the Sydney Morning Herald. At that time, they were there because of their children's education. After they all graduated, the owners decided to migrate back to Singapore and started this western food stall selling interesting items like Chicken Kiev and Pork Cordon Bleu which are to Sydneysiders what Hokkien Mee is to Singaporeans!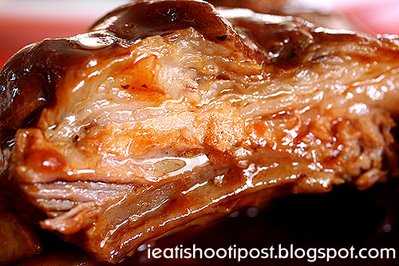 The BBQ pork ribs are a real gem and great value at $6 per serving. You get a meaty portion of pork ribs, cooked till the meat can be just sucked off the bone and swimming in lovely tangy BBQ sauce. Save your calories for this one! The ribs are not the western cut ribs where most of the meat has been taken off the bone. You can see from the picture the substantial amout of meat still attached to the bone. The taste is closed to Tony Roma's although it does lack the charcoal grilled flavour. Shiokadoo! 4.25/5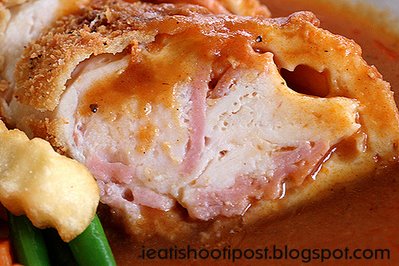 This Chicken Kiev has been tweaked cater for the local taste as well as the $6 budget. It was good, but could have been better if mozarella had been used instead of Cheddar. Something different. The sauce was really nice and tasted quite Ang Moh (Western). 3.75/5 Conclusion Another place to find restaurant style western food at hawker prices. They are also offering a T bone steak for $9 which is a really good deal. I might have to try that one day, but everytime I go back there, I would still be tempted just to go for the ribs!
Updated 13 Oct 2012
They have moved to: 217 Bukit Batok Street 21, Singapore 650217. Thanks to Winston for the update!