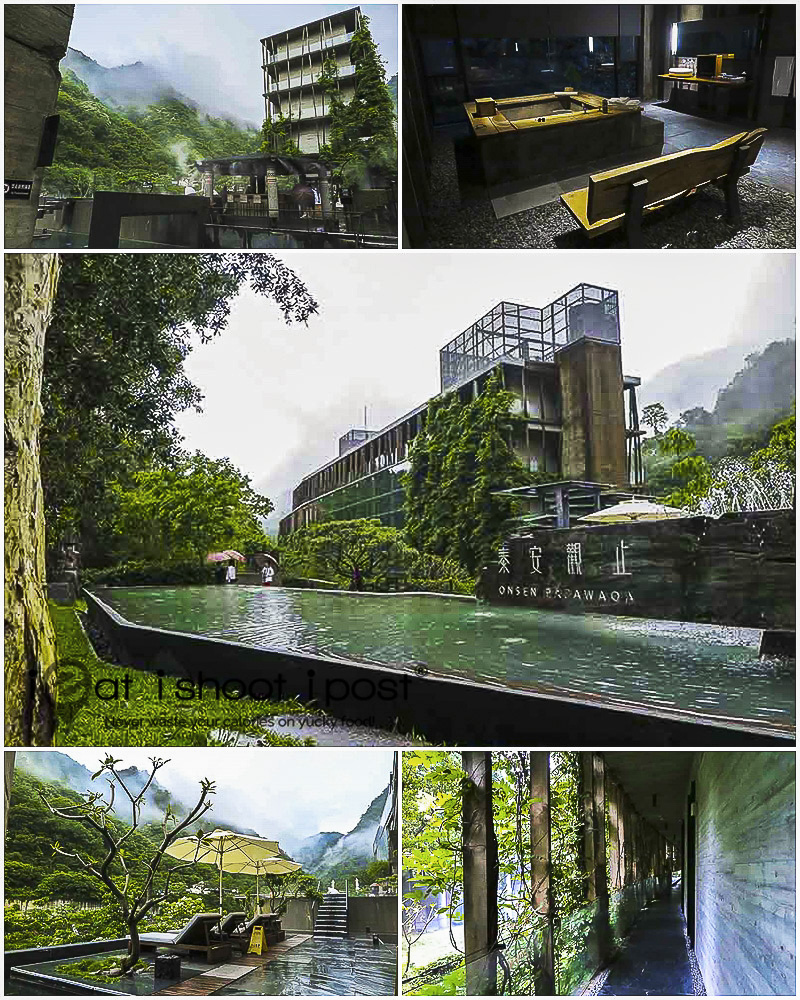 If you need an excuse to visit Taiwan, then Onsen Papawaqa is surely it.  Rockett Girl and I fell in love with the place the moment it came into view along the mountainous road.   The minimalistic wood and concrete building is located in a valley right next to a river and looks as if it had just grown out of the riverbank.  It is one of many eco-friendly places in Taiwan where one can go to escape the stresses of city life.
They have a public onsen that faces the river which is divided into one which you have to go in buck naked and another which is family friendly where you are allowed to put on your swimsuit. For those who are a bit shy about bathing in public places, you will be ecstatic to know that every room is equipped with it own private onsen where you can soak away all the stresses of life without worrying that someone you know might just walk through the door to share the water with you.
The owner, Mr Jiang who co-designed the building,  told us about the philosophy behind many aspects of the building design.
"The dining area was purposely built with multiple levels and the steps designed so that you had to take small leisurely steps to climb it."  He told us.  This was to ensure that guests are always reminded that they are there to relax and let time pass slowly.  He is also involved in hairy crab farming in Miaoli and if you are fortunate enough to book a hotel stay during the hairy crab season, (Oct-Nov) you will be in for an extra special treat at the restaurant!
No.58, Yuandun, Taian Township, Miaoli City,
Miaoli County, Taiwan 365
+886 3 794 1951
MAP
Website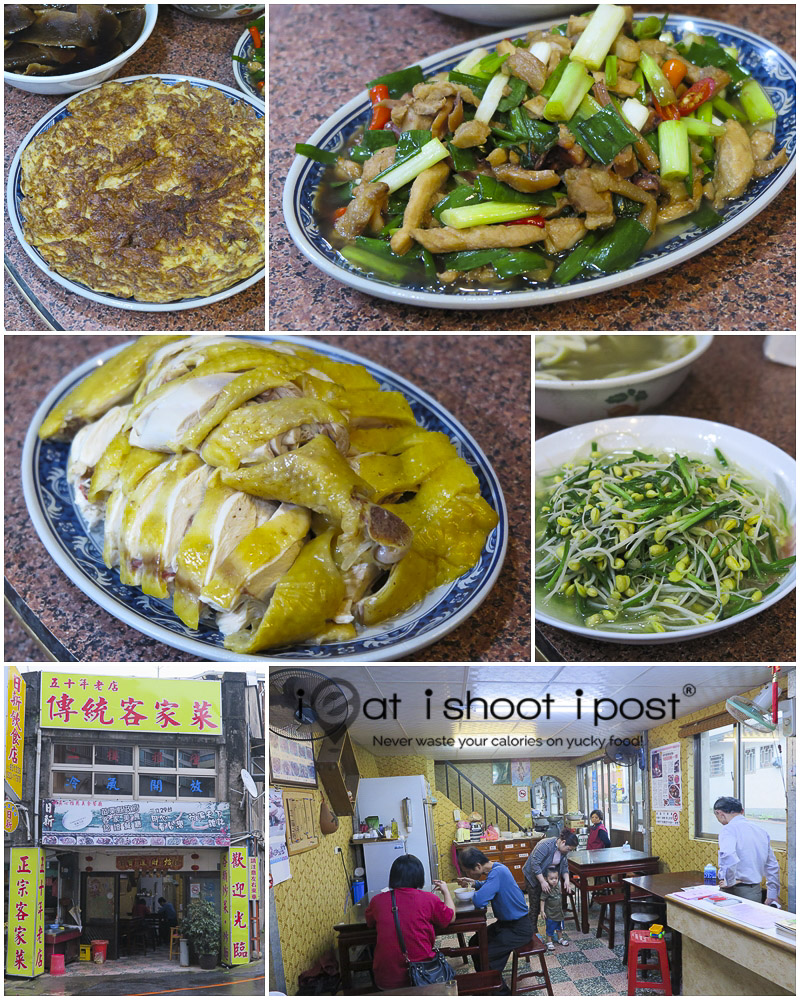 The majority of the population in Miaoli (苗栗縣) are Hakka and this is where I got my proper introduction to Hakka food culture. Our meal was prepared by 日新飲食店, a 50 year old restaurant serving  traditional Hakka cuisine using mostly local produce.  Hakka food is very straightforward and emphasizes the original flavour of the produce.  The poached "mountain" chicken is an excellent example. Served plain without any sauces or condiments, one is able to really savour the true flavour of the chicken, something that is rarely available in Singapore.  It was still the season for bamboo shoots and we were treated to a bowl of soup made with fresh bamboo shoots which were just harvested in the morning.  The flavour and texture of freshly harvested bamboo shoots is superb.  The dish of stir fried pork with cuttlefish and chives is a very traditional dish which is often presented as offerings to the deities and as such, requires at least 3 different ingredients.
The food here has a very authentic and homecooked feel about it.  I am not saying that it is "die, die, must try".  Indeed, Singaporeans who are used to heavy sauces might find the plain style a little too simple.  But you will certainly develop an appreciation for the great local produce and the Hakka culture!
日新飲食店
354, Taiwan, Miaoli County, Shitan Township, 苗栗縣獅潭鄉新店村9鄰101號
+886 3 793 1338
MAP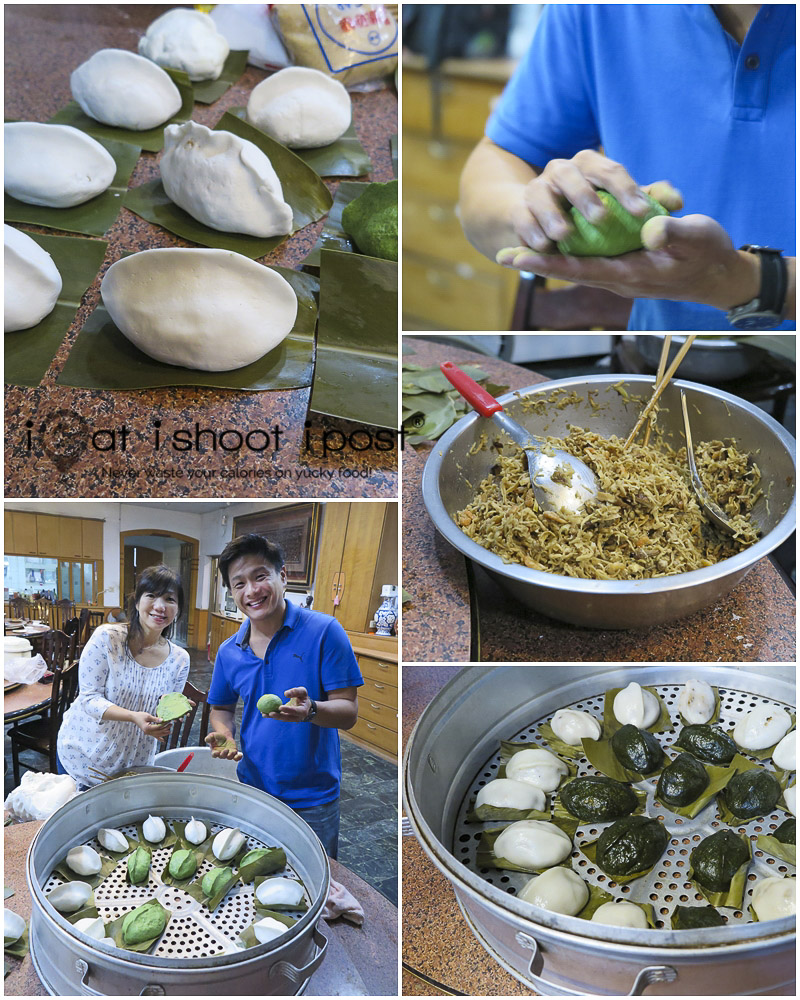 I developed a real appreciation for the Hakka Vegetable pau after I had the opportunity to learn how to make it from a Hakka grandma.  This may look similar to a soon kueh, but it is really quite different and the traditional way of making it is truly a labour of love.  The filling is made from radish which is first shredded and then sun dried for 10 days.  These are available commercially in their dried form but our Hakka grandma insists on using only the best radishes which she shred and sun-dried herself.  The radish is then fried with pork, dried shrimps and dried shitake mushrooms to make the filling. The skin is a lot more chewy than soon kueh and is made by soaking a mixture of rice and glutinous rice then wet milling it and squeezing out the water to form the dough!  You can of course make it with rice flour, but it wouldn't taste as good!  I really love the flavour of the sun dried radish and might just attempt to make it myself one day!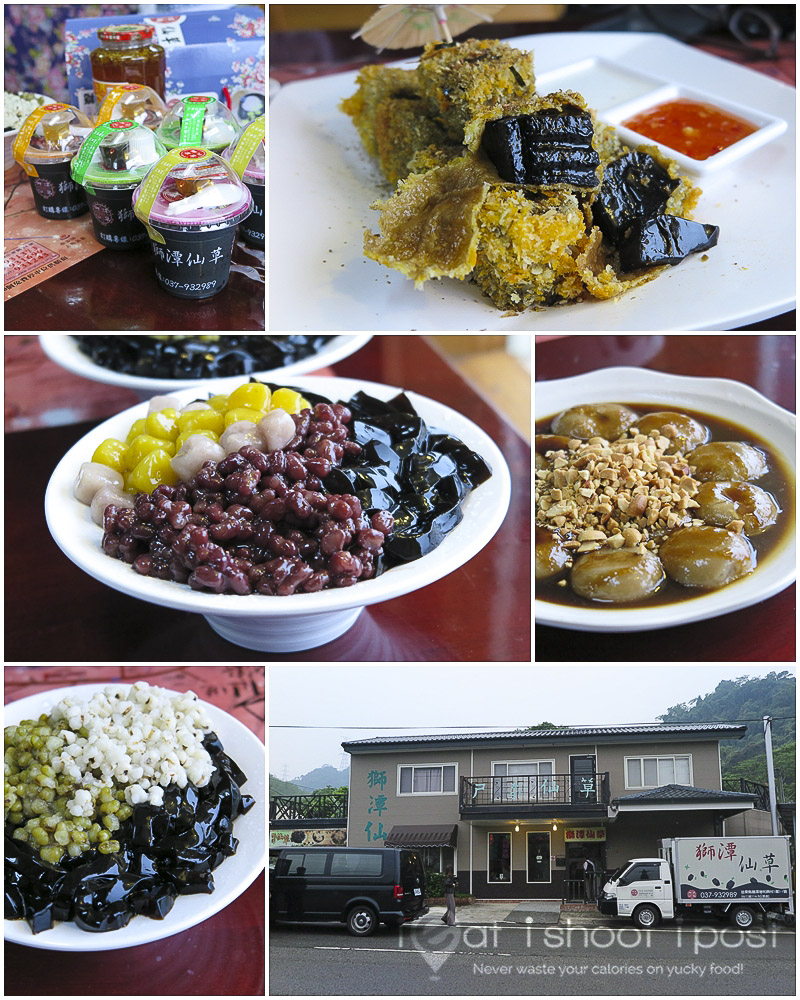 Mesona chinensis, the herb used to make the familiar chincao 仙草,  is a major cash crop in Miaoli.  The herb grows very well in the mountainous terrain and there are many 仙草  cafes where you can get to sample the herb in its many different iterations.   In Singapore, we probably take grass jelly for granted as it is widely available as a cheap drink.  But in Miaoli, 仙草 is serious business.  Cafe owners like the lady boss of this cafe take great pride in boiling the herb for 16 hours to extract its goodness.  With the prolonged boiling, the natural gels in the grass are released which cools to become the familiar black jelly. (A little bit of starch is added )
Breaded, deep fried chincao served with a chilli dip is quite a popular dish in Miaoli.  It's something interesting to try, but I don't think it is going to be the next food fad in Singapore.  I quite enjoyed the chincao flavoured mochi served with syrup and peanuts.  This is a dish the boss claims was invented by them and is the only place in Miaoli where you can find it.
I thought it would be good to be able to compare their chincao with our local ones side by side to see if there is a big difference in the flavour because it really isn't that distinct.  Unfortunately, we were not able to bring home the chincao as it requires refrigeration.
Shitan Xian Cao
+886 37-932989
MAP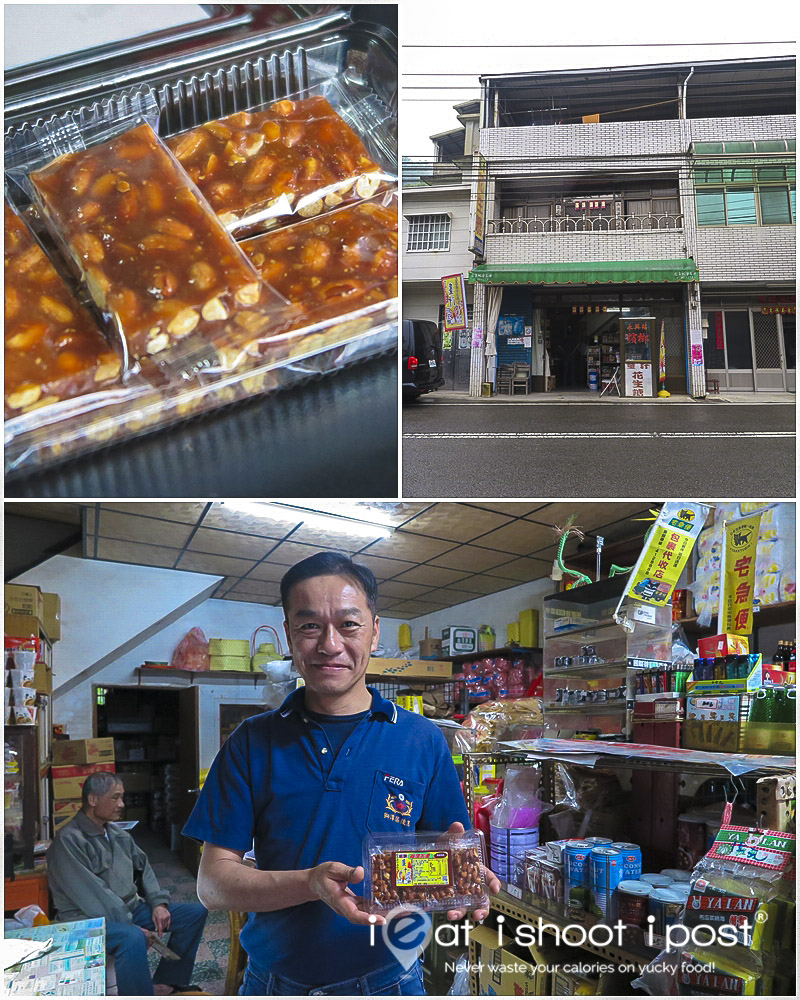 Along the way to our next destination, we pulled over at this unassuming little grocery shop which is famous for its peanut brittle. This is one of those places which you would probably just drive by without noticing unless you actually know about the culinary gem that was hidden within.
For the last 3 decades, the owner of the grocery shop had made peanut brittle by hand and apparently, they have orders coming in from all over Taiwan for it.  What makes their peanut brittle special is the addition of local ginger which gives it a unique zing.  They are very particular about using only local ingredients and making everything in the traditional way.  Good for a quick stop to pick up some snacks to bring home.
薑汁花生糖.獅潭老店.接興商店
354, Taiwan, Miaoli County, Shitan Township
+886 3 793 1308
MAP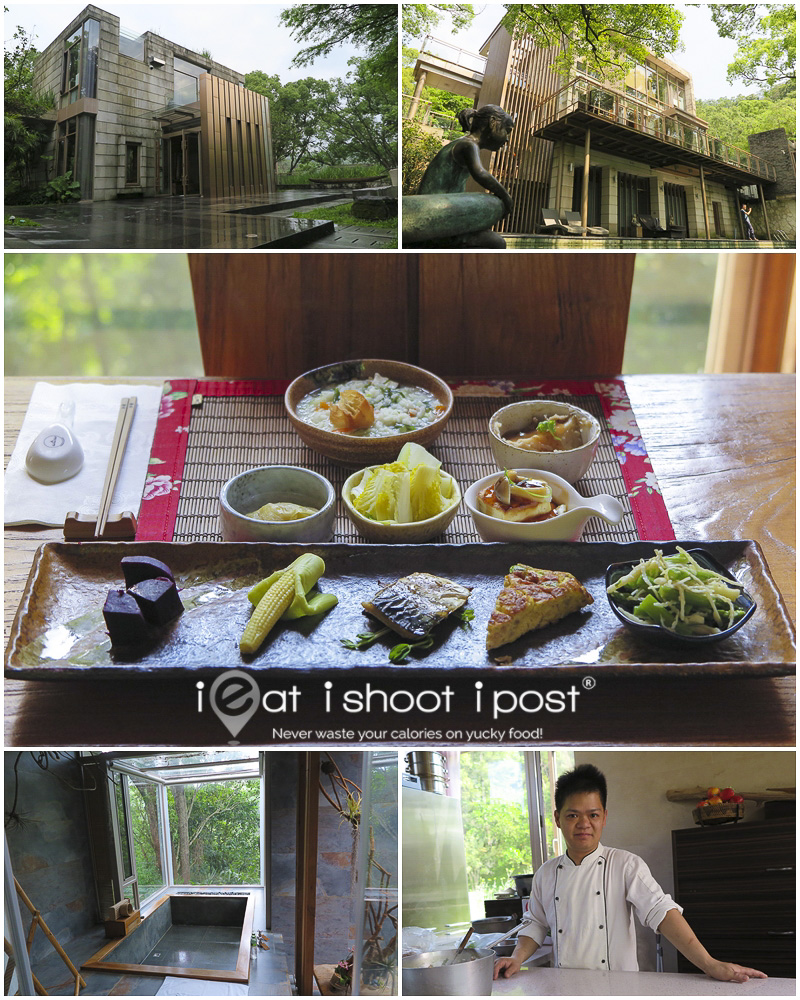 ChooArt Villa is an eco-friendly boutique hotel set in the forest that is ideal for a relaxed luxury homestay. The villa has only four bedrooms each with its own onsen and was specially designed to blend into the forest.  The owner built the house on stilts to avoid having to cut any trees and one room in particular has an old tree growing right through it!
The food is certainly one of the highlights of a stay here.  In fact, many patrons return to ChooArt Villa just to enjoy the cooking of live-in Chef 魏鹤宗 (Ah Zhong).  His dishes are regarded as "shan zhng de xiang yan" (山中的飨宴) and showcases the authentic taste in the mountains.  Chef is meticulous about procuring his ingredients and would drive his little golf cart to visit the numerous small scale farms to procure ingredients for his 12 guests each day!
ChooArt 樹也Villa
367, Taiwan, Miaoli County, Sanyi Township, 367苗栗縣三義鄉龍騰村5鄰外庄27-1號
+886 3 788 1712
Website
MAP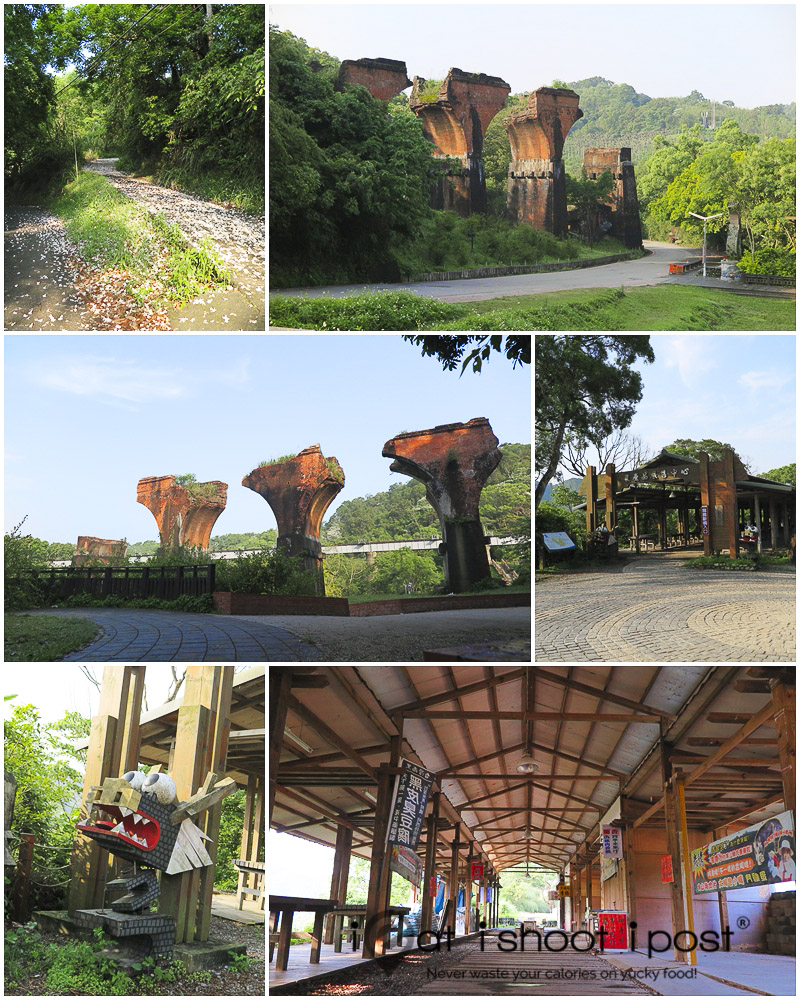 The Villa is just walking distance from the Longteng Broken Bridge which is a popular tourist destination in Miaoli.  The bridge was built in 1906 during the Japanese colonial period but was destroyed in the great earthquake of 1935. Many visitors make a trip to Longteng bridge during Hakka Tung Blossom festival which occurs during Apr to May to see the beautiful white Tung flower in bloom.  The flowers subsequently fall and cover the ground with a beautiful blanket of white which looks as if it has been snowing!
Longteng Broken Bridge  龍騰橋
龍騰村 Sanyi Township, Miaoli County, Taiwan 367
+886 916 925 498
MAP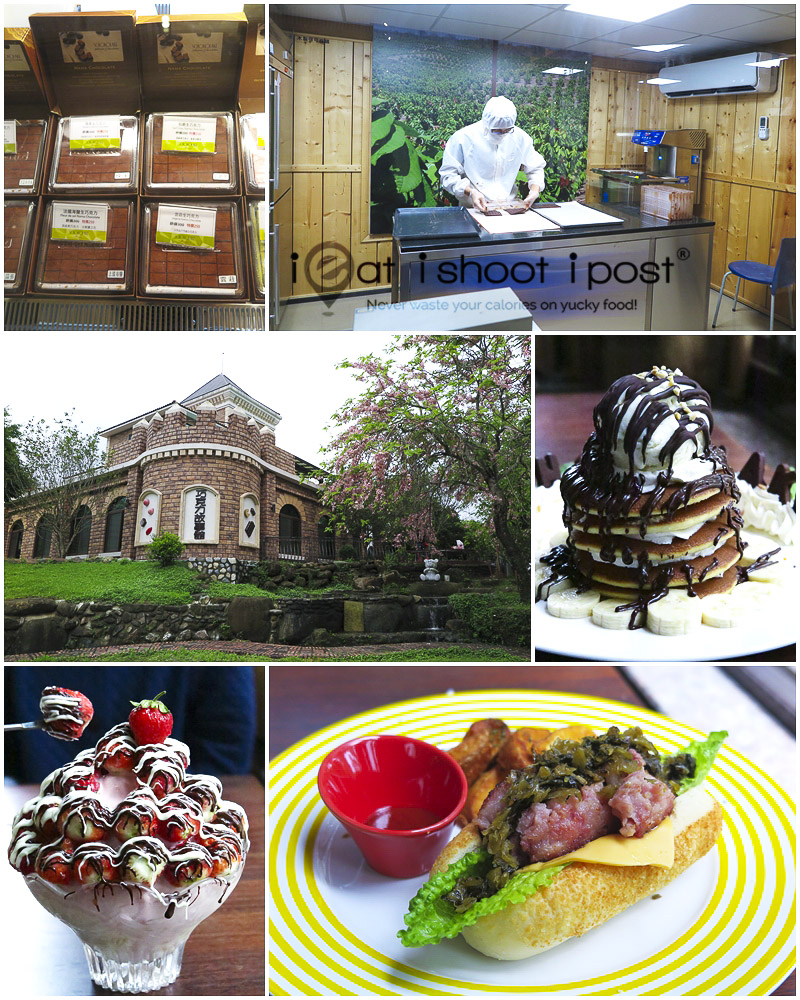 The Dahu township in Miaoli is famous for its strawberry harvest and tourists flock there between Dec and Mar every year try their hand at picking strawberries.  Located in the same area is Shokolake, a chocolate museum cum BnB establishment.  It might come as a surprise to find a speciality chocolate shop in the middle of the mountains.  But within seven years, Shokolake has established itself as a maker of fine chocolates and are the official suppliers of chocolate for Taiwan 101 Hotel.
There is a small museum where you can learn all about chocolates and how they are made.  Their cocoa beans come from Ecuador from farms which they own so that they are able to control the entire chocolate manufacturing process. There are two restaurants in the premises where you can indulge in desserts as well as some local flavours like strawberry sausage hotdogs and wild boar burgers.   The kids can also try their hand at making chocolates at their DIY workshop while chocolate lovers can visit the shop to sample some of their handmade chocolates which feature local flavours like lychee and strawberries.
Shokolake
364, Taiwan, Miaoli County, Dahu Township, 富興村水尾坪49-2號
Website
MAP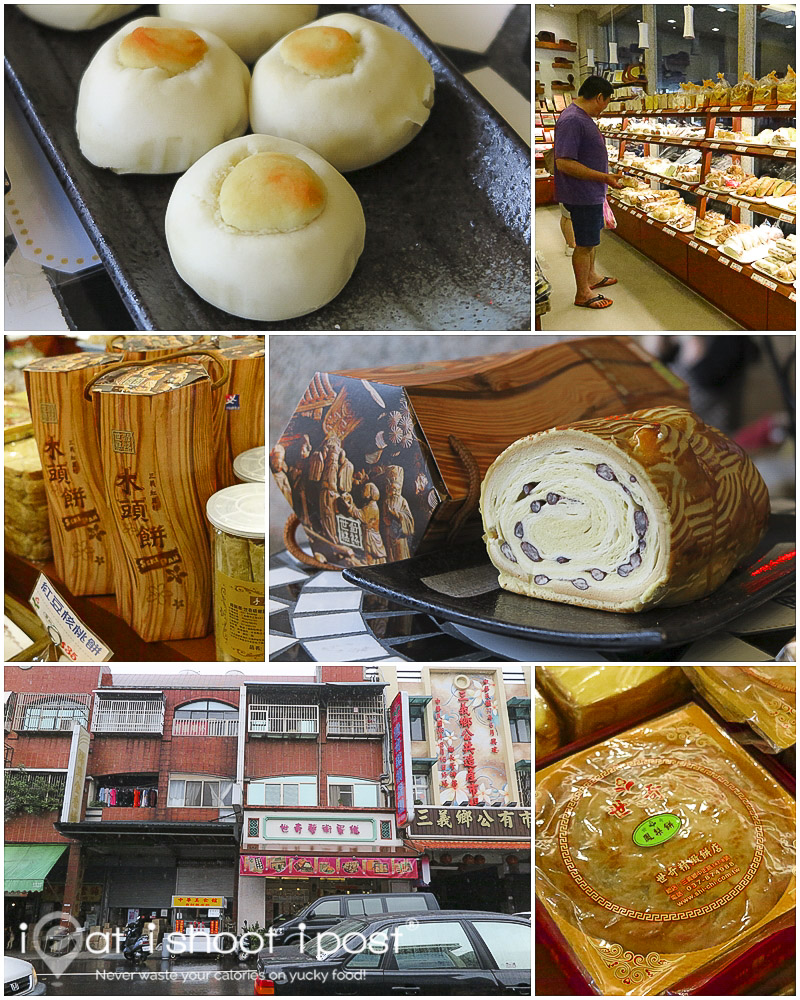 Sanyi Township is famous for their woodcarvings and you can find a very unique "log bread" aka "Edible wood" at this traditional bakery. They sell other traditional pastries like the belly button biscuit and a tasty minced meat biscuit.
世奇精緻餅店 Shi Chi Traditional Hakka Bakery
367, Taiwan, Miaoli County, Sanyi Township, Zhongzheng Rd, 147之8號
+886 3 787 4988
Website
MAP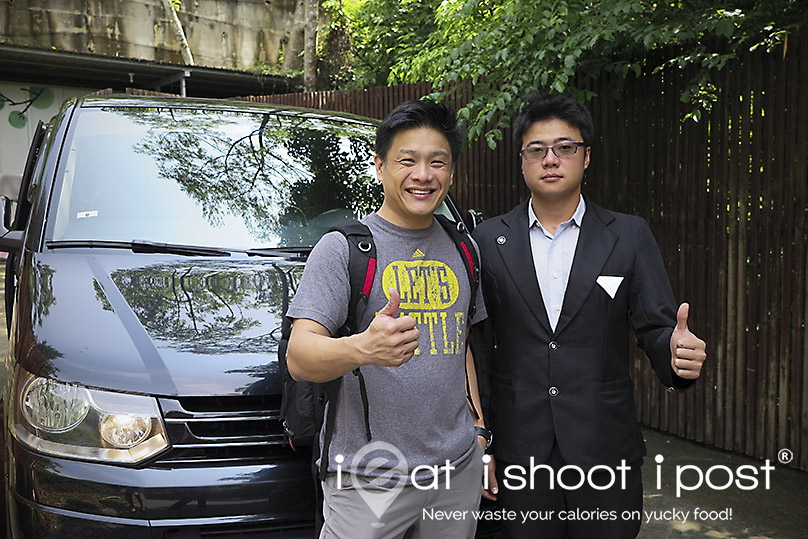 If you are planning a trip, you might want to consider renting a car with a driver.  I can recommend our driver, Xiao Zhuang who was very good.  He is not smiling in the photo but he is actually a very friendly guy and a very careful driver!
Car Rental "Xiao Zhuang"
0977-202-921
866-37-691855
Disclosure
Our trip was sponsored by the Taiwan Tourism Bureau Singapore Office.