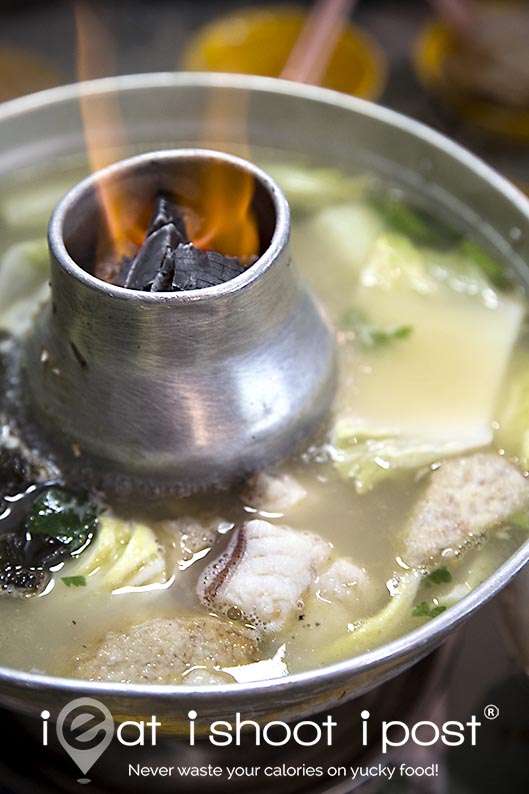 There are quite a few food centres that only open during the day and become ghost towns at night.  Most of these are food centres which serve mainly the patrons of the wet market.  Unlike privately owned food courts, the low rentals in these NEA run food centres mean that owners can afford to open for only part of the day which is a very good thing for foodies because it is more likely that you will be eating something that is prepared with passion.
At night, most of the stalls are closed and some astute hawkers have realized that they can take advantage of the empty seats that would otherwise be occupied by patrons of other stalls.  This is especially good if you run a Fish Head Steamboat stall as it is almost like having your own restaurant except that you don't have to pay rental for the seating space!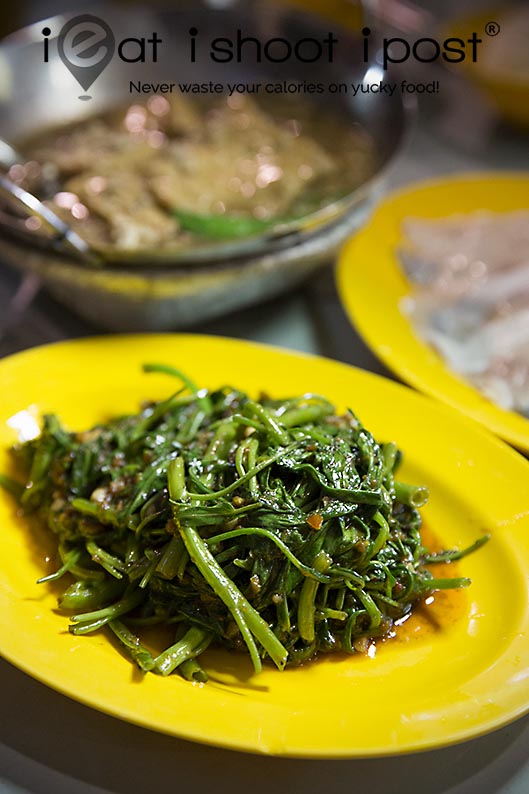 Whampoa Fish Head Steamboat is exactly like that and so is our Fish Head Steamboast stall today which is located at the Tampines Round Market.  Both are great (and affordable) places to eat Fish Head Steamboat!
Hai Chang Fish Head Steamboat has only been around for 8 years but has already built up a loyal following.   It's not hard to see why as the food is best described as "Good and Cheap"!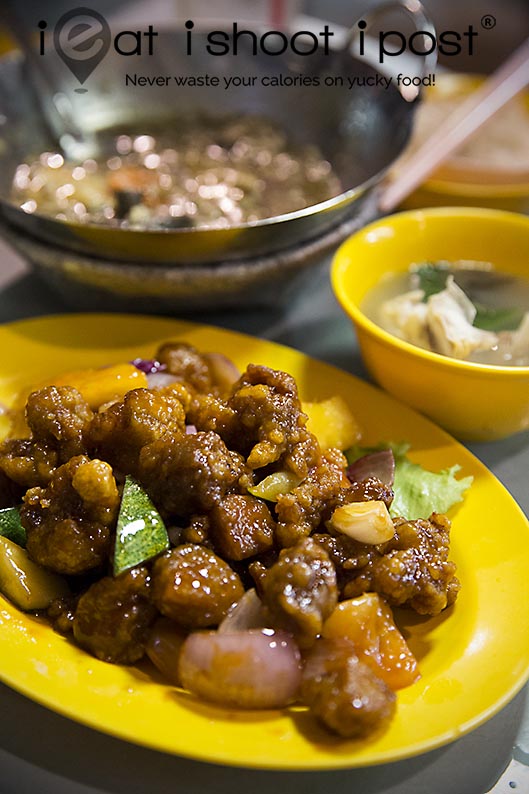 Personally, the highlight of this place is their Cze Char dishes.  The Fish Head steamboat is very good but it was their other dishes like sambal kangkong and sweet and sour pork that were the unexpected surprises.   There was nothing wrong with their steamboat.  In fact, Mike tells me that they spend 8 hours just simmering the stock for their soup, so it is very good and the fish is fresh, so it will definitely make it into my top ten list but it just didn't have the edge over the competition. 4.25/5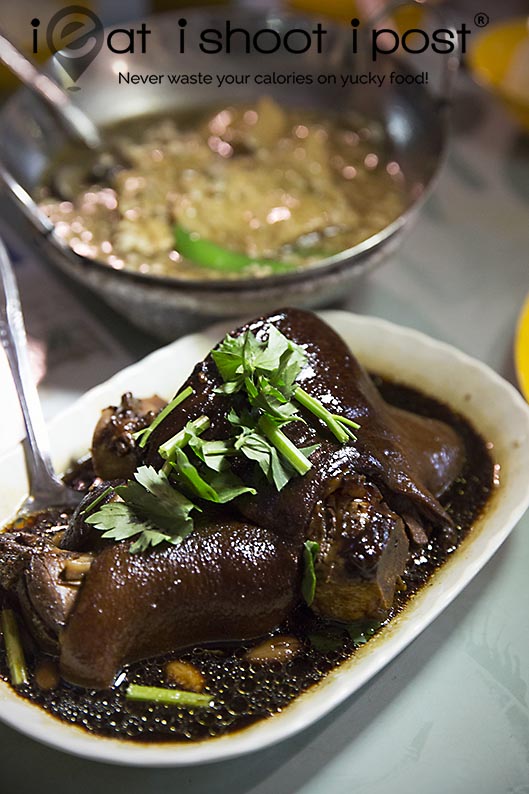 Some of the side dishes on the other hand, like the sambal kangkong, were outstanding!    Unlike some of the very popular Fish Head Steamboat joints like Nam Wah Chong and Tian Wai Tian where the side dishes felt like a perfunctory offering to increase the size of the bill, at Hai Chang, they seem to have more of an equal standing.
We were quite pleasantly surprised by the sambal kangkong which had a wonderful smokey aroma and a great prawny umami.  The fact that they fry their own sambal came as no surprise.  But the real skill comes from the deft hands of their Singapore born Cze Char chef who managed to capture the smokiness of the wok fire!  This is the best Sambal Kangkong I have had for a long time! 4.5/5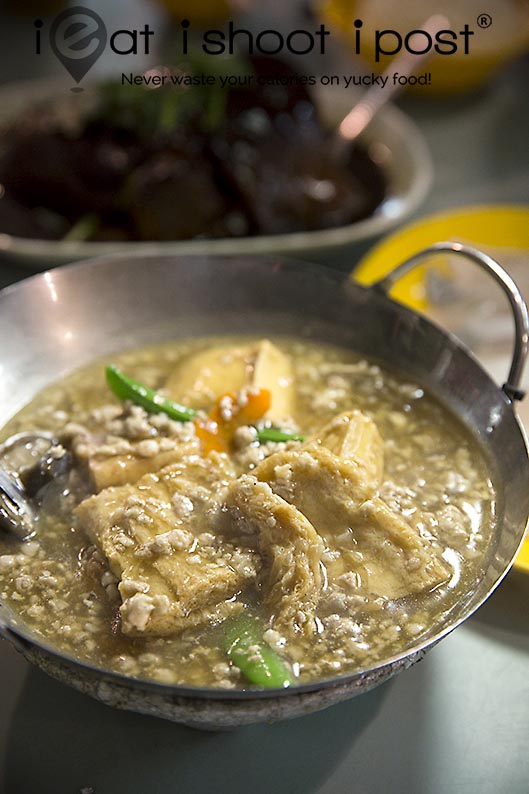 Their sweet and sour pork was also very good.   Sweet and sour pork is a very popular dish to order when eating Fishhead steamboat with the family as the kids usually clamor for it.   Many places like to pre-fry their pork so that they only need to add the sauce when the order comes in.  This usually results in a dry bit of pork which is often engulfed in a thick batter.  The sweet and sour pork at Hai Chang is  only prepared when you order so the pork is still nice and juicy.  The sauce is pretty standard, but it is definitely one of the better places to eat this dish.  4.25/5
The two dishes which I wasn't so impressed with were the tofu with minced pork and the braised pork leg.  The tofu was excellent but the sauce that day was a tad bland.  It should have been a great dish, judging from the rest of the dishes and the fact that they have a great master stock.  3.5/5.   The braised pork leg was highly recommended by many of our fans and my mother-in-law liked it.  I found the texture to be very good but felt that sauce lacked that addictive edge that would make me want to order it again.  4/5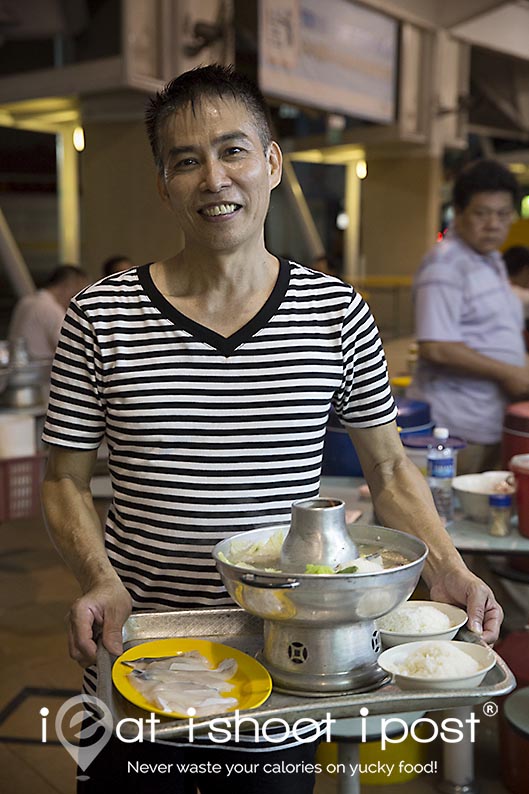 Mike, the owner of the stall tells me that he used to sell desserts at the Tampines Round Market in the mornings.   Eight years ago he decided to change to Fishhead Steamboat as he saw the opportunity the quiet market offered at night.   He had to go through a lot of trial and error, learning from different chefs that he hired before he hit on a formula that worked.  Actually, the real formula, as always is hard work, persistence and a passion to produce a great dish for the patrons!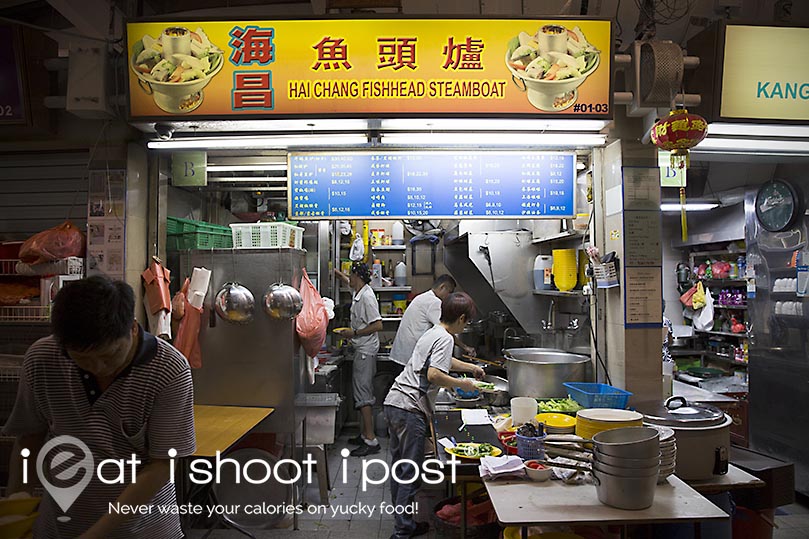 Conclusion
Good and cheap place for Fishhead Steamboat!  The queues are quite long, but there are plenty of seats and the parking is convenient.  The Fishhead Steamboat is very good but they have a few outstanding cze char dishes like the sambal kangkong and sweet and sour pork which were able to steal the limelight from their main dish!