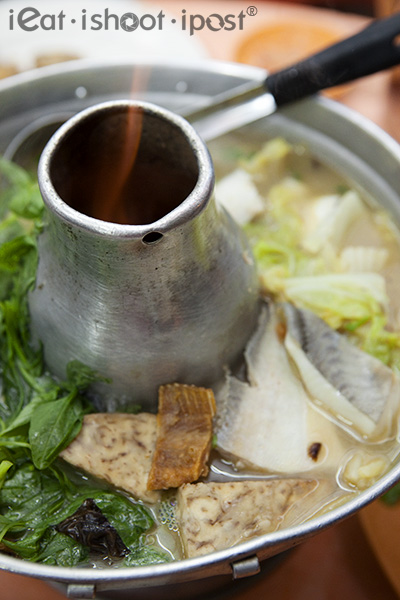 I must have visited this coffeeshop countless of times in my ten years studying at St Andrew's School. It is located just across the PIE from the school and I remember days when I would walk down to the coffeeshop to buy, what was to me, the best big pau in the world. In my mind, it is still the best big pau ever and had pieces of chicken with the bones still attached in it! Too bad they stopped selling it sometime ago. I hope it wasn't because someone choked on the chicken bone!
Anyway, I never knew about the Fishhead steamboat at the time. Tian Wai Tian started selling their Fishhead steamboat there in the early eighties so they were newbies when I was in school. Fast forward 20 odd years later and Tian Wai Tian now controls a Steamboat empire with a few branches around the island. But those who are familiar with the original shop will tell you that the steamboat here is still the best! And why not? The original Lau Ban Niang who started it when she was a young lady is still at the shop keeping an eye on everything.
So if it is classic Teochew Fish Head Steamboat you are after, this is it and it is about as good as it gets. The soup has got lots of body, plenty of savoury sole(fish), fish is fresh and they are served in charcoal aluminium steamboat pots that are as old as the shop. Just about the only thing missing that night was Tang Orh (Chrysanthemum leaves). Not sure if it is because they ran out that night, but I consider Tang Orh an essential ingredient for a good fish head steamboat. 4.5/5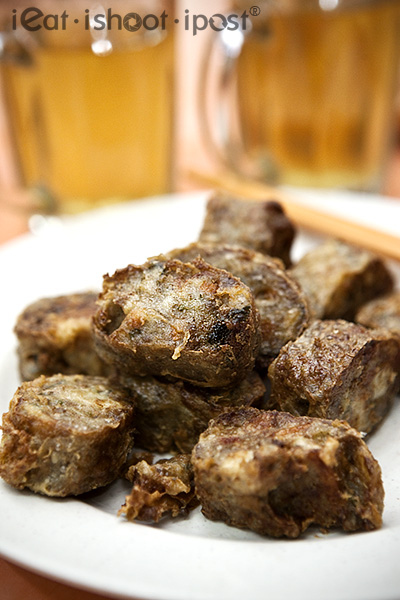 Like all of the other famous
Fish head steamboat places
in the blog, the wait to get your sinuses cleared can be quite long. So be prepared. In the meantime, most people will order some deep fried nibblies to satisfy the need to feed. The dish which I can recommend is the Hae Chor. It was flavourful and had chunks of water chestnuts in it to give it lots of crunch. This dish came out from a special frying station located in an abandoned stall space where the man does nothing but deep fry stuff. You can imagine the volume he turns over since almost everyone has some sort of crispy crunchy on their table!
4.25/5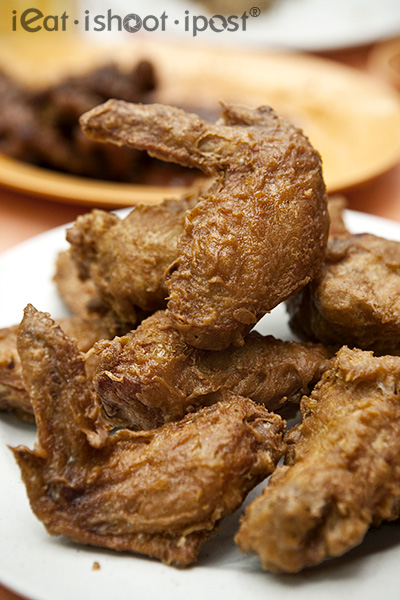 Aside from the Steamboat and the Hae Chor, the other dishes which we tried were pretty ordinary. The Har Cheong Gai is crispy and fresh simply because it was freshly fried. It is a good deep fried chicken wings, but as a Har Cheong Gai, the flavour just wasn't pungent enough. 3.5/5. You'd be better off not ordering the Pai Gu Wang as it was limp and insipid. 3/5. I did notice a lot of tables ordering Tofu Prawns which I will definitely order the next time I visit.
Conclusion
Great place if you are looking for a great Fish head Steamboat! However, there are hits and misses amongst the Cze Char dishes, so you'll need to choose carefully.