Please note that they have switched to selling fish soup!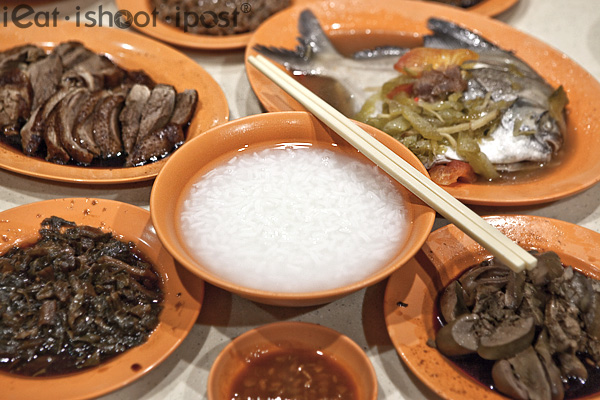 Teochew Muay Spread
There are a handful of hawker stalls in Singapore which can be classified as "intimidating" and this is one of them. There are many reasons why a particular stall can be intimidating. For instance, Sin Huat was rather intimidating as rumors abound of $1000 bills to eat the famous Crab Bee Hoon there. But just the rumour of a $1000 bill would not necessarily be intimidating unless you also have a compulsion to go try it yourself. Other Stalls can be intimidating because of their infamous queues. Eng Seng Black Pepper Crabs comes to mind. Urban legends abound about how one has to ring up during lunch to order the crabs, then still having to line up at 5pm for a table. But as a serious foodie, you feel you need to try them at least once since everyone raves about the Black Pepper Crabs there! So it is the dynamic between fear and compulsion that makes a stall intimidating, a quality that only a handful of hawker stalls in Singapore can boast about.
Our stall today falls into the 2nd category. When I asked around about what was good to eat in Ang Mo Kio, this Teochew Porridge stall invariably gets mentioned but always accompanied by a warning that the snaking queue spans four shop spaces and that people start lining up for the food by 5 plus for their opening at 6.45pm! As an obsessive-compulsive foodie, I had to find out for myself what the fuss was all about.
In a nutshell, I came away wondering why the queue was so long. The food was good but there are many other Teochew Muay restaurants with shorter queues which would have given me a better Teochew Muay experience.
The Braised Duck was supposed to be their signature dish. The Lor (Braising Sauce) was robust but the duck was a little dry and tough. 3.75/5. The Porridge water (Ahm) lacked enough starchy smoothness. Pomfret was good but really not a class ahead of other stalls with pre-steamed fish. Of course it can't beat one that has been steamed to order. 4/5. The fishcakes were not homemade, but outsourced so there was not much to rave about. There was one dish that did have a bit of a spark though and that was the minced pork with Tau Cheo (fermented soy beans). It was bold, it was salty and it made you want to eat more porridge. 4.25/5
Conclusion
I know that a lot of fans are going to be upset with this blog entry, but I really came away not knowing why the queue was so long. Perhaps it was just an off day for them. But judging from their popularity, I think it warrants another visit at a later date, but finding the motivation is difficult with the prospect of a 35 minute wait.
So are you a fan of this stall? Do write in to tell us why you are willing to stand in line for the Teochew Muay?