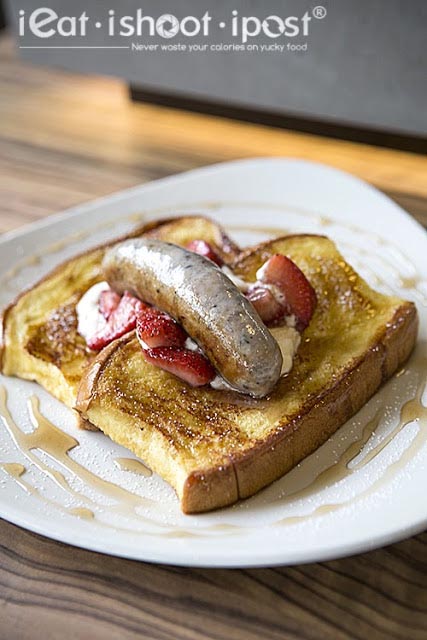 Places like Grub are really hard to come by in Singapore. If you are the type that imagine the perfect weekend brunch to be sitting in the park enjoying sausage, eggs, pancakes toast with your weekend tablet, then you would know that you either have to pay through your nose for it or end up in McDonalds at Bishan Park or Japanese Gardens. If that is you, then Grub is the piece of good news that you have been waiting for!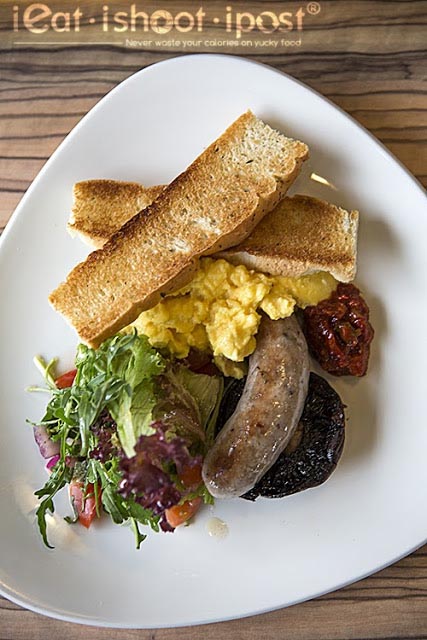 Located in Bishan Park, Grub is a solitary shack in the midst of greenery with a free public car park just a short walking distance from it. The food is good. Not just well executed good, but good as in they use responsible produce which are sustainable, healthier and natural. On top of that, most of their dishes are priced below $12 which is the criteria imposed by National Parks so that it will be available to the masses. Now, I am not right in saying that Grub is the piece of good news you are waiting for?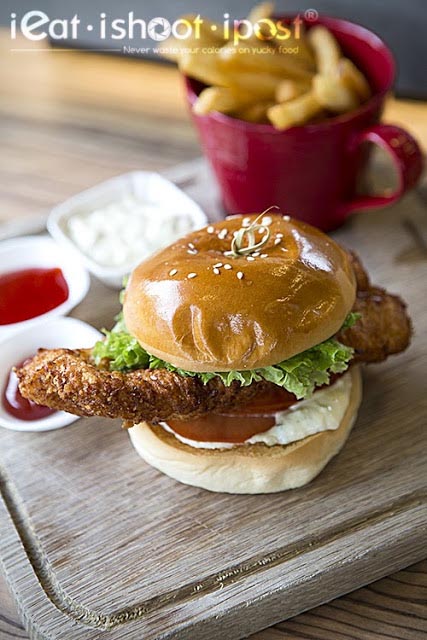 For readers who are concerned about quality of food, the good news is that Grub really pays attention to the produce that they use. The meat for the sausages also comes from Canadian pork which is grown naturally without hormones or other growth enhancers. Their sausages are specially made without nitrites which is the pink salt that turns a leg of pork into the familiar pink, springy piece of meat we all know as ham. They have also reduced the amount of fats in the sausage mix, so if you are after healthier sausages, then this is certainly it. The breads at Grub are sourced from a local baker who bakes them to their specifications. The burger buns are very good. They are soft, but still firm enough to hold their shape. They also work with them for the soft bread used for their French Toast.
Of the few Grub burgers that is served, I found the Crispy Fish Burger to be the most compelling. Unlike most places that use the very common Dory fish, Grub uses either Monkfish or Haddock both of which are sustainable white fish. The fillet is given a spice rub before coating it with breadcrumbs and fried. The portion is generous and served in their specially sourced bun and homemade remoulade (they make their own mayonnaise) and comes with fries. Not bad for $12.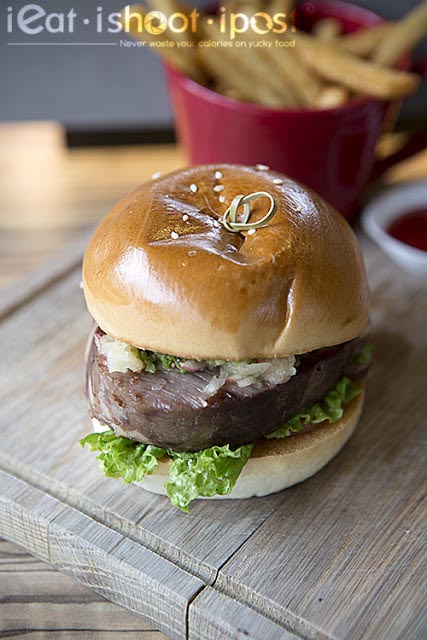 Their pork steak burger is very popular. Canadian pork shoulder is slow cooked for 24 hours, then sliced 2 cm thick. So you get a very generous slab of tender pork which goes really well with the apple relish. Personally, I felt that it could have a bit more ooomph and would have preferred it sliced thin and soaked in a thin BBQ sauce.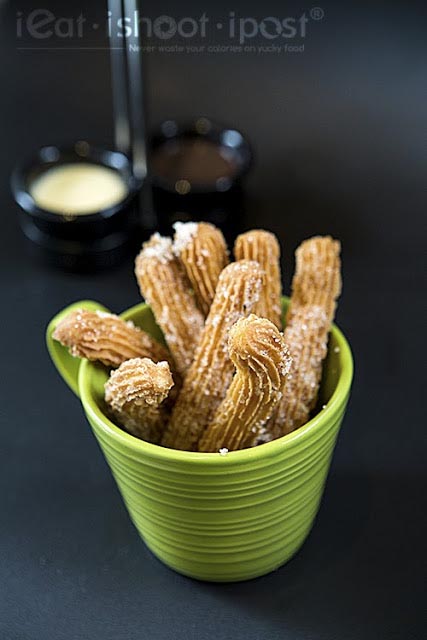 When I was there, I met some friends of mine who told me that they were there just to buy the Churros for takeaway as their daughter loves them. He went as far to say that he has tasted Churros from around the world and the Grub version was his favourite. Served in a cup with creme Anglais and chocolate sauce, the Churros were very nice and crisp. However, being a You Char Kway kinda guy, I would say they are very good but I wouldn't know how to tell if they were the world's best as my friend has claimed.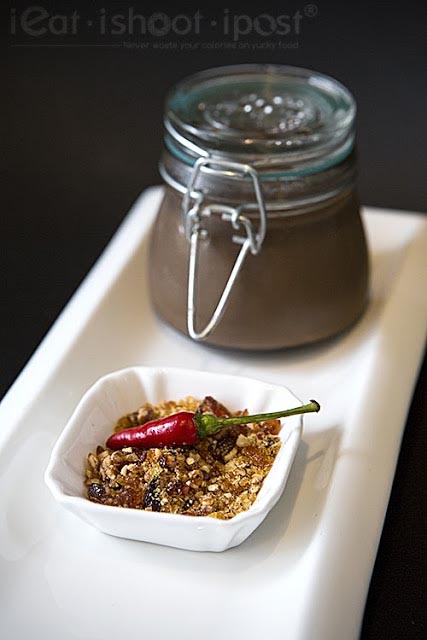 Unlike a lot of places out there who like to boast that they use Valhorna or some other exclusive European chocolates to make their desserts, Chef Melvyn was quick to admit that their Chocolate pudding was made from Redman chocolate powder. Such compromises have to be made to keep the prices low. But just because it is made from normal chocolate powder doesn't make the Chocolate Pudding bad. In fact, if I didn't tell you, you would be enjoying your dessert without much thought, unless of course, you are a chocolate connoisseur. For the rest of us chocolate mortals, this is alright, given the price point.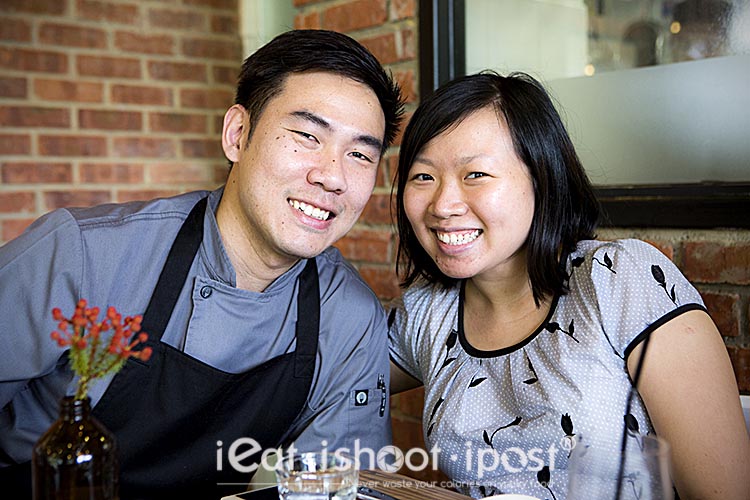 Grub is opened by my friends Melvyn and Amanda who operate the cooking school Cookyn Inc. I have known them for a few years now and they have always been supporting our ieat charity events. This is their first venture into the restaurant business and they had to build the Grub Shack from ground up. I think they have struck a good balance between location, price and food quality as seen by the crowds lining up to get in on the Sunday morning I visited. Singaporeans certainly have an innate ability to spot a good deal!
Conclusion
Excellent place for a weekend brunch. Standalone restaurants in the middle of the park are not easy to come by and I feel that Grub has managed to find the sweet spot for quality, price and environment. The only downside is that you will not be able to reserve a seat and you can expect a queue during the peak hours. Can't help it, everybody knows a good thing when they see one.