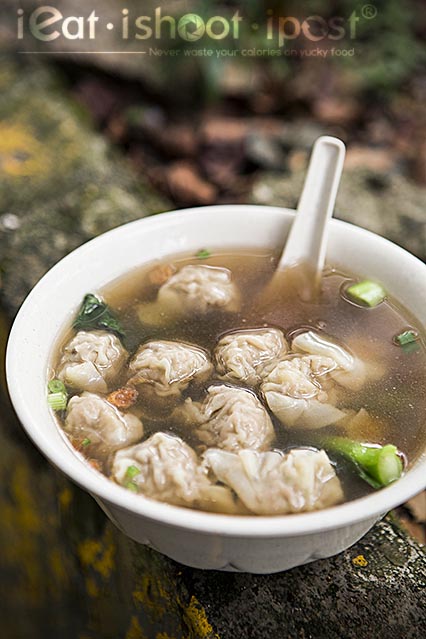 Food centres within industrial estates are great places to discover food that is cheap and hearty. However, such places often remain out of the radar of the general public as most of them are more difficult to access. I hardly get recommendations from readers about such eateries and so I was quite surprised that Blk 118 Depot Lane turned out to be one of these industrial food courts! What wasn't so surprising was the fact that I eventually found my Ping Pong Ball sized wantons in such a place!
I have often felt that it would so easy for any Wanton Mee stall in Singapore to differentiate themselves if they would simply serve big Wantons like how they do in Hong Kong instead of the tiny pea-sized ones that we have in Singapore. And so when I finally found these Ping Pong sized Wanton, I was hardly surprised that a Hong Kong chef was responsible for it.
It turns out that the Hong Kong Sifu started off with a small stall in Depot Lane where he used to make his own noodles. Within a few years he had expanded his operations and now spends half of the week in Johor Bahru making noodles and wanton skin.
This is probably the best value for money bowl of Wanton Soup in Singapore. For $3.30, you get 11 XL Wantons on a very generous nest of Kailan and a big bowl of Hong Kong style soup that is made with solefish and ikan bilis stock. The meat was flavourful but the texture of the meat was slightly gristley which sometimes gets stuck in between the teeth. Not the most flavourful Wantons that I have come across but given it's excellent price point, it is certainly compelling enough to go back again for another bowl. 4/5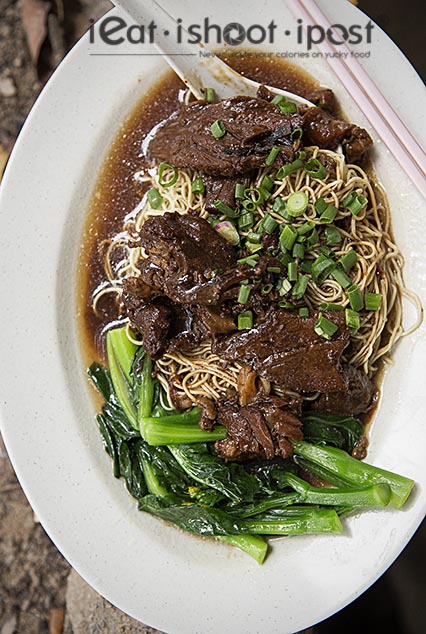 Ngou Lam Noodles are getting harder and harder to find in Singapore mainly due to the increasing cost of beef. That is why I am so happy that this place still makes them. The flavour of the Ngou Lam here is very good but the beef can be a little chewy. Having said that, for $4.50 the portion is quite generous, so you really can't complain too much. The texture of the home made noodles is very good but I was surprised that the Hong Kong Sifu had opted for the more tender Singapore style egg noodles rather than the Hong Kong style ones which I often say has the texture of undercooked bee hoon. The tender, eggy noodles are springy and lively and is also great as Wanton mee. 4/5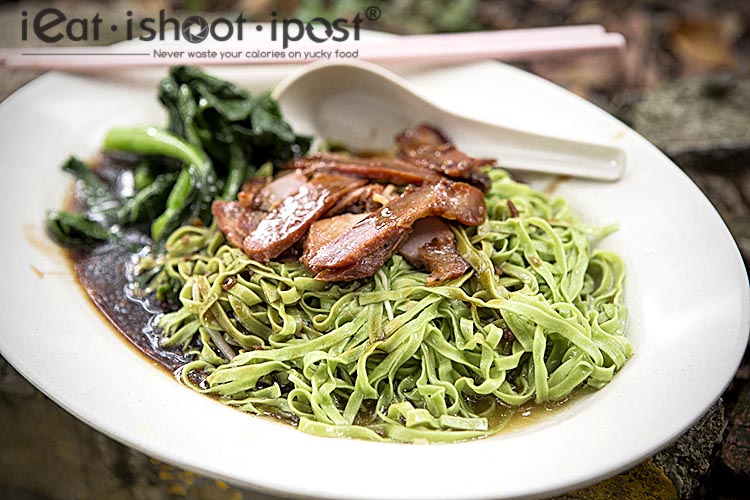 For my Wanton Mee, I opted for the homemade Spinach noodles. It has a grassy Spinach flavour which is quite unique but I will stick to the egg noodles next time. This stall really prides itself in making everything in-house, including the Char Siew which is roasted on the premises. You might think $4.50 is expensive if you just looked at the noodles and Char Siew, but the set actually comes with a bowl of 4 large sized Sui Gao! 4/5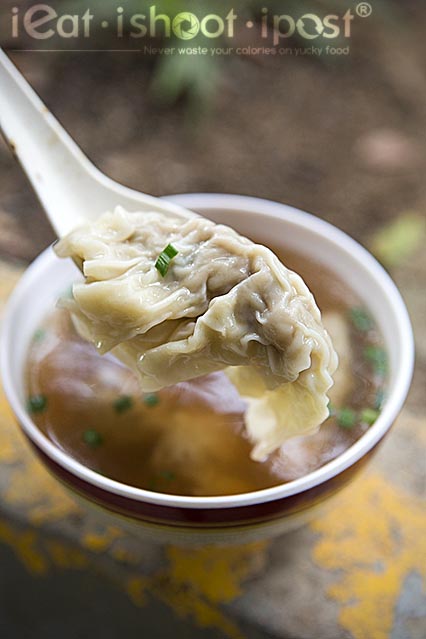 There is no prawn in the Sui Gao. Instead there is black fungus and water chestnuts in it to differentiate it from their Wantons. As with the other items that I have already described, the Sui Gao is not the best that I have tasted but is good and one would feel very happy eating it based on the portion size and the price you pay. 4/5
Conclusion
Big Wantons, generous portions, cheap and good. If "CHEAP and GOOD and BIG" is your mantra, then I am sure that you would be quite happy eating there.