This cafe is permanently closed.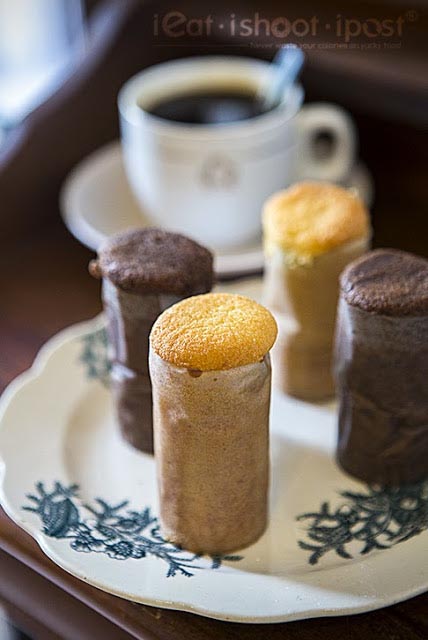 Singapore's very own coffee culture has come a long way since Ya Kun started the ball rolling by ushering in the concept of Kopi Cafes in the 90's. Before that, Singaporeans were only able to enjoy Kopi and Kaya Toast at individual kopitiams. So if you wanted Ya Kun's kopi you had to head to Lao Pa Sat and if you felt like Killiney's, then you headed for the old shophouse along Killiney road.
Nowadays, it is a given that you can enjoy a cup of Kopi at any shopping centre. And even around the world, where ever you find a Capitalland Mall, you would invariably find a Toastbox selling Nanyang style kopi and kaya toast.
It was Toastbox (I think) that started the revolution of buttercream cakes although Polar Cafe had been selling their sugar rolls for quite a while now. While there are now many Kopi Cafes around at the moment, most of them are still focusing on Kaya Toast. I believe the next trend in our Kopi Culture is the re-emergence of our traditional cakes and confectioneries which we Gen Xers and Baby Boomers have enjoyed in our childhood years.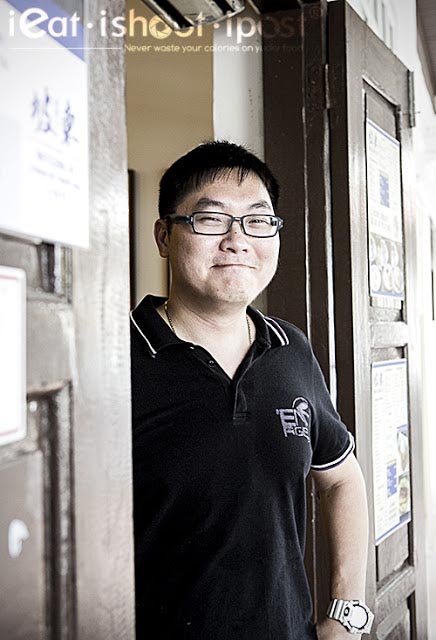 Leading the way in this trend is Kelvin Soh, a 4th generation baker who started Dong Po Colonial Cafe earlier this year to fulfill his father's dream of keeping the decades old family recipes alive. It was Kelvin's great grand uncle, a Hainanese baker who first learn the art of French pastry when he apprenticed at the now defunct GH Cafe. In it's heydays in the 60's, GH Cafe was an upper class establishment located along Battery Road which catered to the European families living in Singapore. Both GH and Polar Cafe along High Street provided Singaporeans a peek into European culture and was accessible only to the upper crust of our society.
Kelvin's Great Grand Uncle subsequently went on to open his own coffeeshop along Killiney Road where there was a large Hainanese community and roped in his grandfather to help out. It was at this coffeeshop that Kelvin's father, Albert Soh developed his passion for baking. Albert went on to study at Le Cordon Bleu and worked as a pastry chef around the world before coming home to Singapore to open La Maison along Sixth Ave in the 90's where he worked till his retirement. It was during those quiet retirement years that Albert dreamed about resurrecting the age old family recipes for a new generation of Singaporeans to enjoy.
Enter his son, Kelvin who decided to give up his job as a graphic designer to carry on the family tradition. And so Dong Po Colonial Cafe was born.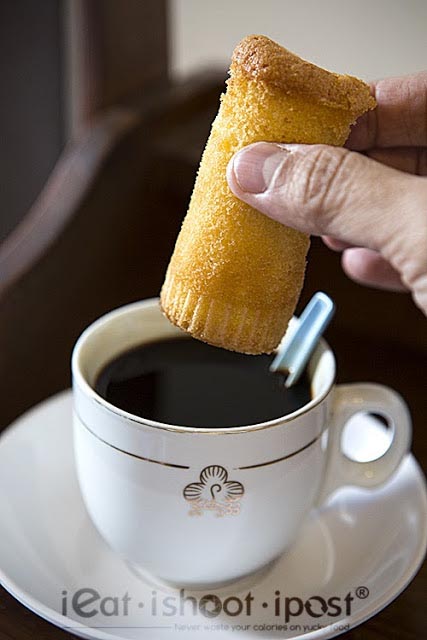 For Gen Xers like myself, walking into Dong Po is a real blast from the past. When I was growing up, the very first cake that I ever remember eating was my mom's orange butter cake. Even today, my mom-in-law keeps insisting that her favourite cake is the orange butter cake whenever we cut her birthday cake which is invariably one of those sponge cakes made with fresh cream. I plan to bring her to the Cafe soon so that I can seal my pole position as favourite son-in-law! Muah Ha Ha Ha Ha!
Yeah, that kind of evil laugh is also a blast from my childhood past. Nowadays those evil masterminds who want to take over the world just chuckle. But I digress…..
According to Sylvia Tan, these Butter Cakes are probably the first Western Cakes to be baked in Singapore. (Singapore Heritage Food) Kelvin told me that it was our local bakers who made them into these cylindrical shapes so that they can be dunked into kopi. They used to fashion their baking trays from sawn off piping in order to produce the cylindrical shape. Even now when they wanted to resurrect this recipe, they had to fashion their own trays by getting someone to custom make it for them!
The butter cake was a perfect complement to the thick, bitter, treacle like Kopi which we used to enjoy in the past. The butter from the cake melts when it is dunked into the coffee and adds a nice buttery aroma and a smooth body to the brew. For those who can remember, those were the days when it was very fashionable to melt a piece of butter in the kopi and drink it up! I know that the good people at HPB are having a heart attack reading this!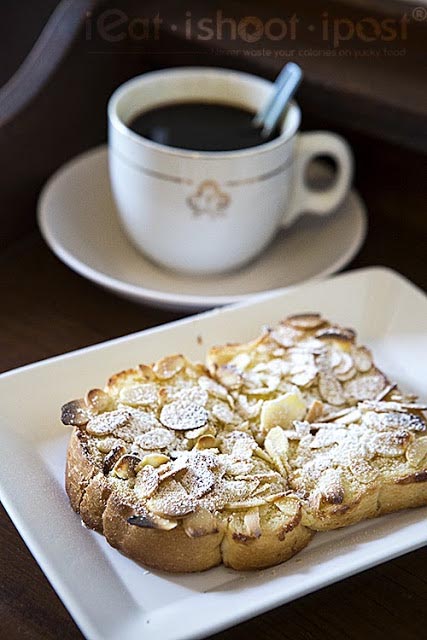 Aside from the butter cake, the cafe also bakes a range of other very nostalgic confectioneries. The Bostock is another good example of how our bakers modified their recipes to suit the local taste. Bostock is usually made with brioche, but Kelvin's grandad modified it by using local bread which is baked fresh at the cafe. It is slathered with frangipane (an almond, sugar, butter and flour mixture), topped with sliced Almonds and dusted with icing sugar. This is not very common and certainly a must try when you visit! It is made to order, so be prepared to wait for a while for it.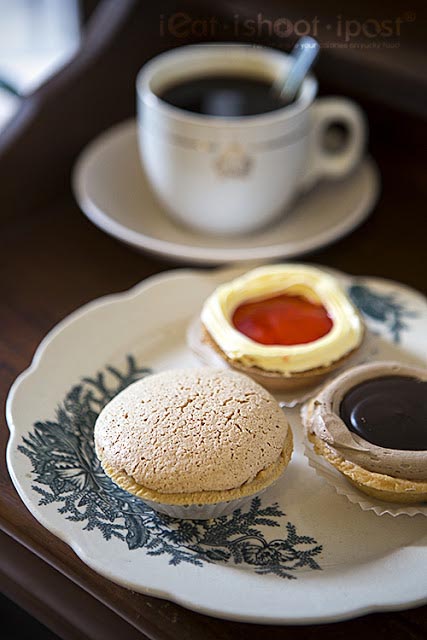 Before the current macaron craze – we are talking way, way before, Singaporeans were already enjoying Macaron Tarts. The top is essentially the meringue that we are all familiar with but it sits on top of a layer of almond cake and over a buttery tart base. Good Almond Macaron Tarts are hard to make and the sign of a good tart is that it is hollow inside! This is the first time I have come across these but I am sure there are readers out there who remember eating them!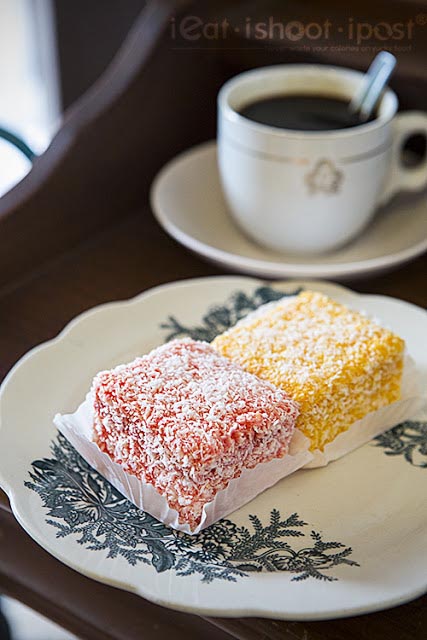 I used to enjoy lamingtons when I was living in Australia but they were of the chocolate variety. These are the first time I am seeing them in Singapore. According to Kelvin, these were also popular in the past, but for some reason, they disappeared from the scene. I don't even remember seeing them as a kid!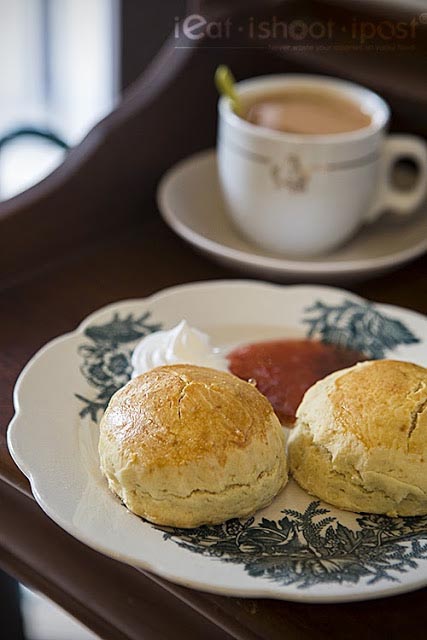 Dong Po also make their own jams to go with their freshly baked scones. I was happy to see that they also make their own lemon curd which is something that I used to enjoy in Australia but really haven't seen much around in Singapore. The scones could be a little more buttery in my opinion and I would have liked the strawberry jam to be a little thicker in consistency. But one has to applaud Kelvin's effort in making everything in house.
Conclusion
It is really good to see a 4th generation baker keeping some of our traditional confectioneries alive! It was such a pleasant surprise to re-discover the joy of the good old butter cake and realizing how well it goes with a cup of Kopi. I also applaud Kelvin for keeping to his grandfather's philosophy of pricing their confectioneries so that it is accessible to the masses. Perhaps it is not as significant now as it was in the past, but it is good to know that there are nice cafes around where you can have a cake and kopi for less than $4. We should see many more kopi cafes selling these traditional cakes soon, but not everyone can boast of a legacy like Dong Po's. 4.25/5