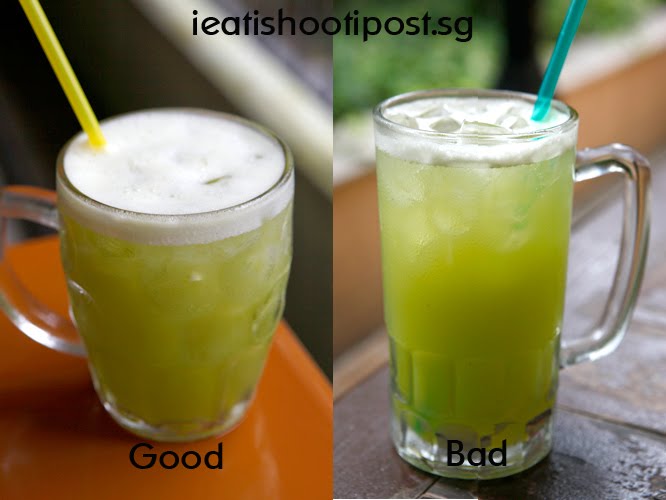 I haven't been writing much about drinks stall because there really isn't any one drink stall in Singapore which is truly famous. I mean, no one has ever said to me that there is this really die die must try Sugercane stall at the tip of Changi Point which I MUST go and try! So drink stalls seldom get featured.
However, I am sure you would agree that there are good and bad stalls. But I reckon people seldom think about this when they order their sugarcane juice. At least I don't. That is, not until last week when I visited Golden Mile Food Centre and had a really bad sugercane drink. The sugercane was like so lack of flavour that it tasted like those tetra pak sugarcane drinks.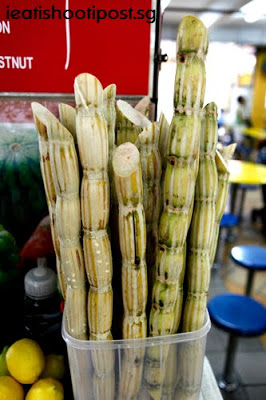 So I looked around for another sugarcane stall which might serve a better sugarcane juice and chanced upon this stall run by a young couple. The sugarcane juice was nice and full of froth and sure enough it tasted much better than the first cup. So I casually asked the young man at the stall if he would let me in on the secret of how to spot a good sugarcane drink. According to him, besides making sure that the drink itself is full of froth, it turns out the one of the best clues is to have a look at the sugarcane that is often displayed at the front of the stall. The ones that would produce a rich full flavoured juice are the thin, bumpy ones. Try to avoid those that need to be cut in half before pressing. I was told by one of my friends that there is a difference between "Teck Jia" and "Kum Jia". What we want is "Kum Jia" which makes the best sugarcane drink. I am not sure, but I know that if I see the thin bumpy type of sugarcane, that is the right one. Maybe our experts can enlighten us?
Do you still remember the toxoplasmosis scare a few years back when people got sick after drinking sugarcane juice made from sugarcane which have been left to soak up water from the floor that has been stained with cat urine. Well, that is why nowadays, it is mandatory for the sugarcane to be placed on the table, preferably horizontal or in this case in a clean plastic container so that there is no chance of soaking up any liquids. So, do make sure you that you check if the canes are stored properly at the stall.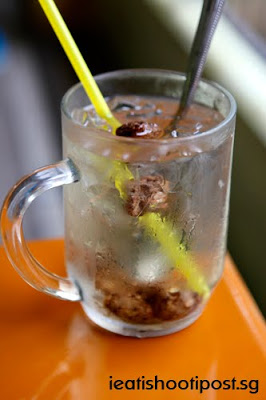 Sour plum drink with whole plums $1.50
The other drink that I learnt about on this trip is the sour plum drink. A lot of stalls make their sour plum drink by soaking the sour plum and then grinding them into a juice. The stall owner here made some sour plum drink just by adding sour plum to some hot water and the taste was fantastic. This way of making the drink is more expensive but it tastes so much better!
As you might already know, sugarcane juice with a slice of lemon is excellent. But there are two other combinations that work very well. One is sugarcane with sour plum. Make sure they add whole plums! The other is sugarcane with apple juice. Very refreshing! Have you got another combination to share with us? Do write in the comments.
Conclusion
Well, I surely am not going to be conned by the next sugercane drink seller. From now on, all the sugercane juice I order has to be good!