Advertorial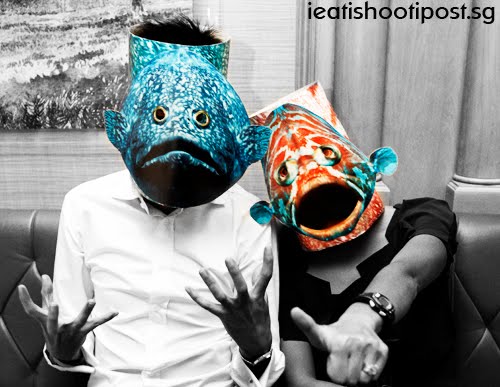 Dining with Fin and Barry – Standard Chartered's Dining Mascots
I am sure you would have seen the Standard Chartered Ads featuring two fish in a restaurant tank. What you might not know is that the fish have names. The small, neurotic one which reminds me of Billy Crystal is called Fin and the big hypothyroxic one is named Barry.
It is one of those ads which you remember quite easily because it is actually very cute. And of course you get the message that with Standard Chartered credit cards, you get 15% off the restaurant bill. What you might not realize is that it is not 15% off the restaurants in their list but 15% cashback at any restaurant that you wish to dine at.
But here's an even bigger lobang, (don't you just love lobangs?), if you choose to dine at a restaurant that is already giving a 15% discount, you are still eligible for the extra 15% cashback. So you are effectively getting a discount of almost 30% off your dining bill. Below is a chart on how it works.

So what happens is that the restaurant gives you a 15% discount and Standard Chartered gives you another 15% cashback for using their Visa or MasterCard. There are of course some conditions you have to meet. In order to qualify, you have to charge $500 to the card each month, but this can be for any purchases, not just food. There is also a limit of $150 to the cashback offer.
Signing up is very simple. If you already hold a Standard Chartered Credit or Debit card, all you have to do is to register by sms-ing GET15 16-Digit Card Number to 78722 before 31 December 2009. (eg GET15 4508128456789000). If you do not hold a Standard Chartered Credit Card, you can visit their website to see how you can sign up.
For more information on how to sign up, click
here
.
For a list of the restaurants offering 15% discount, click
here
.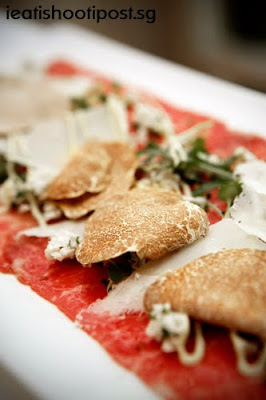 Wagyu Cappacio with White Truffles at the Gordon Grill
One of the restaurants that you can get the full 30% discount happens to be the Gordon Grill at Goodwood Park Hotel. The Gordon Grill hardly needs any introduction as any steak lover will probably mention them when you ask them where you could get a serious steak in Singapore. They are one of a handful of restaurants where a meat trolley is rolled to your table for you to select your cut of meat. Our Wagyu Ribeye 300g cost $135++ normally but after the 30% discount, it came down to around $100 which is quite a good price for a sizeable Wagyu Ribeye Steak.
Standard Chartered Bank is getting into the dining scene in a big way and they tell me that they have even bigger things planned for next year. It looks like more good news (more lobangs) ahead for food lovers.
Click here for more info