This Stall is closed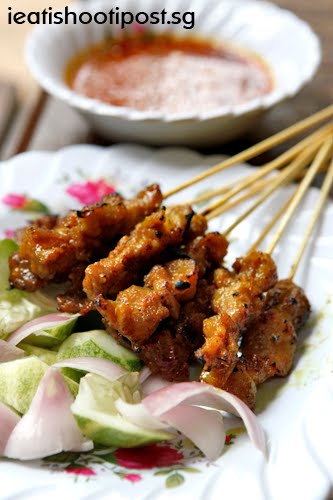 It's been a long while since I was really thrilled by a Malay style satay.
Just last month, I was in KL and I had the opportunity to try the famous Sate Kajang. I came away feeling that it hardly lived up to its reputation even though the stall sold 40,000 sticks a day. Back in Singapore, the Malay satay has become too much of a food that is catered to the mass market. Go to Lau Pa Sat or East Coast Lagoon Village Food Centre and you be spoilt for choice of a large number or Satay stalls. Unfortunately, the choice is between the bad and the so-so as there is hardly any that can be remembered as very very good.
If you still remember the days when the word Esplanade used to conjur up thoughts of piping hot satays by the sea rather than two big inedible durians. Then, you would fondly remember the good old satay club where names like Fatman Satay reigned supreme. Since then our present Satay Clubs are all but a shadow of what the original one was like.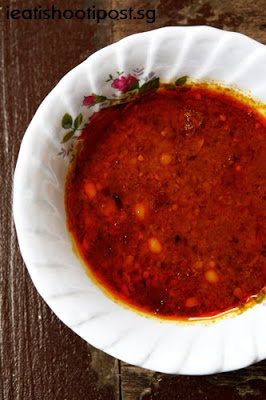 Goldenmile Food Centre would not be the first place you think about when you have the the urge for some satay, but this little stall run by a very pleasant Mak Cik serves one of the best satays I have eaten for a long time. I think some might find it a little on the sweet side, but I enjoy the fresh fragrant aroma of the lemongrass and the tender, juicy pieces of chicken thigh meat that has been marinated just right such that is is full of flavour but still tender and juicy.
When you plunge the stick of Satay into the Kuah, you will know that you are eating something that is made with passion. The evidence is undeniable. The pieces of uneven peanuts in the gravy shows that the lady bothered to roast her peanuts before pounding it by hand rather then buying them ready ground or even grinding them in a food processor. (She might call her husband a food processor). This is one of the best kuah around although as with the satay, some people might find it a bit on the sweet side. 4.5/5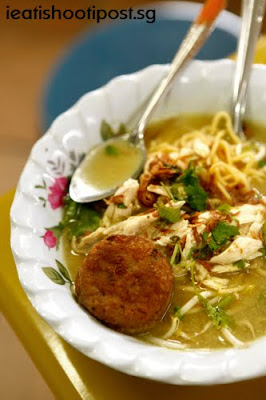 The other dish that this Mak Chik serves is this really rich and fragrant Mee Soto. She doesn't make a huge vat, but she has a decent sized aluminium pot going which is chock full of ingredients. If you manage to sneak a peek a the pot of soup you would get to see the old mother hen enjoying her hot spa with beef tripe and lungs. The resulting soup stock is a rich blend of spices and savoury essence of beef and chicken!. Forget Brands Essence of Chicken! If you need an energy boost, a robust and spicy essence of Cow and Chicken is the way to go!
4.5/5
Conclusion
I just love writing about these little stalls where the food is made with such passion. It is this passion that differentiates between the good and the great. Sedap lah!