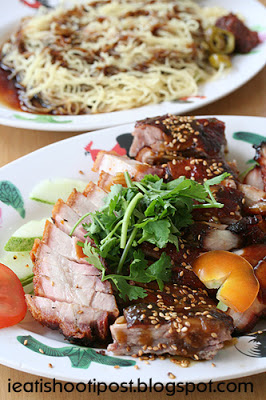 So far the best Roast Duck I had was the one in Sydney. Ok, ok, I know that the best Roast Duck is in Hong Kong, but I never had the chance to eat at the famous Roast Goose place in Hong Kong.
During the early 90's, Hong Kongers fled Hong Kong for the West due to the uncertainty what would happen when the British lease on Hong Kong ran out. One of the cities that Hong Kongers fled to was Sydney. As a result, there was a boom in the number of Chinese restaurants in Sydney. And most of them were very very good. In fact, I had better Hong Kong food in Sydney than the food I ate on my recent trip to Hong Kong! One of the most memorable char siew and roast ducks that I had was in my hometown (of 7 years) of Eastwood, one of the North Western Suburbs of Sydney.
Sad to say, I have not found a Roast Duck in Singapore that I can proudly claim to be as memorable yet. However this particular one is pretty good. The thing that sets this one apart is the sauce which is quite shiok and the sesame seed adds more savoury goodness to the flavour. 4.25/5
The Char Siew and Sio Bak were above average. I found the Char Siew a bit dry that day thought the taste was pretty good. The Sio Bak had a crispy skin but the flesh lacked that extra juiciness and umami kick.3.75/5 I was a little disappointed with the noodles that day as it had a strong alkaline taste.
Conclusion
One of the more outstanding Roast Ducks around. The Char Siew and Sio Bak were of good standard but does not need to be raved about.
Address updated 17 Mar 2014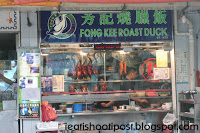 Fong Kee Roast Duck
Blk 128 Lor 1 Toa #01-811
Blk 116 Toa Payoh Lor 2 #01-140
8am to 8pm
62515192