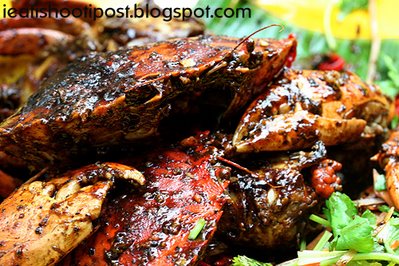 After my first visit to this Makansutra Legends, it was inevitable that I had to go back to try their seafood as well. If you like your pepper crabs fiery and peppery hot, then you will enjoy their version of the pepper crab. I suspect that Uncle (more affectionately known as Ah Lao) puts chilli padi into everything he cooks! 4/5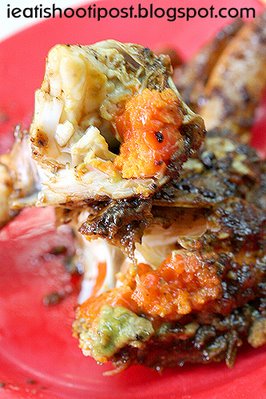 Please don't even think about eating this if you are scheduled for your cholesterol check next week. The crabs are excellent, very solid and some of them full of roe!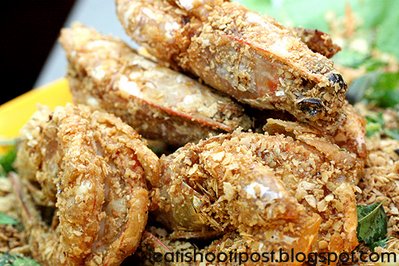 This time round we tried their cereal prawns. The cereal was done just right for me, except I had to pick out the chilli padi. But I ended up just nibbling and finishing all that marvellous cereal! Really very shiok. Actually, I had a plate of You Char Kway Rojak as well and mixing the peanut, heh gor (prawn paste) and cereal together is probably one of the best tongue tingling, lip smacking experience you can get! 4.25/5 I have decided that it is a waste to deep fry such nice prawns and next time I will get them steamed.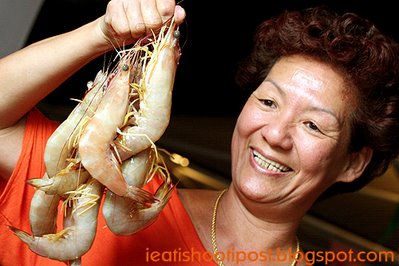 I really want to tell you about the Giant King Prawns at this place. You won't believe it BUT these prawns are actually from the sea that you can see! I couldn't believe that amidst the oil tankers and freighters there exists such a wonderful bounty of seafood! Oh yes, that's Lao Ma holding up the prawns. She is quite a character who is the marketing and purchasing arm of Leng Heng Seafood. Make sure you sit near the stall when you order, cos you will invariably come by to chit chat with you. Full of energy, this lady only sleeps 2-3 hours a day. The rest of the time she is talking non-stop. Quite different from Ah Lao (her husband) who barely speaks at all!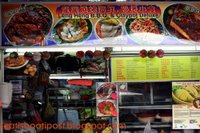 NB: The pics were taken a few months back but the information contained in the blog should be still current