This is quite an interesting twist to the good old Mee Rebus. I don't often eat Mee Rebus, but this one certainly caught my attention. What the stall owner did was to add mutton into the sauce. My most memorable up till this time was when I was still in primary school. I was living in Toa Payoh Lor 8. I used to walk to Lor 7 to buy Mee Rebus from a Mak Cik who used to sell her Mee Rebus from her 1 room, ground level flat. Man it was good. I must admit that I never really had any impetus to eat Mee Rebus, that is until smart mentioned this one which had mutton in it.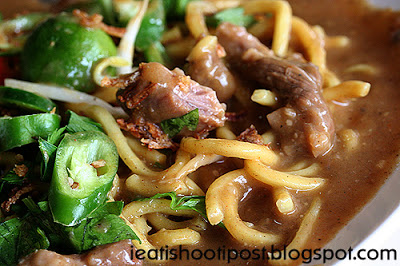 I felt the mutton does add an extra savoury dimension to the Mee Rebus. The gravy is pretty tasty and not too sweet. Certainly something worth a try. 4/5
Conclusion
Which self respecting foodie would not give Mutton Mee Rebus at least a try. But I have to admit, I did not have the craving to go back again this week. Then again, I am not a big fan of Mee Rebus. I am sure smart's rating would be higher.
Update 20 Aug 2013 The stall name has been changed to Afandi Hawa and Mona Mee Rebus. Thanks to kampungboy for the update!
Recommended by smart