There are updates at the end of the blog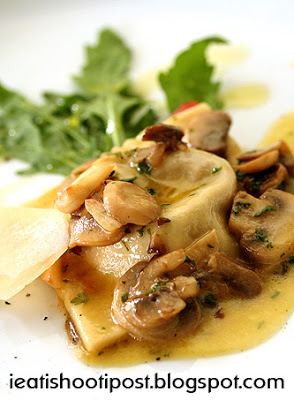 Ravioli stuffed with Stewed Veal cheek $12 (3 pieces)
One of the best things about Bangkok is the number of "Hole in the Wall" type eateries which are opened by Europeans who happen to pass through and decided to stay. These places are often small, rustic and bursting with character. There aren't many places like that in Singapore, so when Davina wrote in to tell me about this little Italian place which just opened in Macpherson (yes, you heard right, Macpherson), I couldn't help but check it out.
In recent years, there has been an "outbreak" of Italian food in our HDB heartlands. But these are often run by locals offering the standard Italian fare like pasta and pizzas. Mind you these places do serve up pretty good pastas, but it is not the same as having a quirky Italian man taking your orders, cooking up your meal and later coming to clean up the table as well. It's the kind of informal setting that I really enjoy.
Although the food here is real value for money (+ no +++), Italian chef Luca does not compromise on the quality of the ingredients and you are not going to get Singaporean tasting Italian food. (The dead giveaway is the use of commercial dried Italian spice mix) Only fresh herbs are used here and the cheeses, prosciutto and other produce are imported. I was pleasantly surprised that you could get a handmade pasta dish for as little as $12! We tried the homemade Ravioli with stewed veal cheeks and it was really quite shiok. You get 3 palm sized ravioli for $12 which is not really enough to fill you up but enough to satisfy the tastebuds. 4.5/5.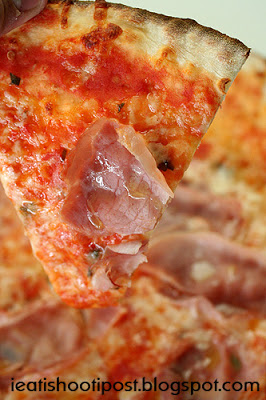 Pizza with Cooked Ham $9.50 23cm
Pizzas here are the thin and crispy type and prices start at $7.50 for a 23cm neopolitan pizza. The Rocket and Parma Ham pizza is $14 which I think is probably the cheapest in Singapore. (I am planning to come back for this) The base was really thin and crispy and although it may not be as outstanding as some that I have tasted overseas, it certainly rivals a lot of the more expensive Italian restaurants in Singapore. 4/5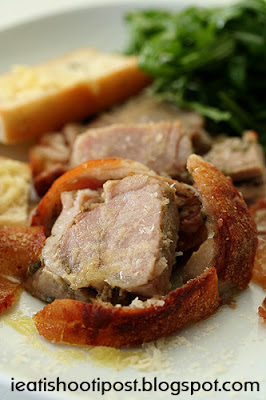 Suckling Pig $11
The Italian suckling pig is a house specialty but don't imagine that you are going to learn about pig anatomy here. The whole pig has been de-boned and then all that skin is wrapped around a strip of tenderloin and spiced with herbs. The skin was nice and crisp as you would imagine and overall it was quite tasty, though I found the loin a tad dry. Worth trying as it is not all that common in Singapore. 3.75/5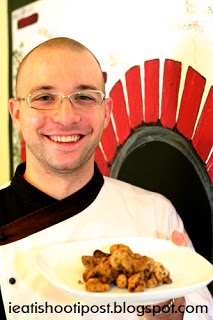 Ever wonder why an Italian man would want want to settle in Singapore to open a restaurant? I always ask that question when I meet expats. Inevitably it has something to do with a pretty Singapore girl. Yes, our Singapore girls are doing a great job luring foreign talent to our shores!
That's Luca in the picture showing us a plate of Italian White Truffles. That 250gm plate of truffles costs $2500!! Now Truffles is something that I really never understood. Yeah its nice, but forking out $30 for 4 slivers of truffles over a plate of pasta is not something I get myself doing very often. I would rather get a nice steak for that amount of money. But if you are a truffle lover, I think you'd be making a beeline for the restaurant very soon.
Conclusion
A place where you go just to enjoy good Italian food at a great price. Don't expect great presentation or atmosphere, just good food and a nice friendly chat with an Italian chef.
Updates 6 July 2008
Our readers Lina and perception reports that the original Chef had left and now the standards of the restaurant has dropped.
Update 13 Jan 2009
Some readers have said the standards are back up and worth going back for a visit.
Update 3 May 2009
The new address is:
8 Jln Gelenggang S57819
(off Jln Leban and Up Thomson Rd)
Tel: 62883009
Recommended by Davina