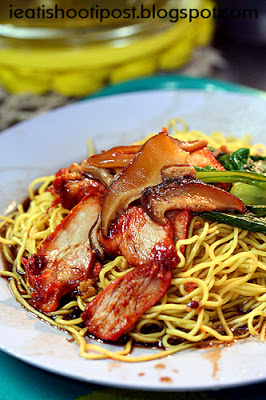 What do you all think constitutes a classic Wanton Mee? Mee, Char Siew and Wanton are standard. The only difference is the sauce. Do you think Classic Wanton Mee has got tomato ketchup in it or should it be only a dark soy sauce based gravy? Should it be eaten with chilli? I think most people would consider Hong Kong style wanton mee as the dark soy sauce type and the Singapore style ones to be served with chilli and ketchup. What do you all think?
This stall has been around for over 40 years and is a self proclaimed Wanton Noodle Specialist. So they should know right? Their wanton mee is the dark soy sauce type and has quite a regular following. Our friend, Liverpool has his cafe just around the corner and his staff comes almost daily to partake of the Wanton Mee. Sounds like its got some sort of "Gong Tau" (Addictive substance) in it. And while I was buying the noodles, I also met another customer who comes every week to eat the noodles. Hmmmm… this should be good.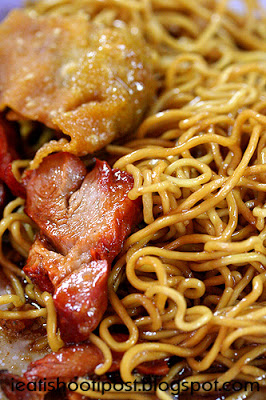 The best thing about the Wanton Mee is the noodles. They were lively and springy to the bite. The sauce was good, not really outstanding, but tasty enough. The homemade Char Siew is properly grilled, tender and juicy but the wantons were pretty ordinary. Overall, a decent plate of Wanton Noodles. 4/5

Conclusion
If you are a noodle person you might become one of the regulars at this place. For me, the Char Siew and Wantons play quite a significant role in the dish and I like my sauce with a bit more kick.