Laksa Sphaghetti $12.90++
I am a little apprehensive about reviewing Fusion cuisine because I seldom hear people raving about it. In fact, most of the time people tend to utter phrases like "Fusion Confusion" instead. The thing about Fusion cuisine is that people tend to compare the new dish with the original and if the original is really good, it is difficult for the Fusion dish come up to par.
So take the Laksa Pesto Pasta for example. The taste is distinctively "Laksa" because of the generous use of Laksa leaves but just when you think you might be eating Laksa, you realise that it is also akin to Basil Pesto Pasta because instead of coconut cream gravy, you have olive oil instead. Inevitably, you would then compare the new dish with your favourite bowl of Laksa and that's where the problem starts. Especially, when you bowl of Laksa costs $3 while you are paying Cafe prices for the pasta dish. 3.5/5
If that is the case, why are there still so many places offering Fusion Food? I think the way to enjoy Fusion Food is to have an appropriate mindset. It's about being adventurous and exploring new possibilities. Sometimes you do hit on something that really does work and that is almost like finding the "Easter Egg" in your computer game.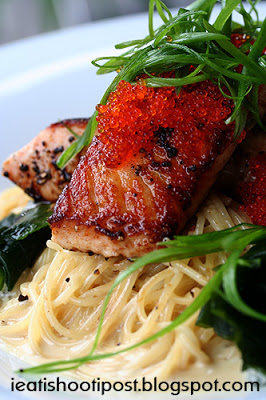 Capellini with Marinated Miso Salmon Fillet
One of the "Easter Eggs" that we found was the Capellini with Miso Salmon Fillet. This one worked really well. The sweet and savoury flavours of the Miso Paste was delightful with the perfectly charred Salmon Fillet and the crunchy roe was a nice contrast to the Al Dente Capellini. Both Moms gave it two thumbs up. 4.5/5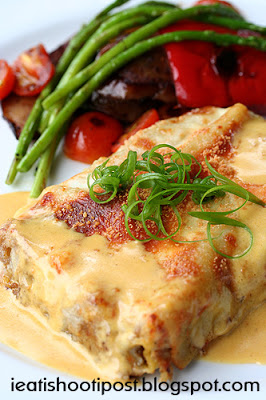 Beef Rendang Lasagne $14.90++
The Beef Rendang Lasagne reminded me of a baked Beef Curry Puff smothered in cheese sauce which can be quite delicious if you think about it. The minced beef fried has been fried with spices which is reminiscent of Rendang sans the rempah. The response was a bit mixed. One mom really liked it, the other mom was equivocal. I thought it was pretty interesting but could do with a bit more kick from the Rendang spices. 4/5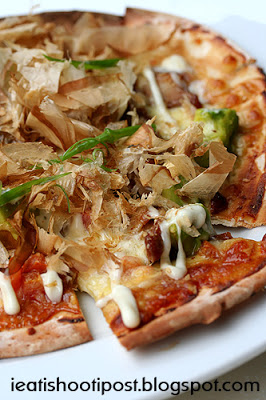 Teriyaki Chicken Pizza $13.90++
It seems that the Japanese/European fusion tends to work quite well. Beside the Miso Salmon pasta dish, the other one that really worked well was the Teriyaki Chicken Pizza. Then again, you really can't go wrong with roasted chicken, Japanese Mayonaise, teriyaki sauce and avocado. These usually go very well together. For a person who generally likes a bit of sweet with the savoury, this one is for me, though I am not a huge fan of bonito flakes. 4.25/5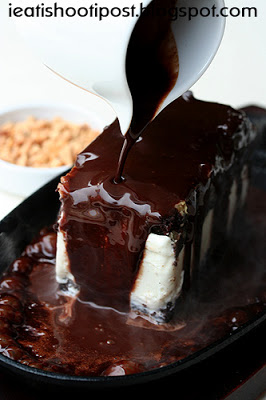 Brownie $7.50
The charismatic Brownie is sure to make heads turn when its starts to smoke and sizzle. What they have done is to sandwich gelato between the brownie, put it on a hot plate and pour chocolate sauce over it on your table. I thought it would have worked better with ice-cream rather than gelato, as it would have been more creamy. But I guess it would be good for those who are more health conscious. The other problem is that the brownie is frozen, so you would have to wait for the hot plate to warm the brownie up. 3.75/5
Overall, it was a great dining experience because I am the type of person who likes to think of novel creations. So each dish that was served was like, "Hey, this is a great idea! Wonder if it will work?" and then to taste it and decide if it did work or how it can be made to work. I think that that is the real fun factor in Fusion food.
Conclusion
I have always enjoyed dining at Olio since the days they were located at Wheelock Place and the new cafe at Holland Village continues to offer a great casual dining experience. There's a few dishes that worked really well and others which need more tweaking. So if you are curious about how a Soft Shell Crab Sandwich with Wasabi mayonnaise or a Beef Rendang Lasagna would taste like, then you should head down and decide for yourself!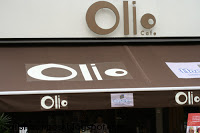 Disclosure: This was an invited review.